Mailmunch offers flexible plans that can help you scale your platform as your business grows.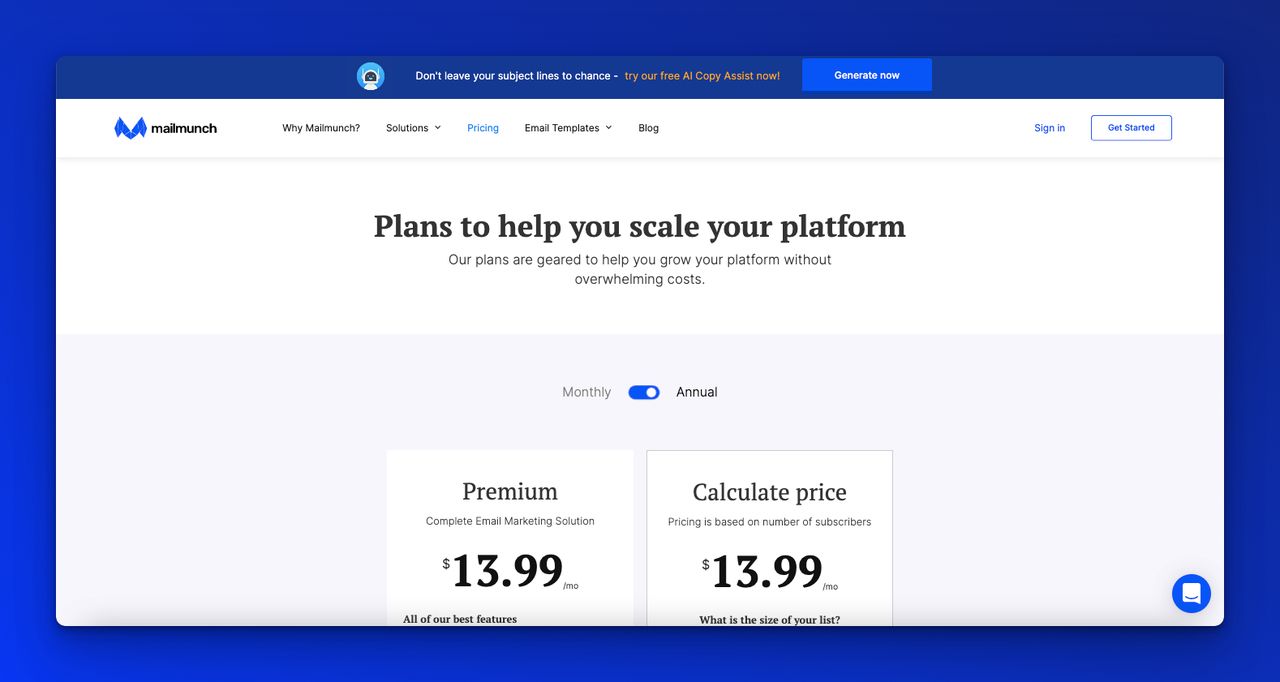 The Premium plan is designed to provide a comprehensive email marketing solution that will help you increase conversions and grow your customer base. This plan offers an array of features that are essential for a successful email marketing campaign.
With the Premium plan, you will have access to unlimited forms and landing pages. This means that you can create as many forms and landing pages as you need to capture leads and convert visitors into customers. This feature is particularly useful for businesses that are looking to increase their lead generation efforts.
The Premium plan also includes up to 1,000 contacts. This allows you to build a sizable email list that you can use to drive sales and promote your brand. With unlimited campaigns, you can create multiple campaigns and test different strategies to find out what works best for your business.
The Premium plan also comes with email automation, which means that you can set up automated emails that are triggered by specific actions taken by your subscribers. For example, you can set up an automated welcome email sent to new subscribers or an abandoned cart email sent to customers who have left items in their cart.
Another key feature of the Premium plan is the abandoned cart emails for Shopify. This feature allows you to recover lost sales by sending automated emails to customers who have left items in their carts. With this feature, you can increase your revenue and boost your sales.
Our Premium plan also includes access to premium templates that are designed to convert visitors into customers. These templates are fully customizable and can be easily modified to match your brand. With advanced analytics and reporting, you can track the performance of your campaigns and make data-driven decisions to optimize your strategy.
In addition, the Premium plan includes drip emails, custom domains, and no Mailmunch branding, which allows you to create a professional and customized email marketing experience for your customers. With all of these features, the Premium plan is a perfect solution for businesses of any size that are looking to take their email marketing efforts to the next level.
The Premium plan costs $19.99 for the monthly plan, and it costs $13.99 per month for the yearly plan.
Also, you can contact the support team for more information on pricing and how to calculate the price based on the size of your list. The more expectations you have, the more money you will pay.
You can easily calculate it on the website or ask for help.
Mailmunch offers a 30-day, 100% money-back guarantee, so you can try it risk-free.
If for any reason you are not satisfied with the service, they will refund your money.