Sumo can be considered a successful popup builder, but you might want to know the alternatives to try and check out the examples below in detail.
Wisepops
Wisepops is an intuitive and streamlined solution for creating and managing popup advertisements, banners, and bars on websites.
The platform is designed to be easily integrated with minimal setup, making it an ideal tool for website owners with limited technical acumen.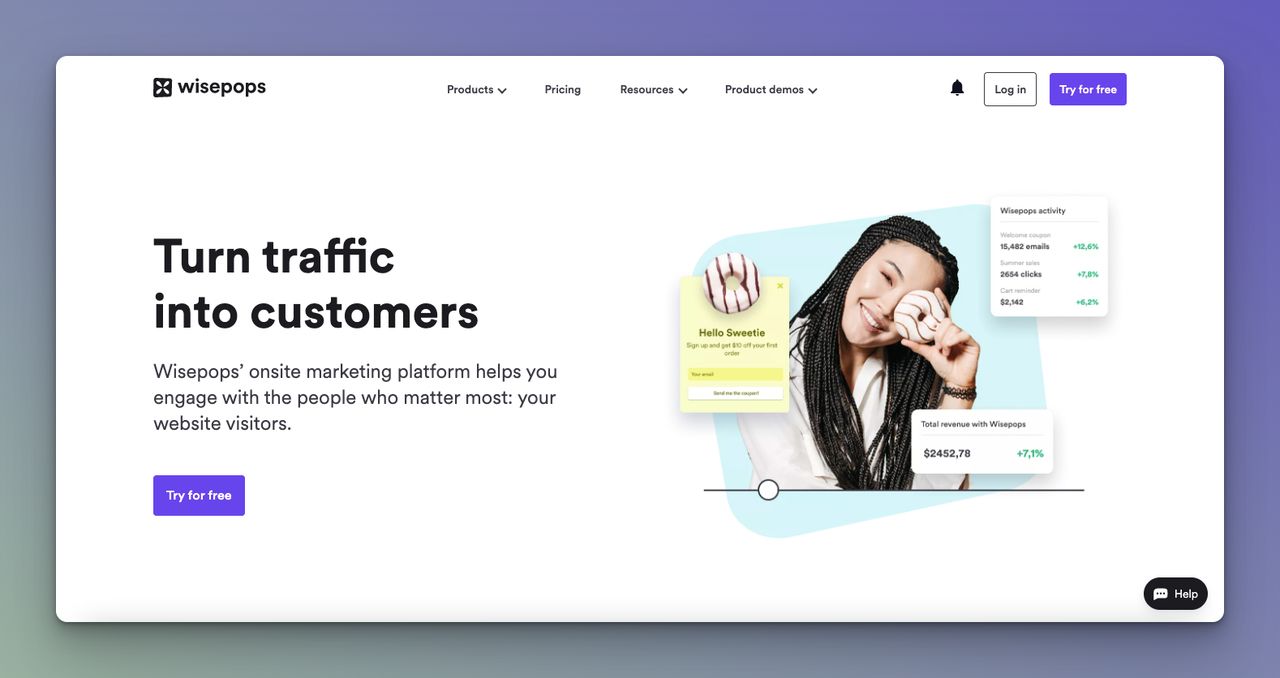 Its compatibility with a wide variety of websites and content management systems allows for the execution of effective marketing campaigns that aim to increase conversions and drive sales.
With Wisepops, users can effortlessly design and implement sophisticated campaigns without the need for extensive technical support. In just a matter of minutes, users can use a powerful marketing tool to enhance their website's online presence.
Pros:
Advanced targeting options available
The quick and simple customization process
Variety of customizable templates to choose from
One-click integration with other platforms
Ability to import custom code
Offers real-time conversation activation
Cons:
Some users have reported difficulties with customization for designers.
Limited niche options may not cater to specific needs.
Support may not always be able to resolve all issues.
Inconsistencies in functionality for some users.
Compatibility issues were reported with certain web browsers and operating systems.
Website functionality may not be fully integrated by default.

OptiMonk
OptiMonk is a sophisticated marketing automation platform that allows businesses to craft and display personalized opt-in forms, popups, and other forms of targeted messaging on their website with the aim of increasing conversions and user engagement.
The platform offers a wide array of customizable templates and features, such as exit-intent popups, targeted banners, email capture forms, and more.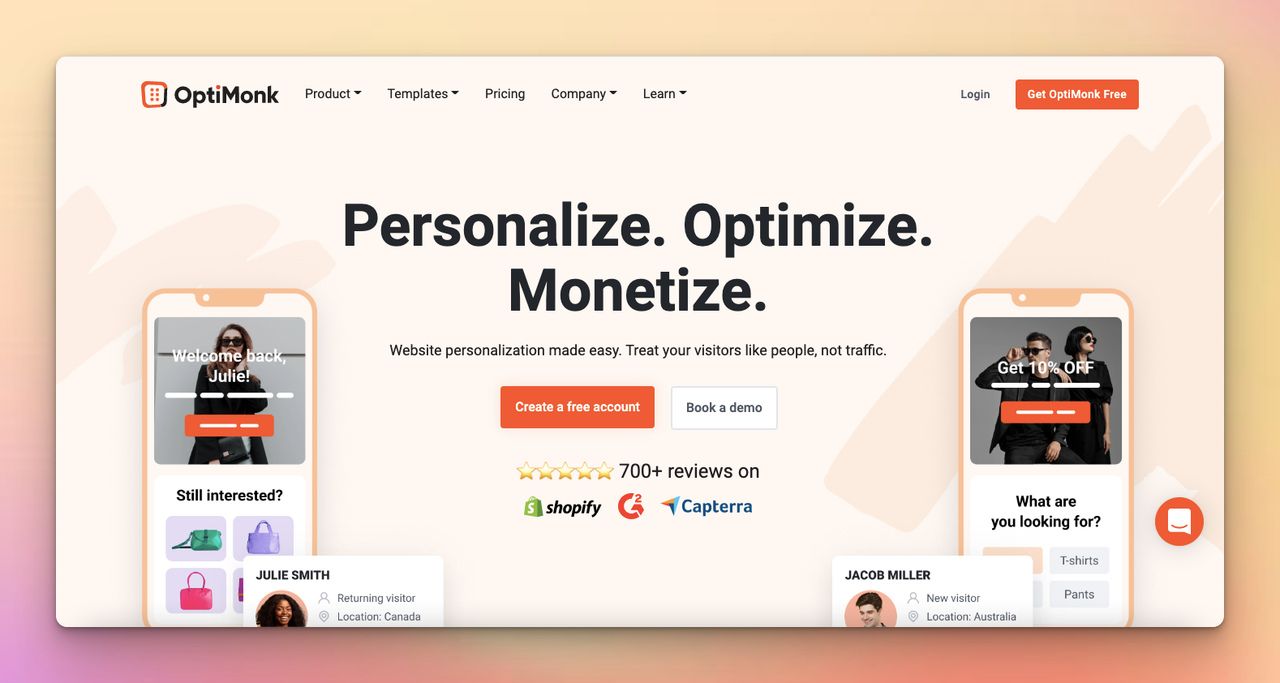 These elements can be A/B tested to optimize performance and allow businesses to create highly targeted campaigns with minimal technical expertise. With OptiMonk, businesses can easily capture leads and enhance website engagement by leveraging the power of targeted messaging.
Pros:
Many templates and ways to connect to other platforms.
Good resources and explanations to help you understand how to use it.
Good customer service and communication.
Easy to use, and live chat support is available.
The customer service team is knowledgeable and proactive.
Offers trendy solutions.
Cons:
Limited design options for templates.
It could be hard to customize templates.
The mobile version may not be as good.
Limited pricing options.
It could be difficult to understand how to use it.

Sleeknote
Sleeknote is advanced software that enables businesses to design and implement custom popups and overlays on their websites to gather visitors' email addresses and other information.
The software boasts a user-friendly interface and offers seamless integration capabilities.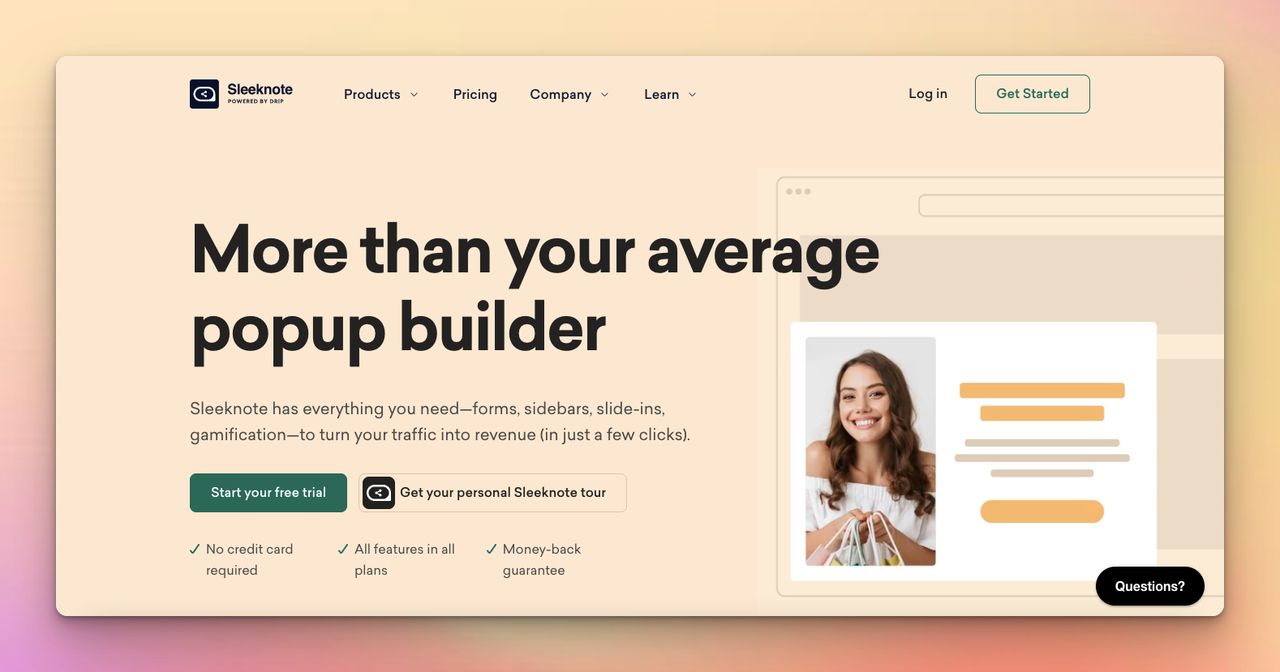 Furthermore, Sleeknote provides businesses with a comprehensive set of targeting options, allowing them to display popups to specific pages, devices, and visitor segments, thus ensuring that the right message is delivered to the right audience at the right time, resulting in increased effectiveness.
With Sleeknote, businesses can easily create and execute targeted campaigns to capture leads and enhance website engagement with minimal technical expertise.

Pros:
Easy integration with other marketing technology apps through API and Zapier webhook
Pre-designed templates that are easily editable
Simple to set up and use with good performance
HubSpot integration is a useful feature
Adaptable features and design
Promotes product specials across multiple domains and platforms, including WordPress
Helps turn website traffic into more sales
Cons:
Some users may find the backend UI to be cluttered and annoying
Navigation and use may be time-consuming compared to other marketing tools
Visual and design tools may be lacking in terms of polish and modernity
Templates and customization options may not be visually appealing or up-to-date
Not suitable for all types of businesses or marketing campaigns because of its price.
Privy
Privy is an advanced all-encompassing marketing platform catering to ecommerce businesses seeking to augment their sales through targeted campaigns.
The platform furnishes many features, such as email and SMS lead capture, email newsletter design, popup creation, and cart-saver text automation, enabling businesses to interact with their audience in a meaningful way and drive sales.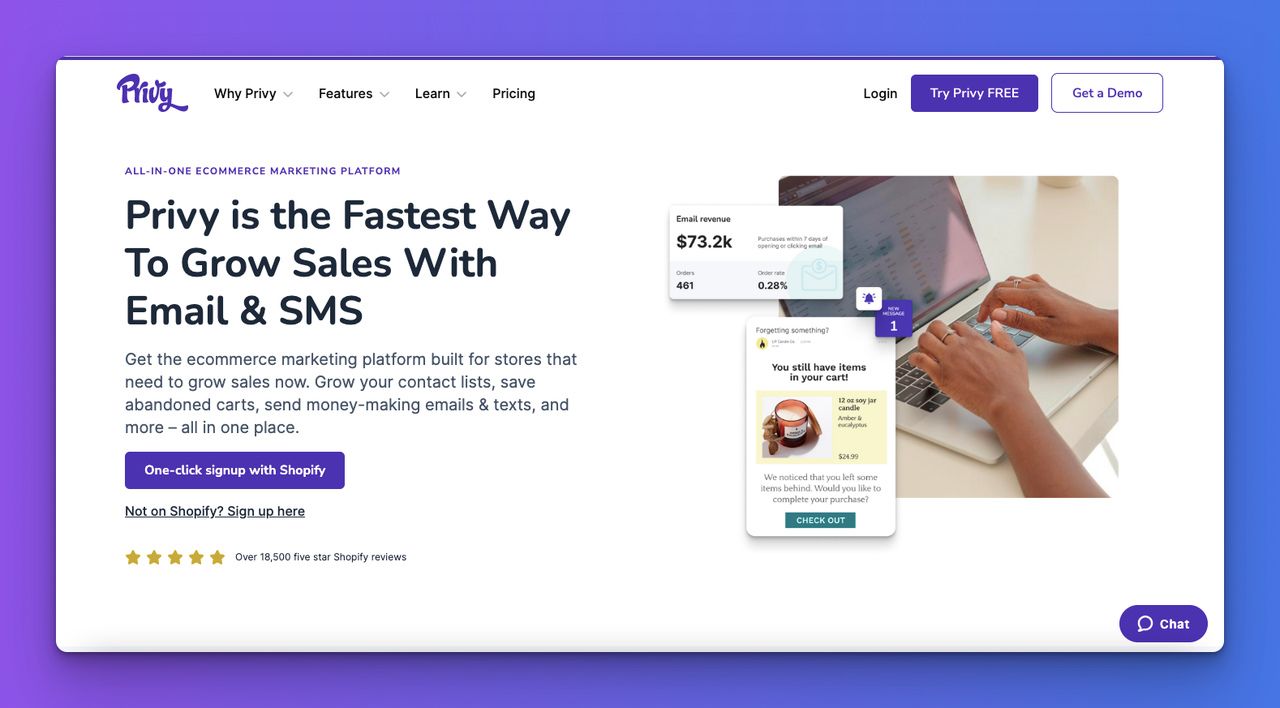 Privy is mainly geared towards fast-growing Shopify businesses and offers an intuitive user interface for users with limited marketing backgrounds. The platform is engineered to empower businesses to optimize their marketing efforts and elevate conversions with minimal technical acumen.
Pros:
QBRs (Quarterly Business Reviews) are highly valuable.
The platform is intuitive and facilitates easy updates.
Templates are helpful and easy to use.
Specialized technology for popups and email/SMS capture is highly effective.
The onboarding experience is user-friendly and easy to understand.
Results are visible almost immediately after setting up features.
Customizable on-site displays that adapt to brand growth.
Cons:
As the brand grows and email sign-ups increase, the cost also increases
Setting up campaigns can be confusing and time-consuming
Too many tools to choose from, making it challenging to find the right one
Reporting functionality is limited and requires manual data export and analysis
Segmentation of customers could be complex, particularly for B2B and B2C businesses
Navigation through editing and creating new items, particularly popups, can be challenging.

Poptin
Poptin is a comprehensive software solution that empowers businesses and individuals to design and implement targeted messaging, such as custom popups and forms, on their websites with the aim of increasing engagement and conversions.
The platform boasts an intuitive user interface and offers a wide array of customization options and integration capabilities with third-party systems. Poptin's features, such as A/B testing, enable users to optimize their popups and forms for maximum effectiveness.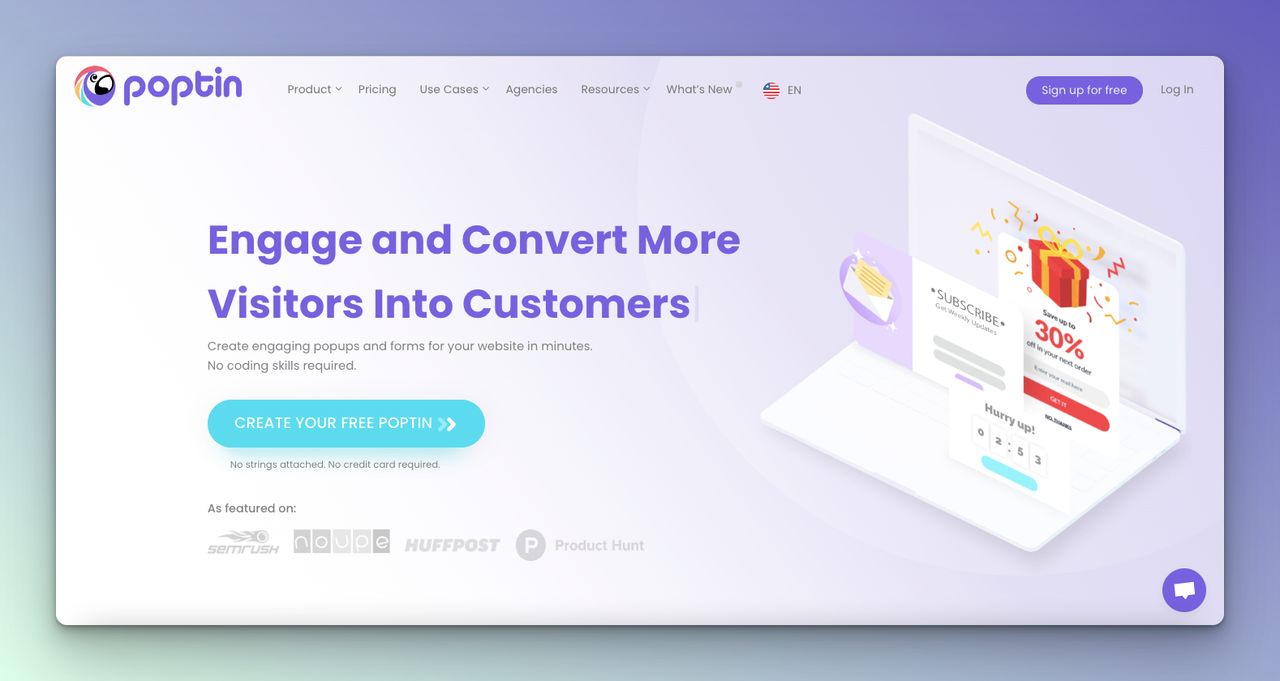 The software is accessed via a dashboard, and it provides users with the ability to craft and personalize various types of popups and forms, including exit-intent popups, opt-in forms, and lead generation forms, making it a versatile tool for anyone with a website looking to enhance engagement with their visitors.

Pros:
Offers a wide range of customizations and integrations, including Zapier and Bitrix24.
The platform is easy to use and has a modern selection of templates.
Has a variety of trigger options and can be integrated with third-party systems.
The support team is responsive and helpful.
The A/B testing feature is effective in increasing conversions and subscriptions.
Flexible and has a clean and easy-to-use interface.
Cons:
The interface of Sumo may be confusing when trying to access real-time data.
Navigating and creating popups on the platform may be difficult for some users.
Sumo is not compatible with the Opera browser.
Some users may consider the cost of the paid version to be high.
The functionality of the platform may be limited for some users.
Users may have limited options for customizable templates and may not have the ability to undo actions or customize pre-set backgrounds.
Popup analytics on the platform may not always align with the user's data.