Gamification popups are interactive popups that use game-like elements to engage and motivate website visitors. The popups may include elements such as points, badges, leaderboards, and challenges to encourage visitors to complete certain tasks or achieve certain goals.
Gamified popups can be an effective way to increase engagement and retention on a website. They can also be used to collect valuable data and insights from visitors or to promote special offers or discounts.
Gamified Popups by Popupsmart
Popupsmart's gamification popups can help you achieve both of these goals. By offering incentives, such as discounts and free shipping, in a fun and interactive way, you can encourage visitors to take action and become customers.
Use Gamification to Avoid Cart Abandonment: One effective way to use gamification popups is to display them when a visitor is about to leave your site without making a purchase.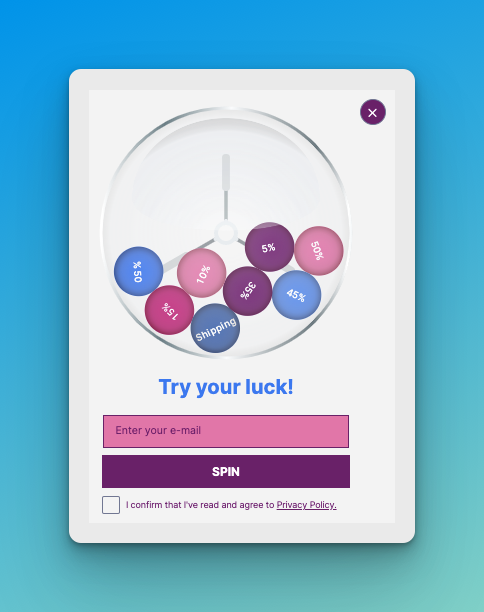 By offering a chance to win a prize, you can motivate them to complete their purchase. You can customize the chances of winning each prize, giving you complete control over the campaign.
Collect New Email Leads: Gamification can also be a great way to grow your email list. Offer visitors the chance to win a prize in exchange for signing up for your newsletter. This not only helps you build your list but also increases the chances of converting visitors into customers.
Make sure to integrate the popup with your email marketing service to automatically send out prizes, such as coupon codes, to winners.
Increase Conversion Rates: By combining incentives with gaming, you can create a fun and engaging experience for your visitors.
Gamification popups allow users to win pre-defined rewards or discounts, which can lead to more email signups and increased sales revenue.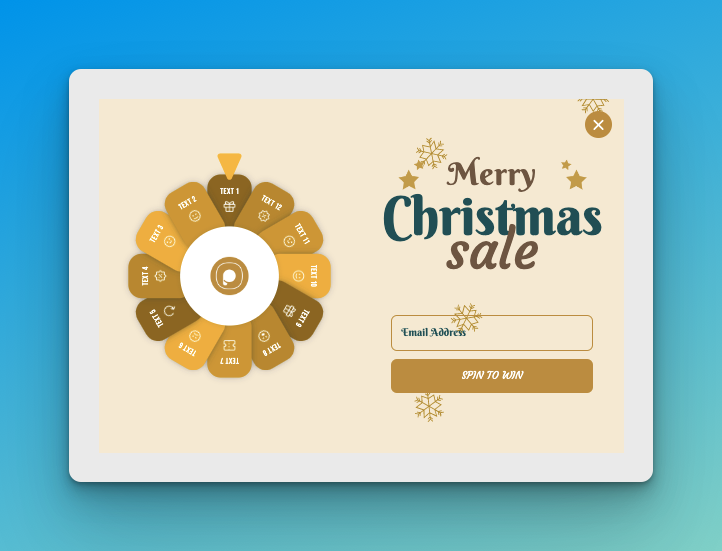 Use gamification to boost your marketing efforts and drive conversions on your website.
This way, you can gamify your campaign and increase the user engagement of your customers and visitors.
Gamified Popups by Adoric
Adoric's spin-to-win popups are easy to set up, with a huge collection of templates to choose from and an easy-to-use design editor to customize them.
The use of gamification in these popups makes them interactive and engaging, resulting in increased user engagement and conversions.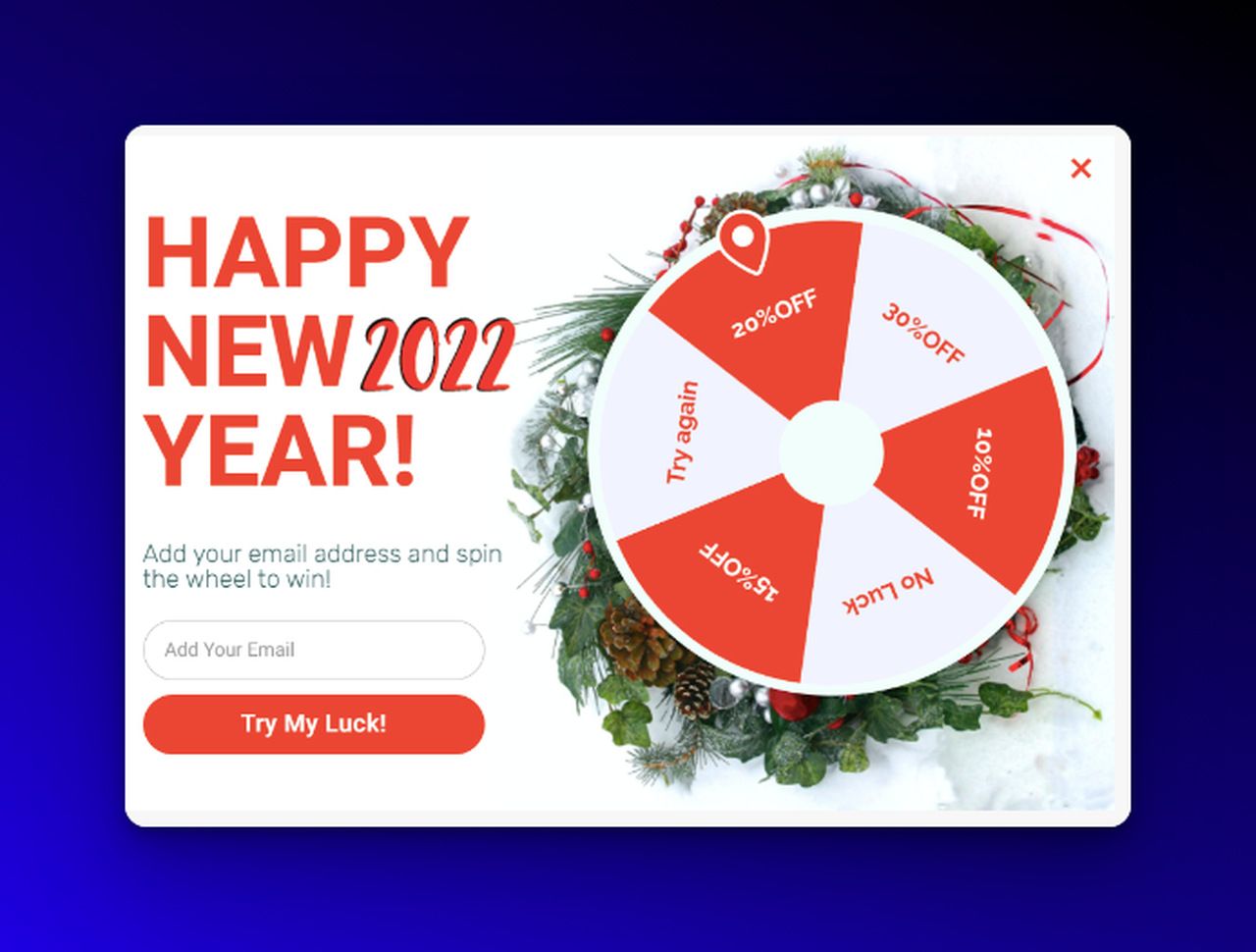 Additionally, all templates are mobile-friendly, and the design editor allows you to customize how your spin-to-win campaign will look on mobile.
Adoric integrates seamlessly with all major email marketing software providers, so you can easily save all captured leads to your preferred ESP.
The Falling Gift Game of Adoric is an interactive game that allows users to win coupon gifts by clicking on falling gift boxes.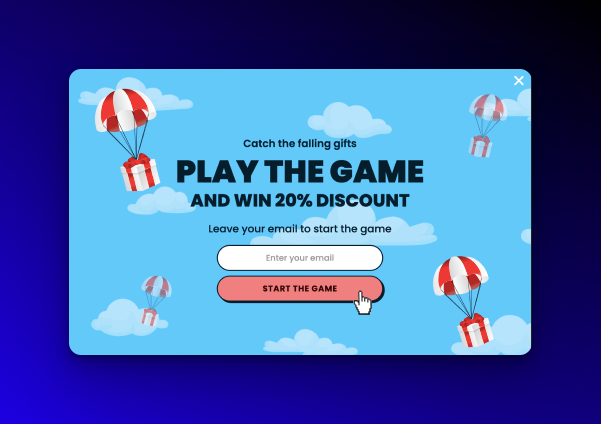 Additionally, users can create their own coupons and specify the value of the gift. Another benefit of the Falling Gift Game is its versatility. It can be used to promote offers for international holidays such as Black Friday and Christmas, regional holidays, seasonal sales, and even store anniversaries.
Gamified Popups by Mailmunch
Attract and retain customers by incorporating an element of fun and excitement into your marketing strategy through spinwheel offers and discounts with Mailmunch.
A new dimension of customer engagement: Enhance customer engagement and conversion rates by incorporating a gamified element into your marketing strategy through spinwheel offers and discounts.
Gamify your opt-ins: Add a touch of realism to your opt-in forms by incorporating spinwheel gamification, delighting your visitors and increasing the likelihood of their participation.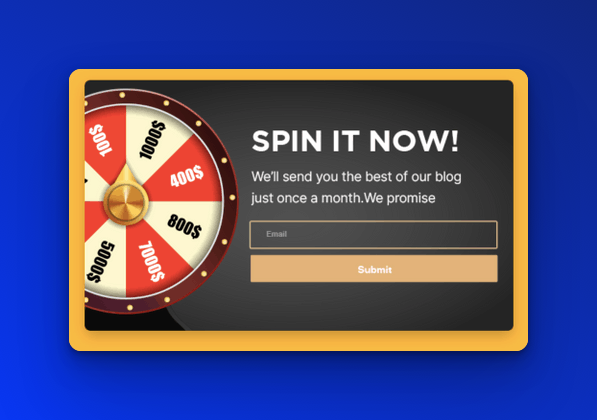 Personalized coupon delivery: Increase the appeal of your offers by delivering personalized coupons through spinwheels, adding an element of surprise and excitement for your customers.
Customizable spinwheels: Optimize your spinwheels to align with your brand identity by customizing the color palette, text, and display of the wheel. Rekindle the interest of disengaged and old customers by surprising them with unexpected spinwheel offers.