Wisepops can be considered a successful popup builder, but you might want to know the alternatives to try and check out the examples below in detail.
OptinMonster
OptinMonster is an email capture software that allows companies to generate and display forms on their websites to collect contact information, such as email addresses, from potential customers.
While it has its benefits, it is important to weigh the pros and cons before determining if it's the ideal solution for your business needs.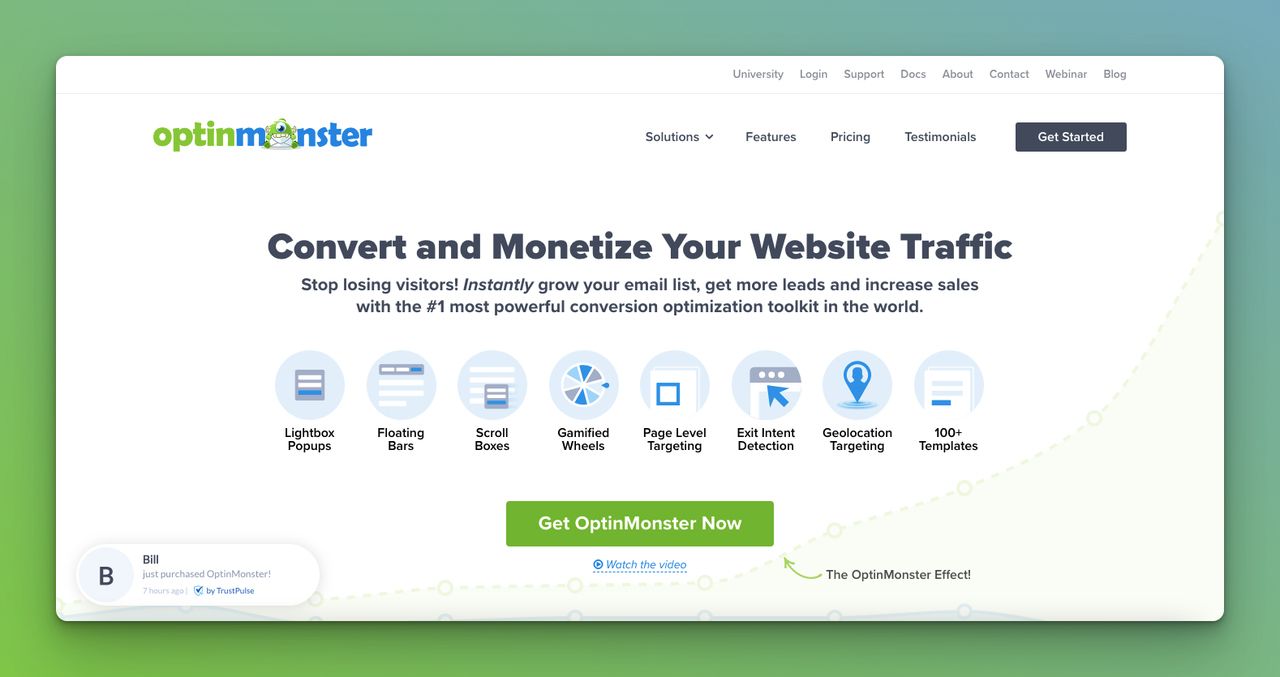 Advantages:
User-friendly interface for creating and customizing forms with ease
A/B testing capabilities for identifying the most effective form design
Advanced targeting options for displaying forms to specific visitors
Integration with various email marketing and CRM platforms for seamless lead management
Disadvantages:
Subscription-based pricing may not be budget-friendly for some businesses
Limited design flexibility compared to other conversion optimization tools
Requires basic knowledge of HTML and CSS for full customization and integration with a website

OptiMonk
OptiMonk is a conversion optimization tool that enables businesses to generate and display opt-in forms and personalized campaigns on their websites to acquire potential customers' email addresses and other contact details.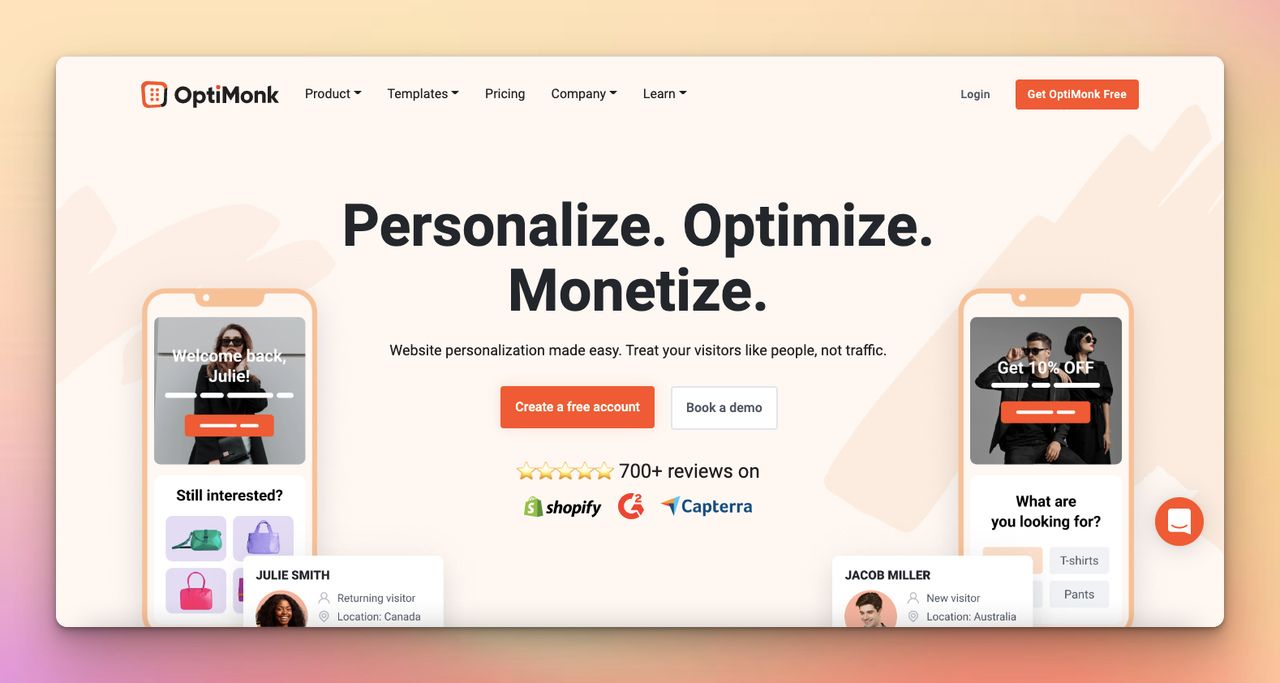 The platform is aimed at a range of industries, including e-commerce, publishers, and agencies, and is focused on three main goals: growing email lists, reducing cart abandonment, and increasing sales conversions.
Pros:
Educational resources: OptiMonk provides various educational resources to its users, such as a blog, webinars, and guides.
Templates and use cases: OptiMonk offers a comprehensive library of templates and a use cases page to assist users in building their campaigns.
User-friendly guidance: OptiMonk takes into consideration users' intentions and provides guidance to help them create campaigns that align with their objectives.
Advanced integration options: OptiMonk offers advanced integration options to its users, allowing them to export their acquired leads and manage them within their preferred system.
Cons:
Complexity: OptiMonk offers a wide range of configurations and options that may be overwhelming for some users.
Technical issues: Some users have reported technical issues that can prevent the flexibility of the use of the platform.
Limited customization options: Some users may find that the customization options offered by OptiMonk are not sufficient to meet their specific needs.

Hello Bar
Hello Bar is a conversion optimization platform that enables businesses to craft and showcase various website elements such as notifications, calls to action, and opt-in forms. It offers a range of customization options, including the ability to design and style the elements to align with the website's branding and analytics and tracking features to help businesses evaluate the performance of their campaigns.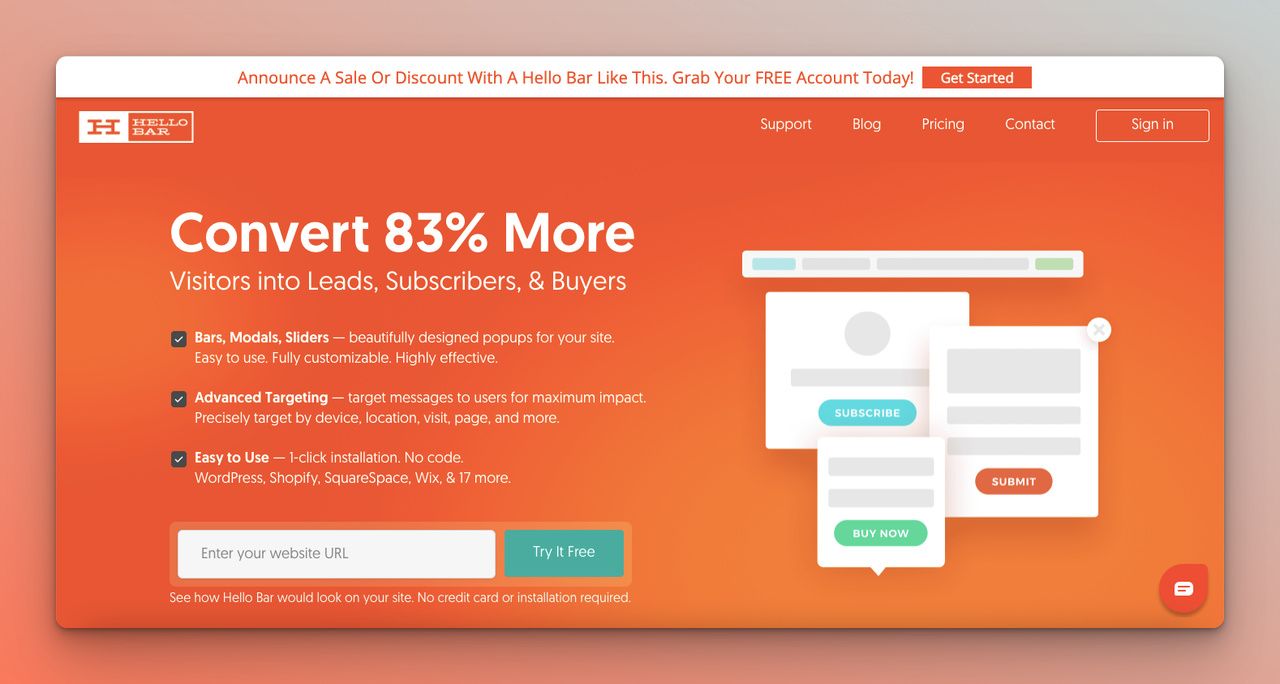 By encouraging visitors to take various actions, such as subscribing to a newsletter, making a purchase, or filling out a form, Hello Bar can aid businesses in optimizing their website's conversion rate.
Pros:
The platform has numerous customization options for creating elements that align with the website's branding.
It offers analytics and tracking features to assess the performance of campaigns.
Hello Bar can encourage visitors to take various actions.
Cons:
The web elements, such as notifications and calls to action, may be perceived as intrusive or bothersome by some visitors.
A subscription fee is required to access all features of the platform.
It may not be suitable for all businesses in fulfilling their conversion optimization needs.
Sleeknote
Sleeknote is software that aims to aid businesses in capturing potential customer information by displaying customizable opt-in forms and targeted messages on their website.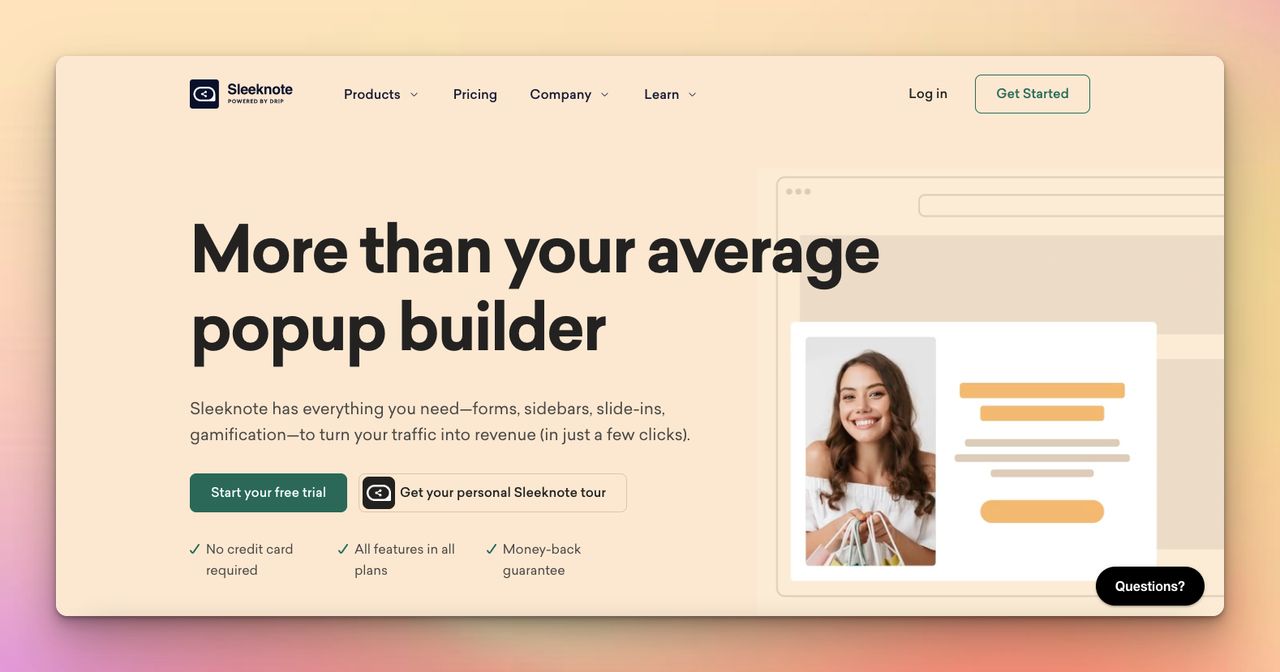 It offers a range of features and benefits, as well as some potential drawbacks to consider before determining if it aligns with your business needs.
Advantages:
Versatility in opt-in form types: Sleeknote allows for a variety of opt-in forms to be created, such as light boxes, slide-ins, and more, catering to different goals and campaigns.
Targeting options: With Sleeknote, businesses can finely target their opt-in forms to specific audience segments based on various criteria, such as behavior, location, and device.
A/B testing: The software enables users to create and compare multiple versions of their opt-in forms to determine which performs best.
Integration with other platforms: Sleeknote seamlessly exports acquired leads to email marketing and CRM platforms, allowing businesses to manage and nurture them.
Detailed analytics: Sleeknote provides detailed analytics on the performance of opt-in forms and campaigns.
Disadvantages:
Cost: Sleeknote is a paid software, with pricing plans starting at €49 per month, which may not be suitable for some businesses.
Limited design options: While Sleeknote offers a range of templates and customization options, it may not provide as much flexibility as other lead generation tools when it comes to design.
Technical requirements: Sleeknote requires a basic understanding of HTML and CSS to customize opt-in forms and integrate them with a website fully.
Intrusiveness: Some users may find the opt-in forms and messages generated by Sleeknote to be intrusive.
Limited compatibility: Sleeknote is not guaranteed to be compatible with all website platforms.
Popupsmart
Popupsmart is a lead generation and conversion optimization tool that offers businesses an easy and efficient way to create and display popups, opt-in forms, and other types of targeted messages on their websites.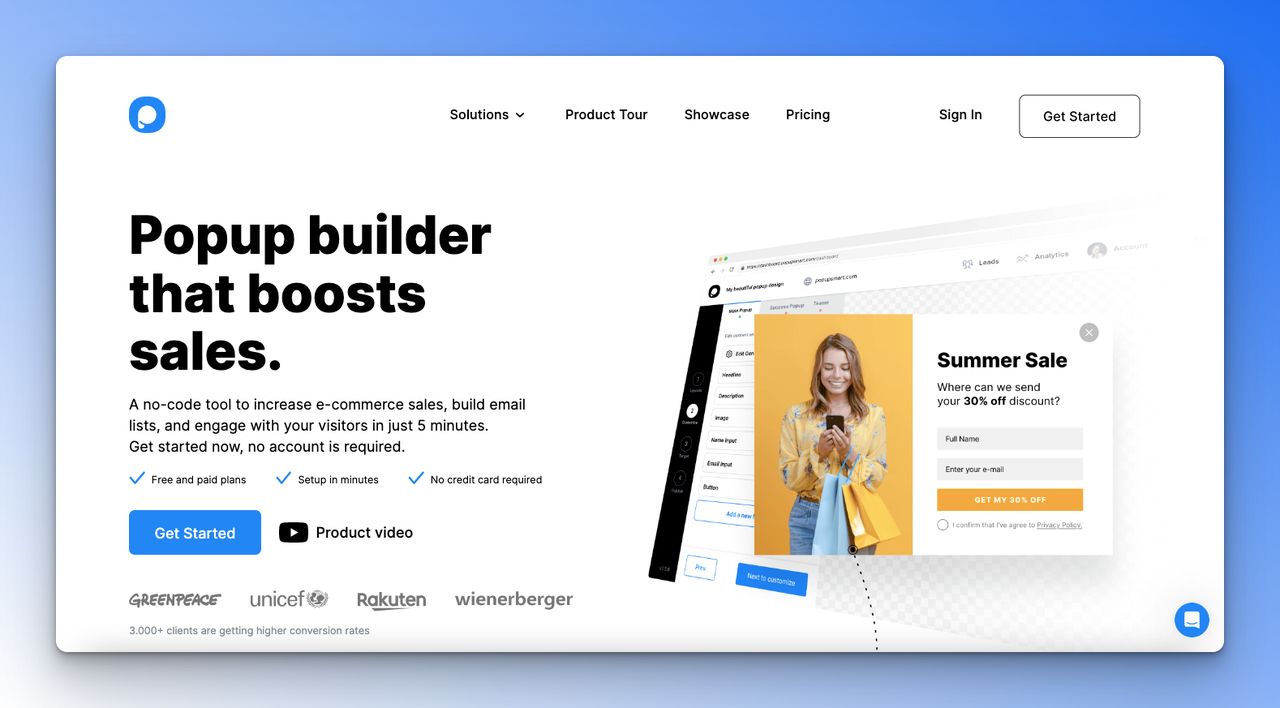 The platform promises to help small businesses increase conversions, engagement, and revenue through the use of customizable templates, gamification features, and advanced targeting options.
Pros:
Customizable Templates: Popupsmart offers a library of customizable templates that can be easily edited and styled to match the branding of a business's website.
Drag-and-Drop Customization: The platform's editor allows users to create and customize popups without any coding experience through its drag-and-drop customization options.
Gamification Features: Popupsmart offers a range of gamification features, such as multi-step popups, quizzes, and countdown timers, that can help increase engagement and conversions.
Advanced Targeting: The platform offers various targeting options, such as device, traffic source, and geographic location, that allow users to display their popups to specific groups of visitors.
Integration options: Popupsmart integrates with a wide range of email marketing and CRM platforms, enabling users to export and manage their acquired leads seamlessly.

Cons:
Limited features in the free plan: The free plan only includes one website and campaign feature.
Not suitable for all businesses: Popupsmart may not be the optimal solution for all businesses, depending on their specific needs and expectations.