Email capture popups are a popular way for websites to collect email addresses from visitors. The popups typically include a form for the visitor to enter their email address.
They may also include a call-to-action button or a checkbox for subscribing to a newsletter. Email popups that are used to grow email lists can be an effective way for businesses to build their email lists and stay in touch with customers. They can also be used to send newsletters, promotions, or other types of marketing communications.
Email Popups by Popupsmart
Popupsmart can be an effective way to grow your email list and increase sales. Here are some ways to use popups to achieve these goals:
Offer Free Shipping: Run special offers and promotions to attract new customers.
Give Out Free Webinar Invitation: Offer a free webinar in exchange for a subscription to your email list. This will attract high-quality users who are interested in the value you provide.
Offer Free Ebook: Use a lead magnet popup to offer a free guide, educational content, or ebook to attract new subscribers.
Host Contests: Announce a contest and prizes to grow your email list with interested customers.
Promote Newsletter Content: Use popups to promote your newsletter and understand users' needs and problems, offering them value in return for their subscription.
Offer Welcome Discounts: Convert first-time visitors into customers and subscribers by offering them a discount on their first purchase.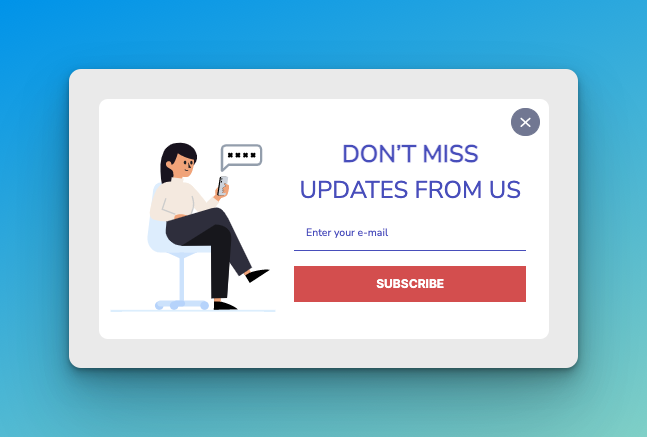 Reduce Cart Abandonment: Detect when a user is about to leave with items in their cart and display an exit popup with an incentive to encourage them to complete the purchase.
Run Giveaways: Use giveaways as a lead magnet to generate new leads by showing your giveaway popup on relevant product pages and hiding it from existing customers.
Offer a Printable PDF: Turn your long blog posts or articles into printable PDFs and offer them free to new subscribers.
Use Gamification: Announce a contest and prizes to grow your email list with interested customers.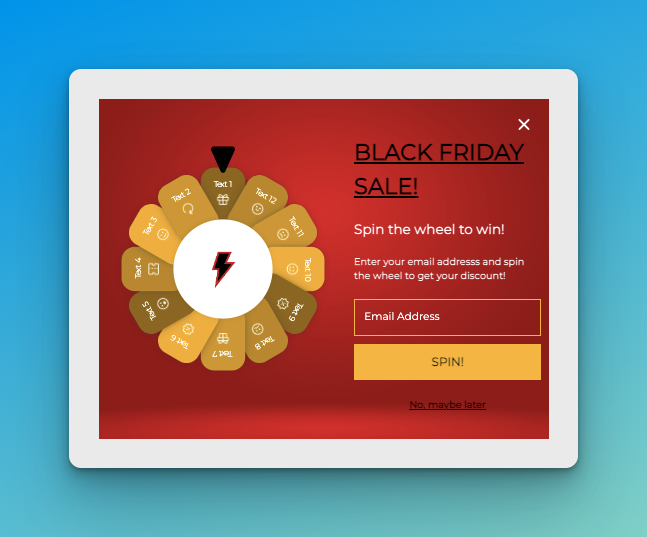 By offering incentives like free shipping, hosting contests, promoting your newsletter, and providing valuable resources like ebooks and webinars, you can attract high-quality leads and increase your sales.
Email Popups by Sleeknote
Sleeknote is a tool that helps businesses collect email addresses from their website visitors and grow their email lists. It offers several features that can be used to incentivize visitors to subscribe, including: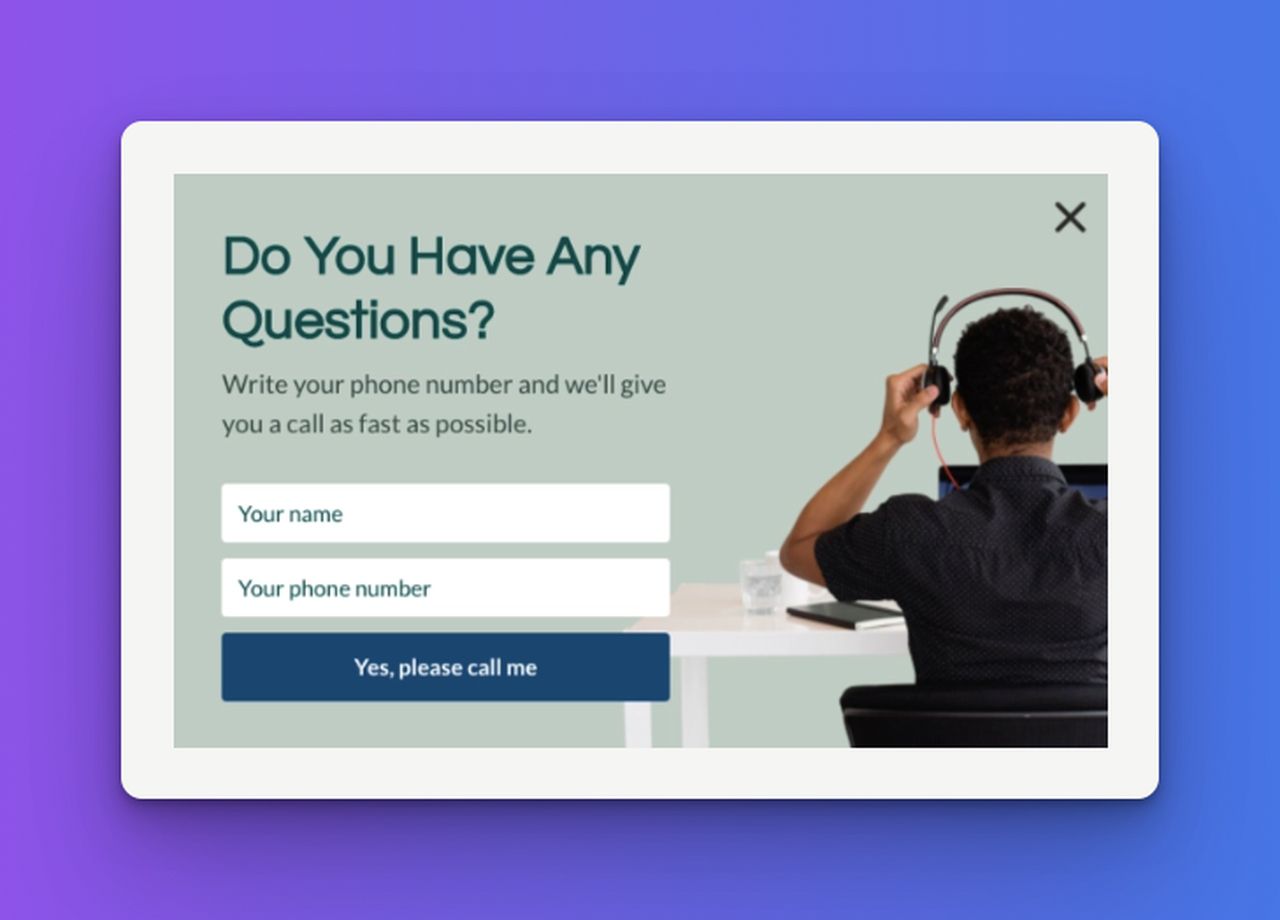 Giveaway popups: Capture email addresses by offering a relevant giveaway that speaks to potential customers. You can collect email addresses in the first step and gather additional information in the second step.
Discount popups: Offer welcome discounts to first-time visitors in exchange for their email addresses. This can turn visitors into email subscribers who are more likely to make a purchase.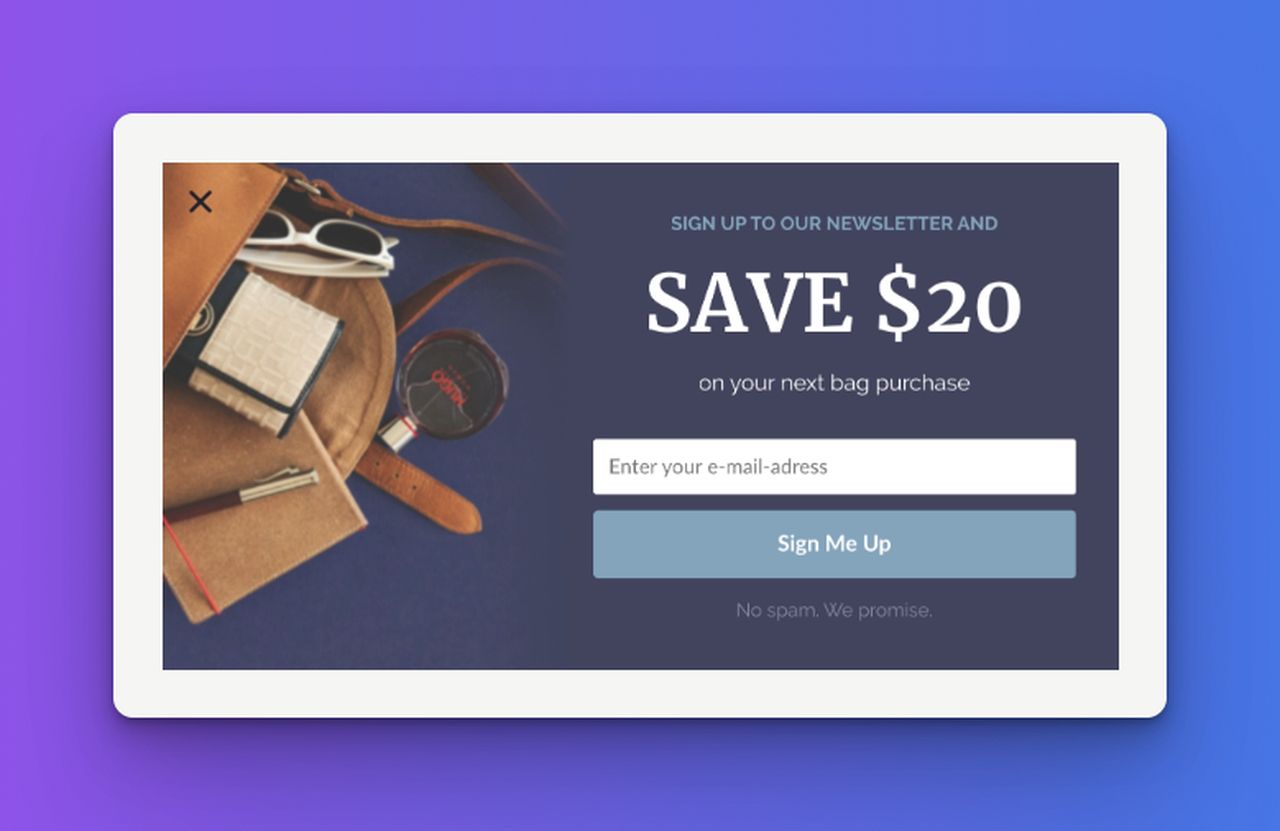 Newsletter popups: Promote your newsletter or offer a free resource to website visitors in exchange for their email addresses. This can help you grow your email list with only high-quality leads who are interested in your offers.
Teaser feature: Show a teaser of your popup's content before displaying the full form, giving visitors a chance to look around before committing to subscribing.
Sleeknote also offers several use cases for its email collection features, including reducing cart abandonment, attracting new subscribers with free resources, running on-site giveaways, and building a seasonal email list.
You can customize your popups to target specific segments of your audience and use gamification to make your email collection efforts more fun and engaging.
Email Popups by OptiMonk

One way for businesses to scale and grow with OptiMonk is by building their email and SMS lists.
This can be done through a variety of tactics, such as gamification popups, which use engaging and entertaining methods to collect subscribers, or conversational popups, which engage visitors and collect valuable customer data in addition to email addresses.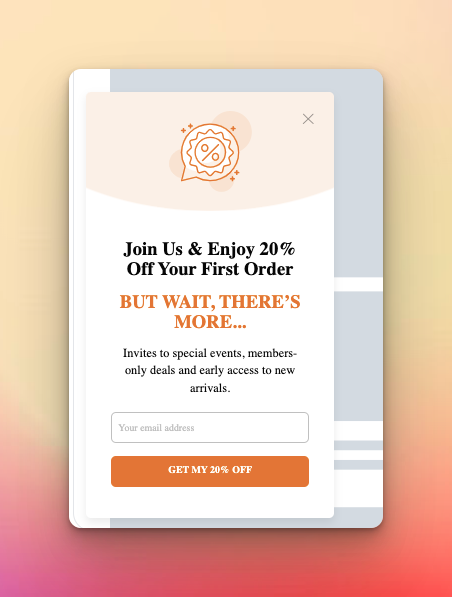 Another effective tactic is the "trojan horse" method, which allows businesses to collect multiple contact details from subscribers in a single campaign.
Other strategies for building email and SMS lists include offering discounts or other incentives in exchange for an email address and re-engaging visitors with secondary offers upon exit intent.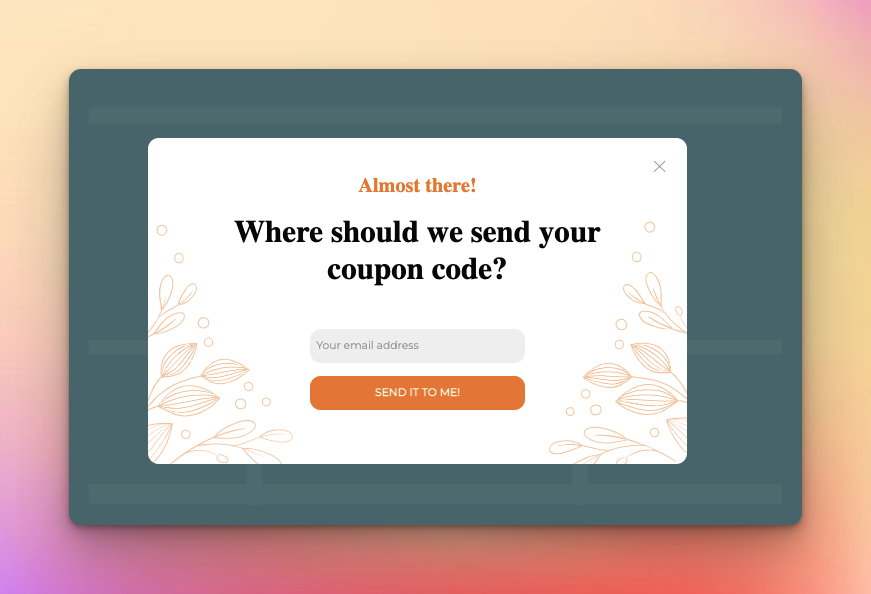 In addition to collecting email addresses, businesses can also collect additional customer data through the use of custom form fields and leverage this data through personalized marketing automation. Businesses can effectively scale and grow their operations by building their email and SMS lists.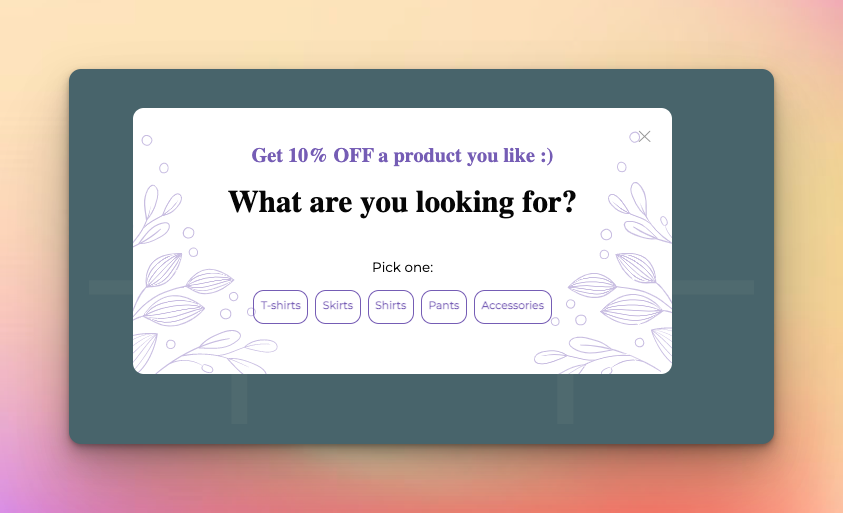 Another useful feature is Conversational Popups, which allow you to provide personalized recommendations to your visitors by asking a few simple questions. This can help reduce anxiety and make it easier for customers to find what they are looking for, leading to increased sales.
Email Popups by OptinMonster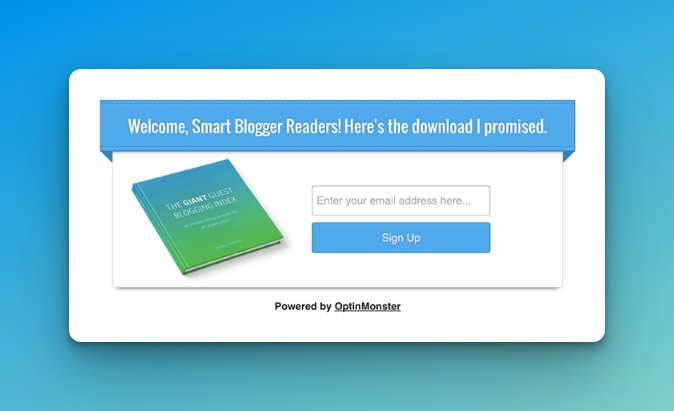 This can be especially useful for businesses with a lot of website traffic but struggling to convert that traffic into email subscribers.
OptinMonster has customizable form templates, advanced targeting options, A/B testing, integration with email marketing services, and conversion analytics.
With its powerful targeting and behavior automation capabilities, OptinMonster's high-converting email capture forms dramatically boost conversions and help businesses build their email lists.
By offering incentives such as exclusive discounts or early access to new products, businesses can encourage more visitors to sign up for their email lists using popups. It is important to strike a balance and not overdo it with the popups, as too many can be annoying and drive visitors away.
Email Popups by Mailmunch
Customized coupons are an essential tool for any business that wants to increase customer engagement and boost conversions. With Mailmunch, you can create customized coupons that are engaging, fun, and flexible.
Whether you're trying to promote your brand, push new visitors to sign up, or win back old customers, customized coupons are the perfect way to achieve your goals.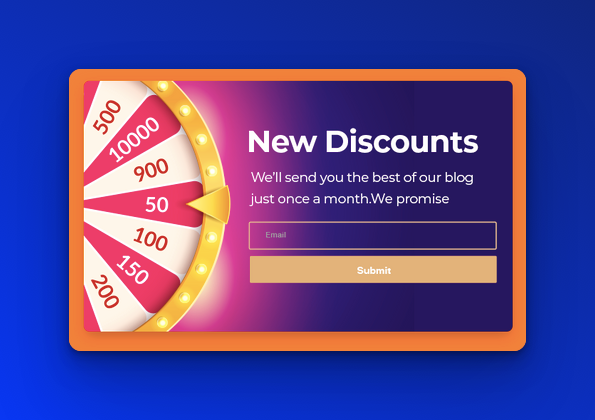 One of the most effective ways to use customized coupons is to lower cart abandonment.
When visitors abandon their shopping carts, you can send them an email with a customized coupon that entices them to return and complete their purchase. This is an effective way to recover lost sales and boost your bottom line.
Another way to use customized coupons is to win back old customers. If you've noticed that some of your customers haven't been engaging with your brand lately, you can send them a customized coupon to rekindle their interest. This is a great way to redeem losses and ensure that your customer base stays loyal.
Finally, you can use customized coupons to run successful discount campaigns. Whether you're trying to boost seasonal sales or increase brand awareness, customized coupons are the perfect way to hand-deliver discounts to your entire list in seconds. With Mailmunch, you can create customized coupons that go viral and bring more visitors to your website.
Email Popups by Adoric
Grow your email list with Adoric's forms. Capture more leads, get more subscribers, and expand your mailing list instantly with Adoric's high-converting forms.
These forms are designed to be precise and target specific audiences, resulting in a higher conversion rate.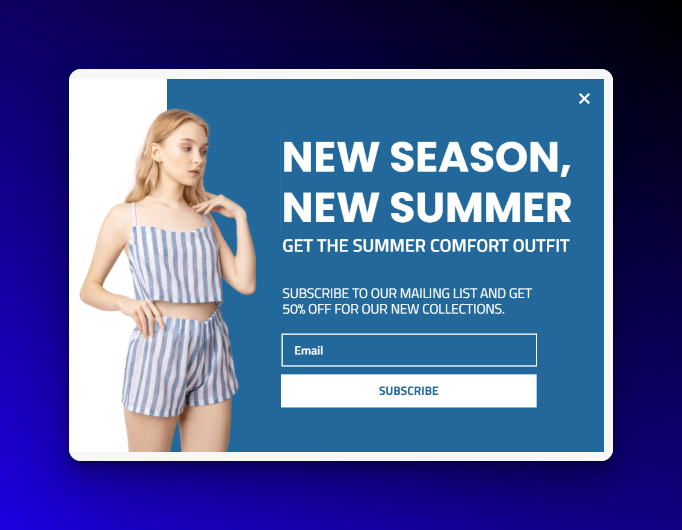 Adoric offers hundreds of beautifully designed templates that can be easily customized using their drag-and-drop editor. These templates are guaranteed to yield results.
Adoric's forms can also be personalized to the user's experience by using triggers, such as time frame, mouse click, page scroll, custom events, and exit intent.
Optimize your forms with different field types such as email, phone numbers, addresses, and even birthdays. Adoric also offers easy integration with major email marketing software providers such as Mailchimp, Aweber, Hubspot, Campaign Monitor, Constant Contact, GetResponse, Klaviyo, Bronto, SendinBlue, ActiveTrail, WebHooks, and Adoric CRM.
Adoric also allows you to A/B test your forms and make informed decisions that increase your conversion rate. With Adoric, you can easily create many campaign variations and see which one works best for your audience.
In summary, Adoric's forms are an effective way to grow your email list and increase conversions. With its high-converting templates, personalized user experience, easy integration, and A/B testing options, Adoric can help you expand your mailing list and drive more sales for your online store.
Email Popups by Sumo

Collecting visitor email addresses and other information is an important aspect of building a successful website.
This data can be used to create targeted marketing campaigns, improve customer engagement, and drive sales.
One of the most common ways to collect visitor information on a website is through forms.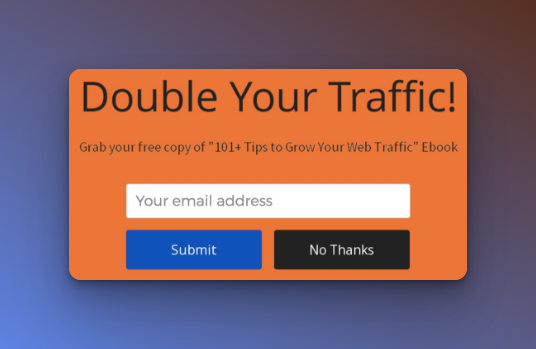 Sumo's forms can be used to collect email addresses, contact information, or other data. Forms can be created using HTML, CSS, and JavaScript and can be styled to match the look and feel of your website.
Once a visitor fills out and submits the form, the data can be sent to a server-side script or a CRM platform for further processing and storage.
Managing the collected data is just as important as collecting it. Email marketing software or a CRM platform can be used to manage the data, segment it, and use it for targeted marketing campaigns.
For example, you can use the collected email addresses to create email campaigns that are tailored to specific segments of your audience. Additionally, a CRM platform can be used to manage customer relationships, track sales and conversions, and analyze customer data.
By using forms to collect visitor information and using email marketing software or a CRM platform to manage the data, you can improve the effectiveness of your website and drive more sales.
Email Popups by Hello Bar

Hello Bar can be used to grow email lists by providing an easy interface for creating promotions and messages that will encourage website visitors to sign up for your emails.
You can customize the look and feel of the Hello Bar to match your website's design and track the performance of your campaigns to maximize the impact.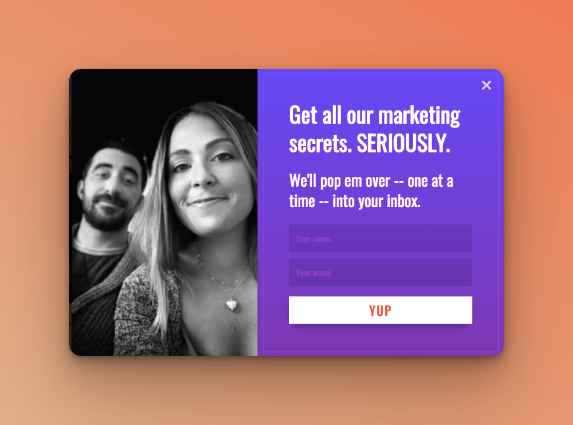 You can also use Hello Bar to segment your audience and send targeted messages to different groups of website visitors.
You can create a variety of different Hello Bars that are tailored to each segment of your audience, providing them with tailored content and building an engaged email list.
Email Popups by Privy
Attract more loyal subscribers with high-converting displays such as customizable popups and flyouts with Privy. These techniques can effectively turn casual browsers into subscribers.
Welcome Incentives: Improve customer acquisition by offering incentives to new visitors to your Shopify store. Consider offering a discount to first-time buyers in exchange for their email or phone number. This technique can effectively encourage new visitors to make a purchase.

Interactive spin-to-wins: Make the process of signing up for your email or SMS list enjoyable with interactive spin-to-win wheels. Customize the prizes offered to fit your brand and entice potential subscribers.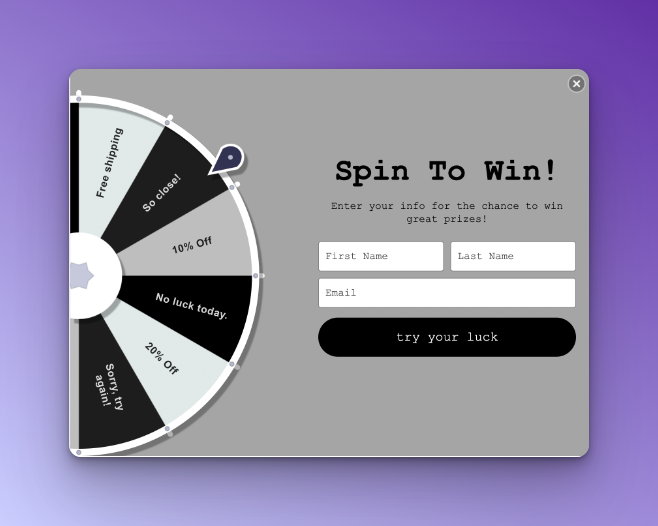 Mobile-optimized popups: Ensure that the shopping experience is seamless for customers, regardless of their preferred device. Privy's popups are optimized for mobile use, so customers can easily sign up for your email or SMS list on their smartphones or tablets.