Hello Bar can be considered a successful popup builder, but you might want to know the alternatives to try and check out the examples below in detail.
OptiMonk
OptiMonk is a powerful and user-friendly popup builder that is well-suited for middle-sized and large companies with higher budgets.
With its advanced direct integrations and no-code editor, Optimonk allows users to build and customize popups independently.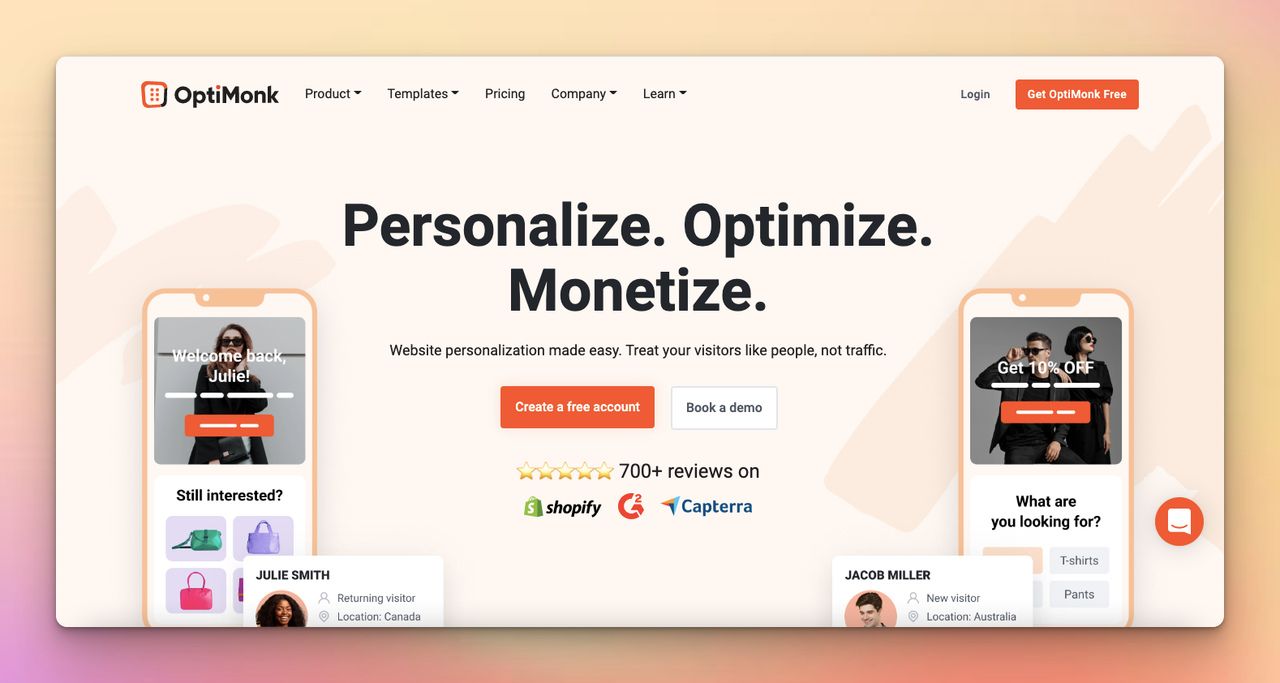 Pros:
The theme kit enables the creation of coherent designs that conform to brand identity
The Point-and-click placement, custom input fields, and saved styles features enable the effortless creation of popup campaigns
The Multi-step flows, countdown timers, and teaser popups enhance visitor interaction
The Segmentation and targeting solutions allow for optimal use of campaigns by targeting the right audience at the right time
Cons:
The customization of templates can be challenging and may require experimentation
The mobile version may not be as intuitive, making it hard to trigger exit-intent popups
The pricing options are restricted, with only Gold and Platinum plans available, with no intermediate options
Understanding how to display the widget can be difficult and may require customer support assistance.
Adoric
Adoric is a free lead generation software that allows for the creation of visually appealing and engaging web messages for both desktop and mobile devices. It is a quick and easy solution for increasing conversions and lead generation from website traffic.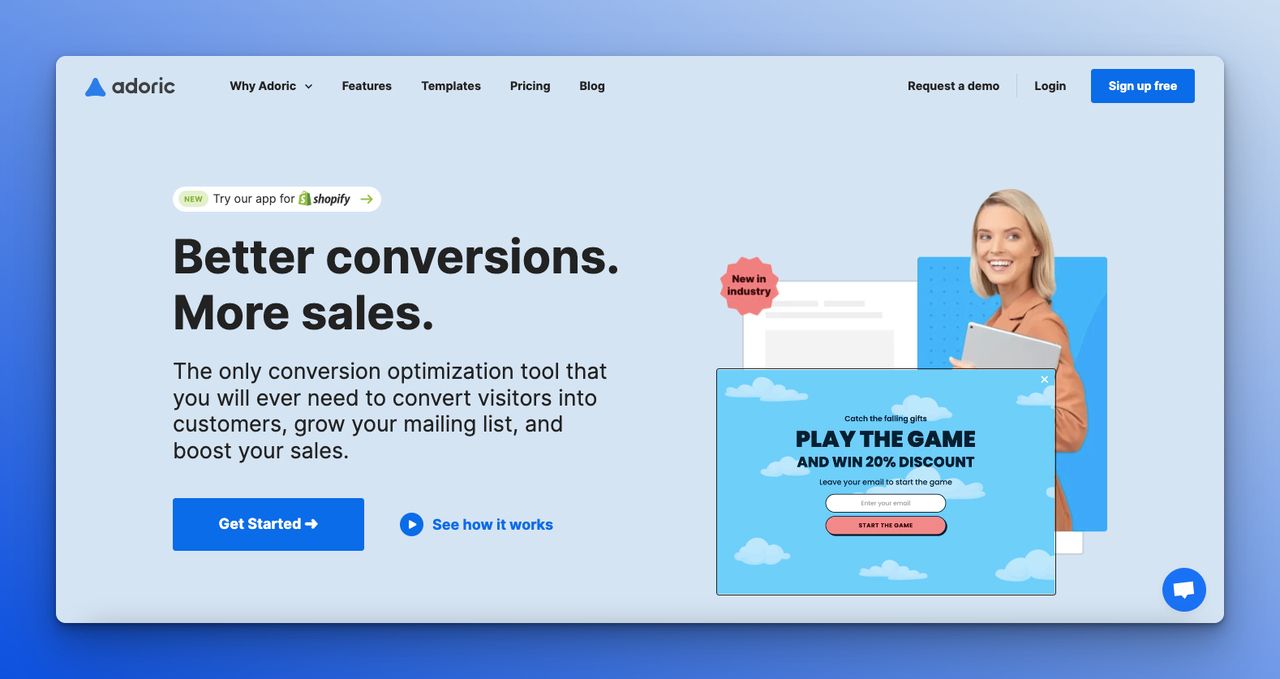 With Adoric, users can create personalized customer journeys utilizing web messages such as banners, in-pages, sliders, popups, hello bars, and more. The Adoric platform is compatible with any website, easy to implement, and does not require the involvement of graphic designers or developers.
Pros:
Offers a wide range of web message options
Customizable template library
Easy to use, no need for designers or developers
Suitable for various industries
Offers features such as countdown tool, on-screen position, animation effects, GIF library, and video embedding solutions
Time frame, event, exit intent, click, page scroll, and schedule triggers help to display popups to the right people at the proper time
Cons:
Relevant only for the web and not available on the mobile app
Some features may be unclear in certain settings
Limited image variants and options
Needs more interactive icons
Wisepops
Wisepops is an onsite marketing platform that offers an array of features to help businesses grow their audience and generate leads.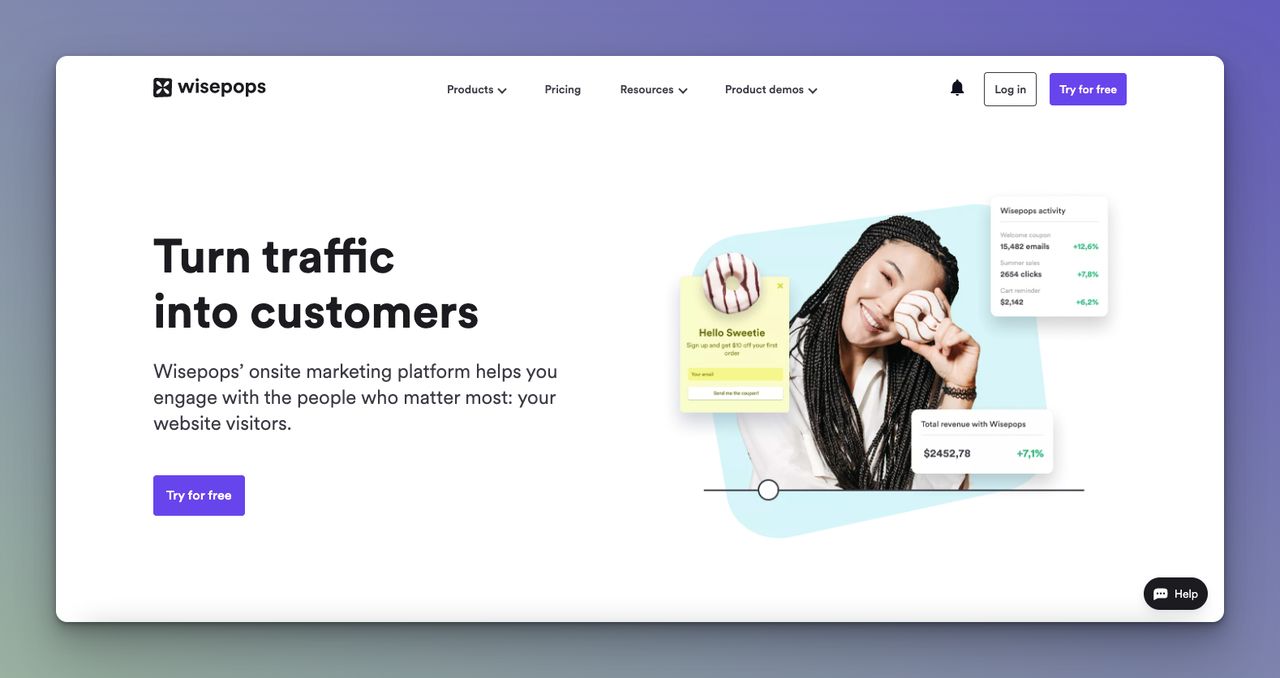 Suitable for middle-sized and large companies with higher pageviews, Wisepops provides a comprehensive solution to drive sales, collect feedback, and improve customer retention.
Pros:
Offers advanced targeting options to reach the right audience at the right time
A/B testing feature to improve popup campaigns
Analytics feature to monitor and improve campaign performance
Integrates with various CMS and ESPs seamlessly
Includes features such as survey countdowns, spin-to-win, video, and SMS popups to increase user engagement
Cons:
May be challenging for designers to customize
Limited niche options
Support may not be able to resolve all issues
Compatibility issues with certain web browsers and operating systems
Website functionality may not be fully integrated by default
Sleeknote
Sleeknote is a sophisticated popup software that provides users with the ability to create visually appealing and engaging campaigns without the need for design or coding experience.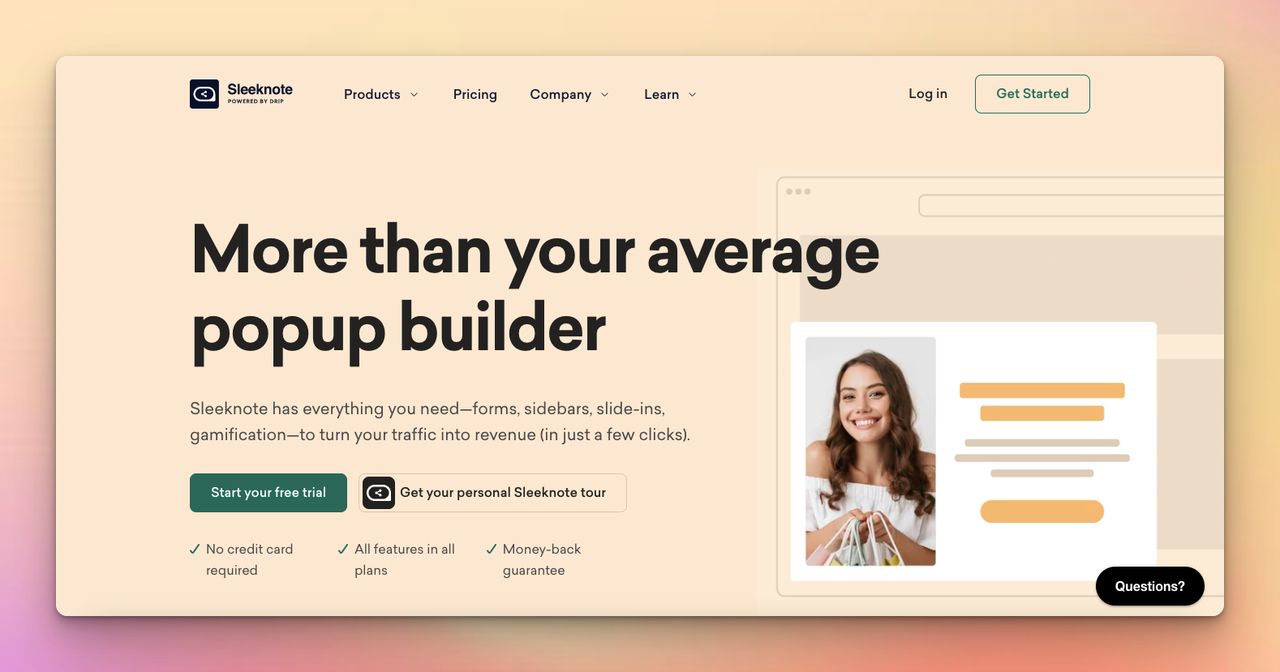 The software is powered by Drip and offers various features, including email collection, increased product sales, connecting with visitors, and guiding visitors.
Pros:
The advanced analytics page allows for the evaluation of campaign performance
Goal tracking and performance comparison solutions aid in improving performance and gaining insights
A/B split testing feature facilitates the identification of high-performing campaigns
Drag-and-drop editor and customizable templates enable the design of suitable campaigns for specific businesses
Suitable for middle-sized businesses with higher budgets, large companies with high visitor numbers, and ecommerce businesses requiring multiple targeting options
Cons:
Limited integrations may impede data and analytics-reliant users from easily bringing in data from various sources
Backend UI may be found to be cluttered and frustrating to navigate
May be more time-consuming to use compared to other marketing tools
Visual and design tools may be perceived as lacking in polish and modernity
Templates and customization options, while functional, may not be as visually appealing as desired.
OptinMonster
OptinMonster is a powerful conversion optimization software that enables businesses to boost their online engagement and conversions through the use of customizable popup templates and targeting solutions.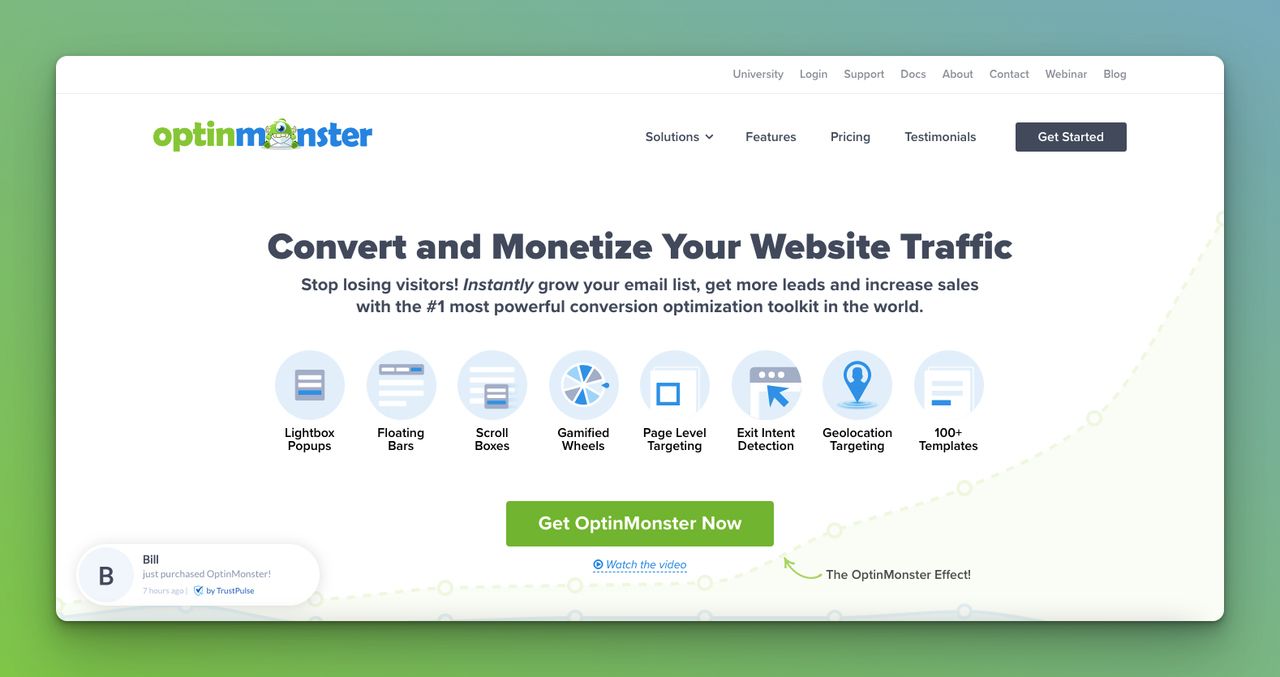 It offers a range of features, including the ability to grow email lists, reduce cart abandonment, and increase sales conversions.
Pros:
The user-friendly drag-and-drop builder and pre-made templates save time and effort.
Multi-step campaigns and custom success messages improve engagement and conversions.
Advanced targeting options include referrer detection, page-level targeting, onsite follow-up, onsite retargeting, cookie targeting, and geo-location targeting.
It can be integrated with many platforms like Mailchimp, Drip, Shopify, Salesforce, HubSpot, etc.
Cons:
It's suitable for large businesses as it can be expensive and doesn't have a free plan.
The pricing is higher than competitors.
The support response time could be better.
It doesn't allow creating forms for file uploads.
Excessive emails may be overwhelming.
Customizing popups can be challenging.
The visual editors may not be easy to use and may conflict with the website layout.