Hello Bar is a popular popup builder, widely regarded as a success in its field.
We conducted a thorough investigation and analysis to gain a deeper understanding of its key features.
Our objective was to create a comprehensive and unbiased overview of Hello Bar.
You can find out more about why Hello Bar is on PopupBuilder.io, a leading source for information on popup builders.
Hello Bar Product Tour
Hello Bar is a powerful tool that produces persistent header and footer bars that scroll with visitors. It is also seen as a successful WordPress plugin by its users.
It can help businesses convert a significant percentage of their visitors into leads, subscribers, and buyers.
By using this tool, businesses can increase visitor engagement, collect high-quality email addresses, and decrease cart abandonment rates.
With Hello Bar, businesses can effectively capture the attention of their visitors and encourage them to take action, resulting in a higher conversion rate and increased revenue.
This can be achieved by targeting specific pages or users, providing valuable insights into the performance of the banners and popups, and customizing the appearance of popups, including the background, CTA colors, and fonts.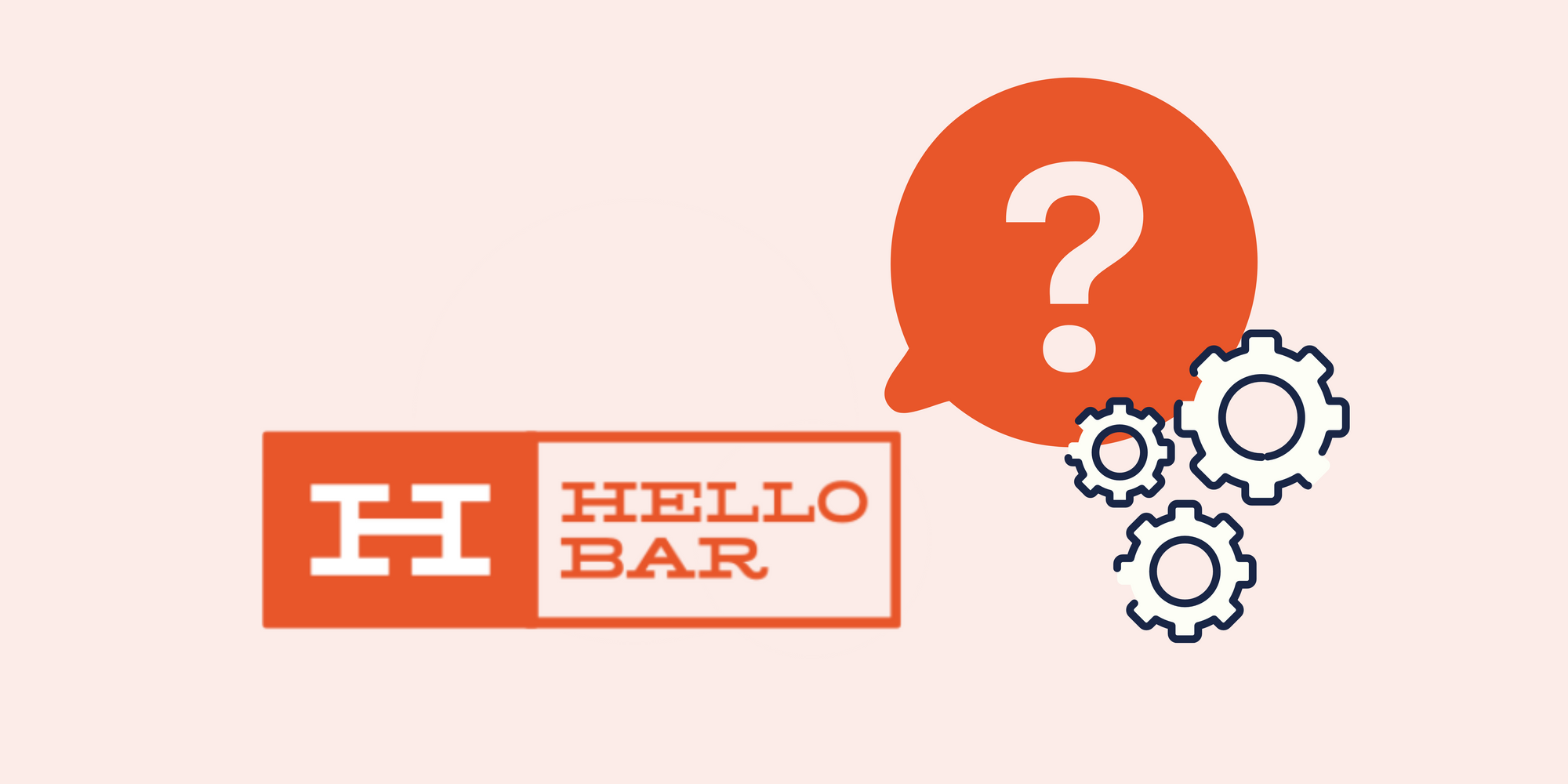 How Hello Bar Works?
Hello Bar is a powerful tool for targeting your website visitors with the right message at the right time.
You can target your visitors based on their city, state, or country. You can also target them by ad, campaign, source, medium, and more.
You can schedule messaging and offers by time and date. For example, you might want to offer free shipping on all orders over $100 during the holidays.
You can also target returning visitors to your site and customize messages according to their previous activity on your site (like if they've already bought something).
Hello Bar also allows you to set up multiple bars that will display different messages or offers depending on what a visitor does on your site—for example, clicking an image or checking out another page in your store could display different content in each of your bars.
Hello Bar is a powerful analytics tool for your campaigns to see how your campaigns perform and improve them.
With Hello Bar, you can track and optimize your performance by getting detailed reporting on metrics like clicks and conversions.
Metrics let you track and analyze performance. See what's working and what you need to improve. Monitor key metrics like click-through rate (CTR) and conversion rate (CVR).
You can also create custom reports with the data most relevant to your business so that you can make informed decisions about how to improve your campaigns.
You can include reports of any segment of users—by location, gender, age group, etc.—so that you can get insights into how people behave in different contexts.
When you're ready to optimize your campaign, we have you covered. A/B testing lets you run tests on different versions of a campaign to find out which one performs best—all without having to change anything in your site code!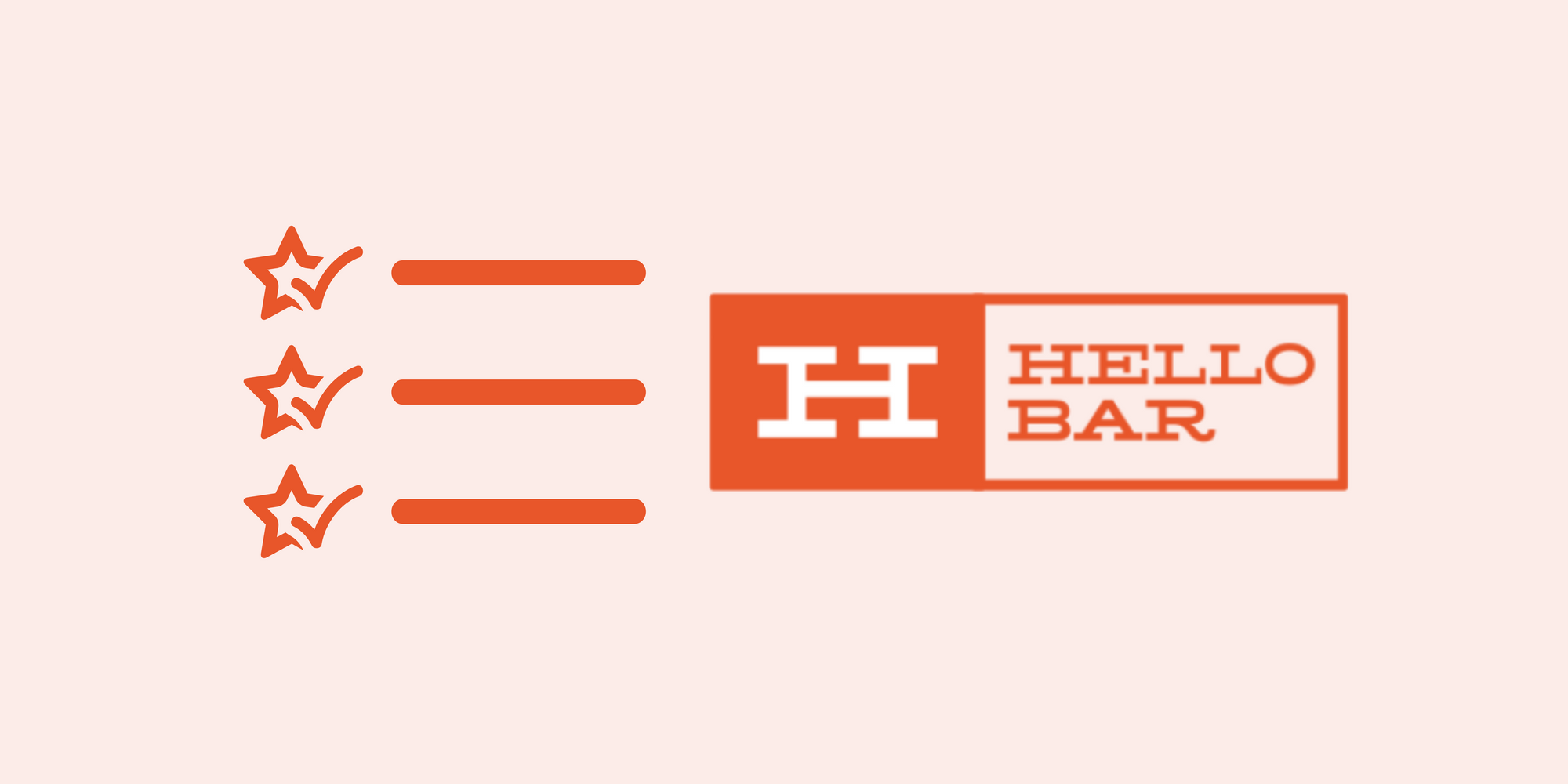 Hello Bar Features
You can customize every element of the bar to match your site's design style, from colors and fonts to positioning and sizing.
Hello Bar is a simple and easy-to-use tool that allows you to add a call-to-action button to your website.
Clicking the button takes users to a dedicated page that can be customized to match the website's style.
With 100s of pre-built themes, finding one that fits your brand style should be easy! Hello Bar got you covered there as well; just use the visual editor to adjust everything from color to font size in just seconds!
The Design Assistant automatically detects your site design and matches colors, fonts, and styling for an even more seamless experience for your visitors. You'll never have to worry about forgetting these little details with Hello Bar.
💡
Hello Bar has a wide range of popup options to choose from.
The Bars are persistent header and footer bars that scroll with your visitors.
These bars are great for branding, navigation, or additional information about your company.
Modals are popup windows that appear to capture visitors' attention at key moments.
They can be used for any purpose but are most commonly used for lead generation, surveys and forms.
Alerts are small floating messages to provide user prompts and engagement.
They can be used to direct users toward important content or actions on your website, such as calls to action or social sharing links.
Sliders are engaging sliders that rotate through relevant content.
Sliders are perfect for product showcases, announcements or other types of content where you want to highlight multiple items without cluttering the page too much.
They can also be used as an alternative form of navigation if you don't want visitors using the top menu bar or sidebar widgets at all times throughout their visit.
Page Takeovers are full-screen takeovers for when you want to get your visitor's full attention.
These takeovers usually contain an offer of some kind, such as discounts, code deals, sales promotions, coupons, free shipping promotions, etc.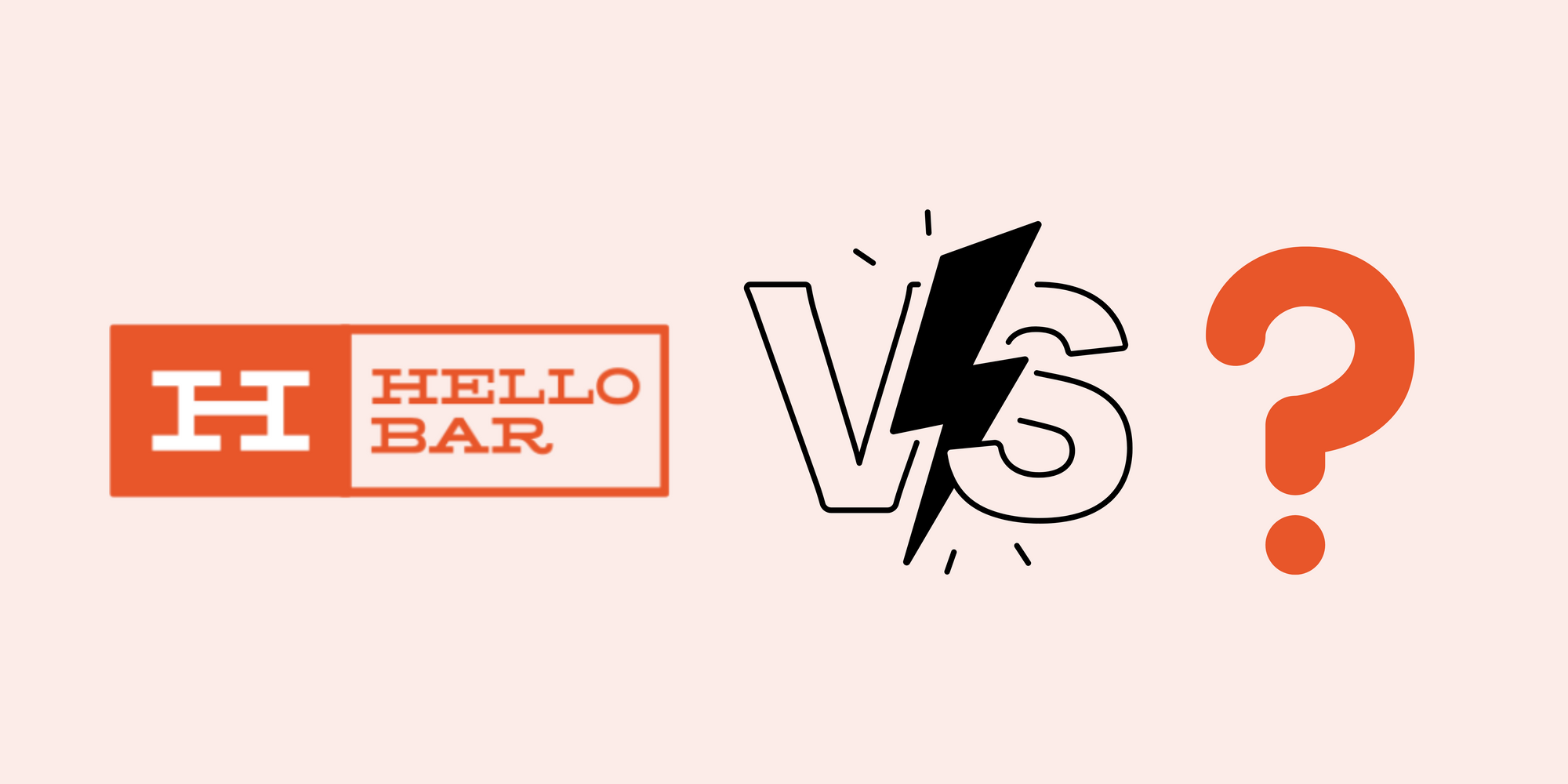 Hello Bar Alternatives
OptiMonk
Optimonk is a powerful and user-friendly popup builder that is well-suited for middle-sized and large companies with higher budgets.
It offers advanced direct integrations and a no-code editor for users to build and customize popups independently.
Some of the pros of using Optimonk include the ability to create coherent designs that conform to brand identity, effortless creation of popup campaigns, enhancement of visitor interaction, and segmentation and targeting solutions for optimal use of campaigns.
Here is a detailed comparison of Hello Bar and OptiMonk.
---
Adoric
Adoric is a free lead generation software that allows users to create visually appealing web messages such as banners, popups, sliders, and more to increase conversions and lead generation from website traffic.
It is easy to use and compatible with any website and does not require the involvement of designers or developers.
However, it is only relevant for the web and not available on mobile apps; some features may be unclear, have limited image variants and options, and need more interactive icons.
Here is a detailed comparison of Hello Bar and Adoric.
---
Wisepops
Wisepops is an onsite marketing platform offering various features to help businesses grow their audience and generate leads.
It's suitable for middle-sized and large companies with higher page views.
Wisepops provides a comprehensive solution to drive sales, collect feedback, and improve customer retention.
It offers advanced targeting options, an A/B testing feature, analytics features, and seamless integration with various CMS and ESPs.
Here is a detailed comparison of Hello Bar and Wisepops.
---
Sleeknote
Sleeknote is a powerful popup software that offers a wide range of features for creating effective campaigns.
It is suitable for middle-sized and large businesses, particularly ecommerce companies, with higher budgets and website visitors.
Some of the key features include advanced analytics, goal tracking, A/B split testing, and a drag-and-drop editor with customizable templates.
Here is a detailed comparison of Hello Bar and Sleeknote.
---
OptinMonster
OptinMonster is a powerful conversion optimization software that helps businesses boost their online engagement and conversions through the use of customizable popup templates and targeting solutions.
It offers features like growing email lists, reducing cart abandonment, and increasing sales conversions.
The software has a user-friendly drag-and-drop builder, pre-made templates, multi-step campaigns, custom success messages, and advanced targeting options.
It can be integrated with many platforms like Mailchimp, Drip, Shopify, Salesforce, HubSpot, etc. However, it's better suited for large businesses.
Here is a detailed comparison of Hello Bar and OptinMonster.
---
For more details about these alternatives of Hello Bar, visit the Hello Bar Alternatives page.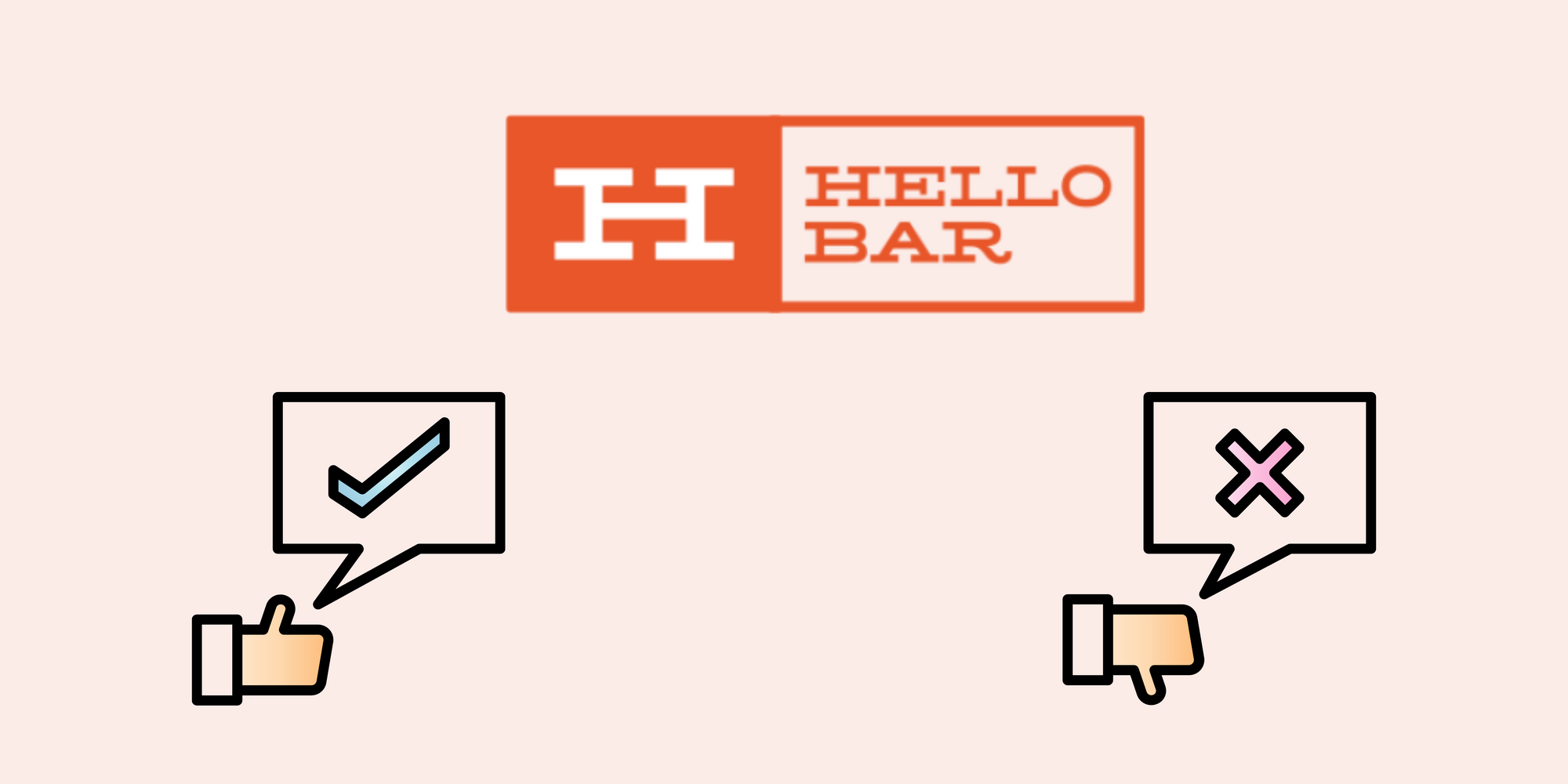 Hello Bar Pros & Cons
We have observed the users' reviews of Hello Bar to see its advantages and disadvantages.
It is better to see the results together. Let's see!
Some pros of Hello Bar based on the reviews provided are:
Easy to install, customize, and test.
Comes with various templates and does not require programming skills.
Allows for creating banners without the need for a web developer.
Effective for capturing email addresses and directing users to different landing pages.
Offers a free trial and can be useful for small websites but may be inadequate for larger SaaS companies.
Simple enough that even a new team member can use it without guidance.
Provides statistics on the performance of the banners and popups and allows for targeting specific pages or users.
Allows for customization of the appearance of the popups, including the background and CTA colors and fonts.

Some cons of Hello Bar based on the reviews are as the following:
Tracking the performance of specific popups in relation to particular topics can be challenging among multilingual blogs with high traffic.
Integration with other platforms, such as Hubspot, is lacking, requiring additional tools to compensate.
The inability to immediately deliver ebooks and templates increases workload.
Customization options are limited by the lack of a feature for uploading custom popups.
Mid-tier plans may have limitations regarding the maximum number of page views.
Scheduling banners for specific events is not available, requiring manual enable/disable.
The user interface may not be as intuitive as it could be.
Doesn't allow the scheduling of popups and showing them on specific pages.
Doesn't have the option to send an email with the filled contact details.
May have room for improvement and can be improved on for better performance.
For further examination of Hello Bar and the experience with Hello Bar, you can check the Hello Bar Review page.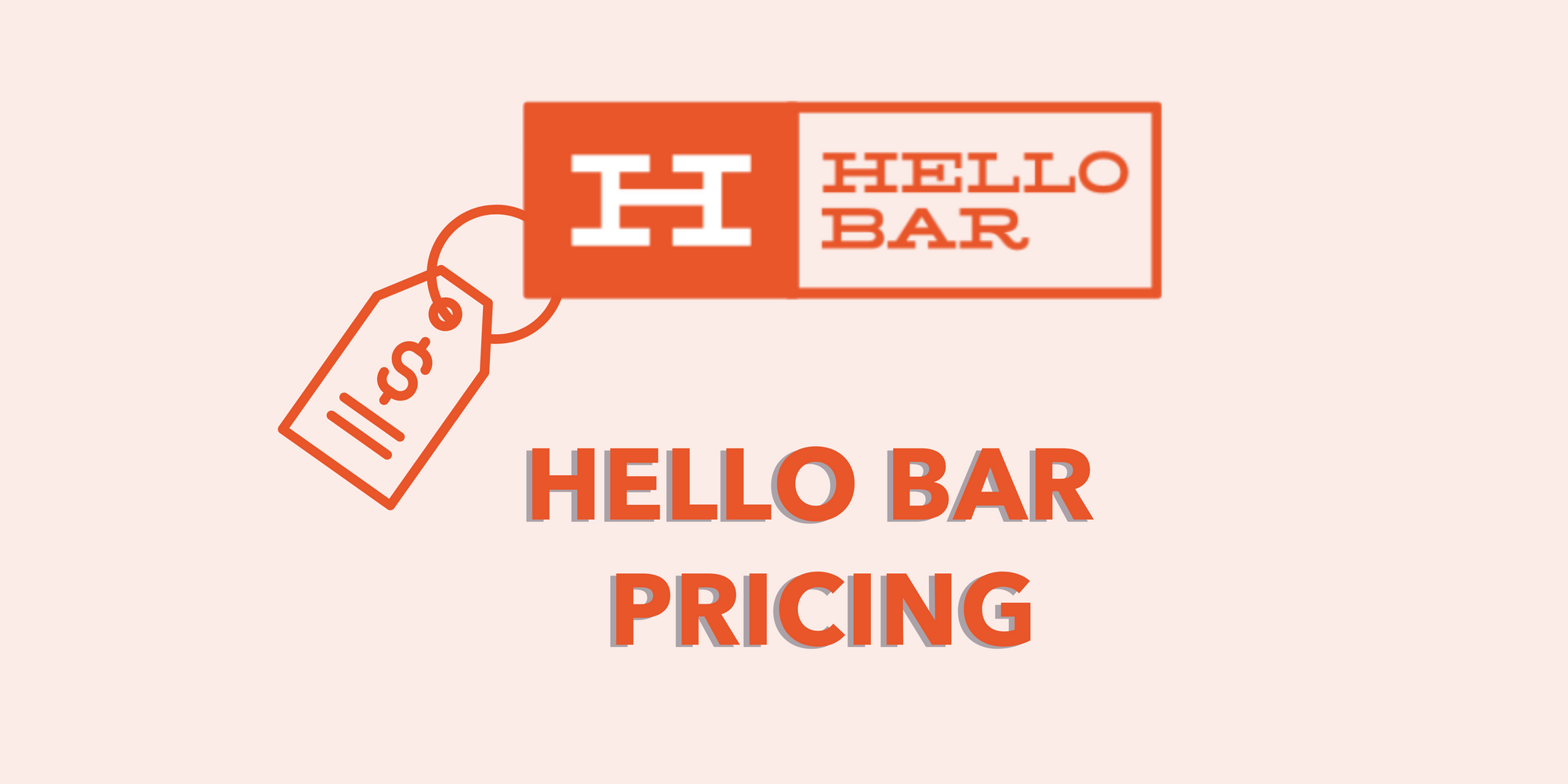 Hello Bar Pricing
Hello Bar offers a cost-effective solution for businesses with low website traffic.
There are several pricing plans to have a look at and find the proper one for your needs.
The paid plans may offer additional features such as A/B testing, targeted campaigns, and custom branding and may include a higher number of page views.
The Starter plan allows for a maximum of 5,000 page views per month, unlimited popups, subscribers, and A/B tests.
The Growth plan allows you to reach custom branding options and access to Zapier and email integration.
The Premium plan of Hello Bar is the most popular choice among businesses with moderate-to-high website traffic.
The Elite plan fits the needs of most businesses looking to increase their lead generation and improve their customer engagement on a large scale.
The pricing plans may be flexible, and you can upgrade or downgrade at any time. Some plans may have a free trial option.
Some plans may also have a higher cost for additional features such as email integration, webhooks, and sub-accounts.
For more information about the pricing of Hello Bar, here is the Hello Bar Pricing page.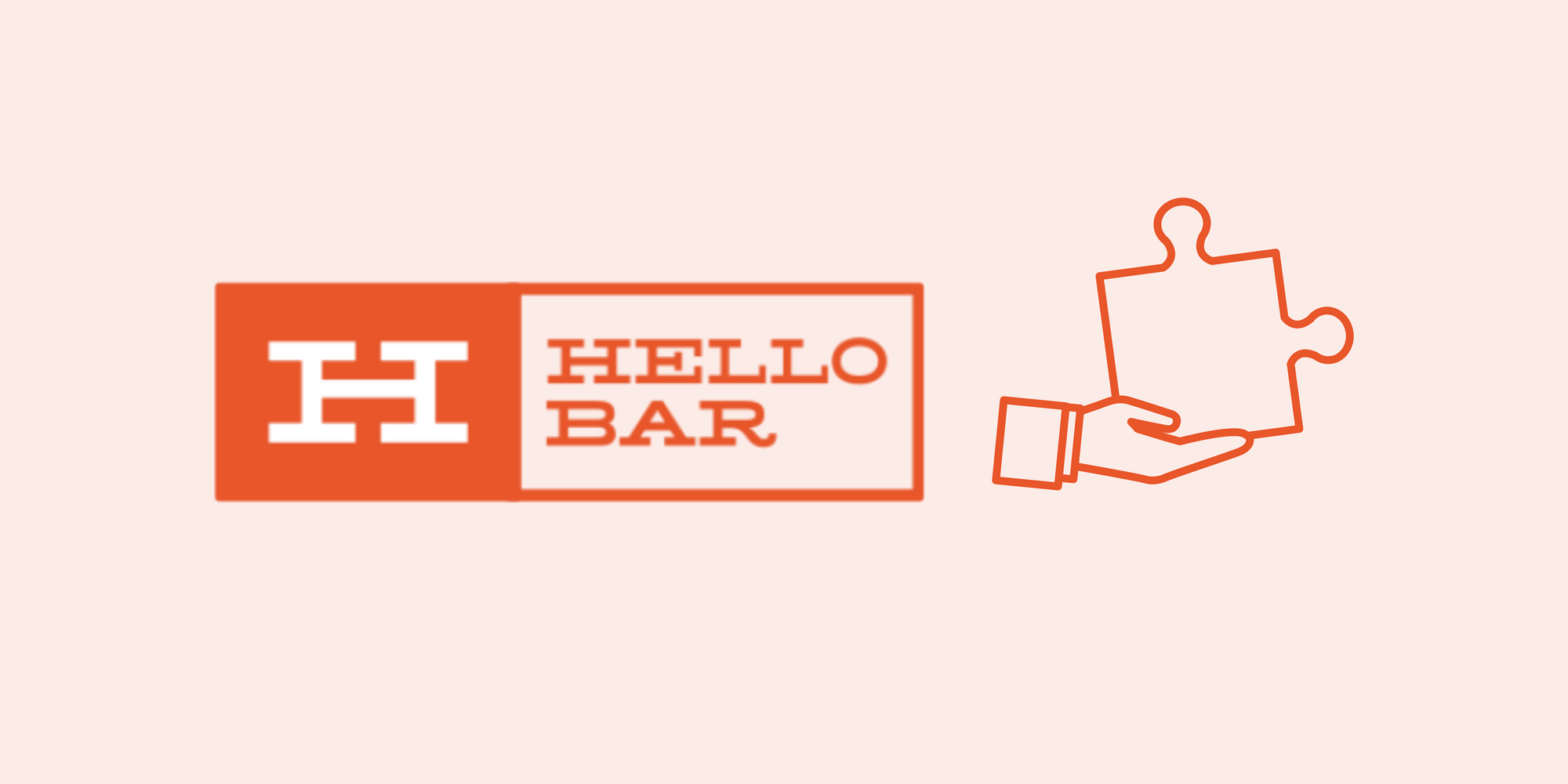 Hello Bar Templates
Hello Bar can be used to send a personalized message to customers who have added items to their shopping cart but have not completed the purchase.
You can use this to send a promotion or special offer to help encourage customers to complete their purchases.
---
Hello Bar is a great tool for growing email lists. It offers easy customization, tracking capabilities, segmentation, and A/B testing that can help you optimize your campaigns and maximize the efficiency of your email list-building efforts.
---
Hello Bar is a great tool for promoting special offers. It allows you to create attractive hello bars and customize the look and feel to match your website's design.
You can track performance, add countdown timers, sync with email services, leverage segmentation and A/B testing, share your offers on social media, and use the analytics and reporting features to track how effective your offers are.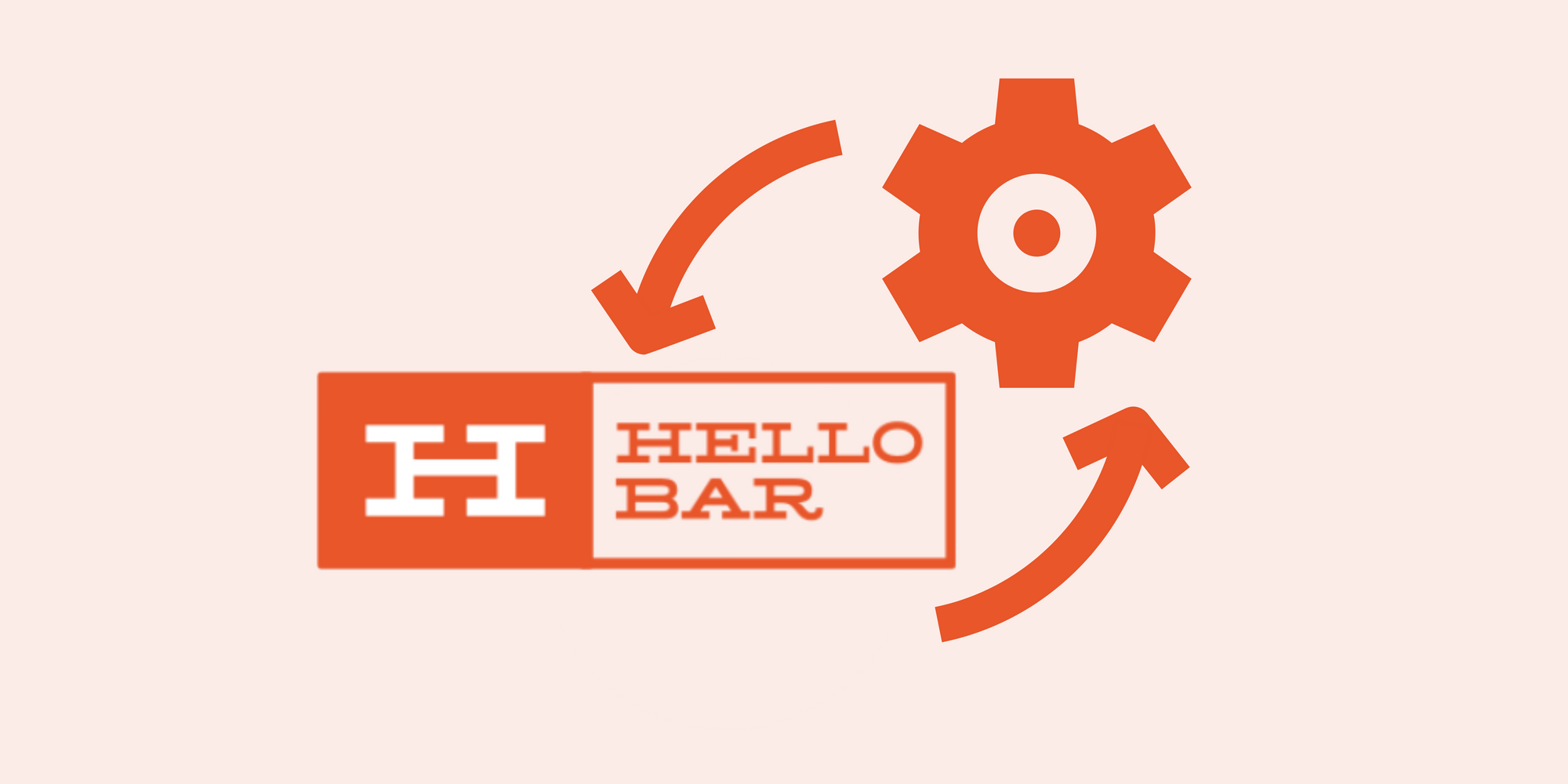 Hello Bar Integrations
Hello Bar has various integrations, like other popup builders, with some of the important software.
Some of them can be ordered as follows:
Hello Bar
ConvertKit
Vertical Response
MyEmma
Campaign Monitor
GetResponse
Constant Contact
Mad Mimi
AWeber
It is also possible to integrate Hello Bar with different CMSs. You can have a look at them and more on the Hello Bar Integrations page.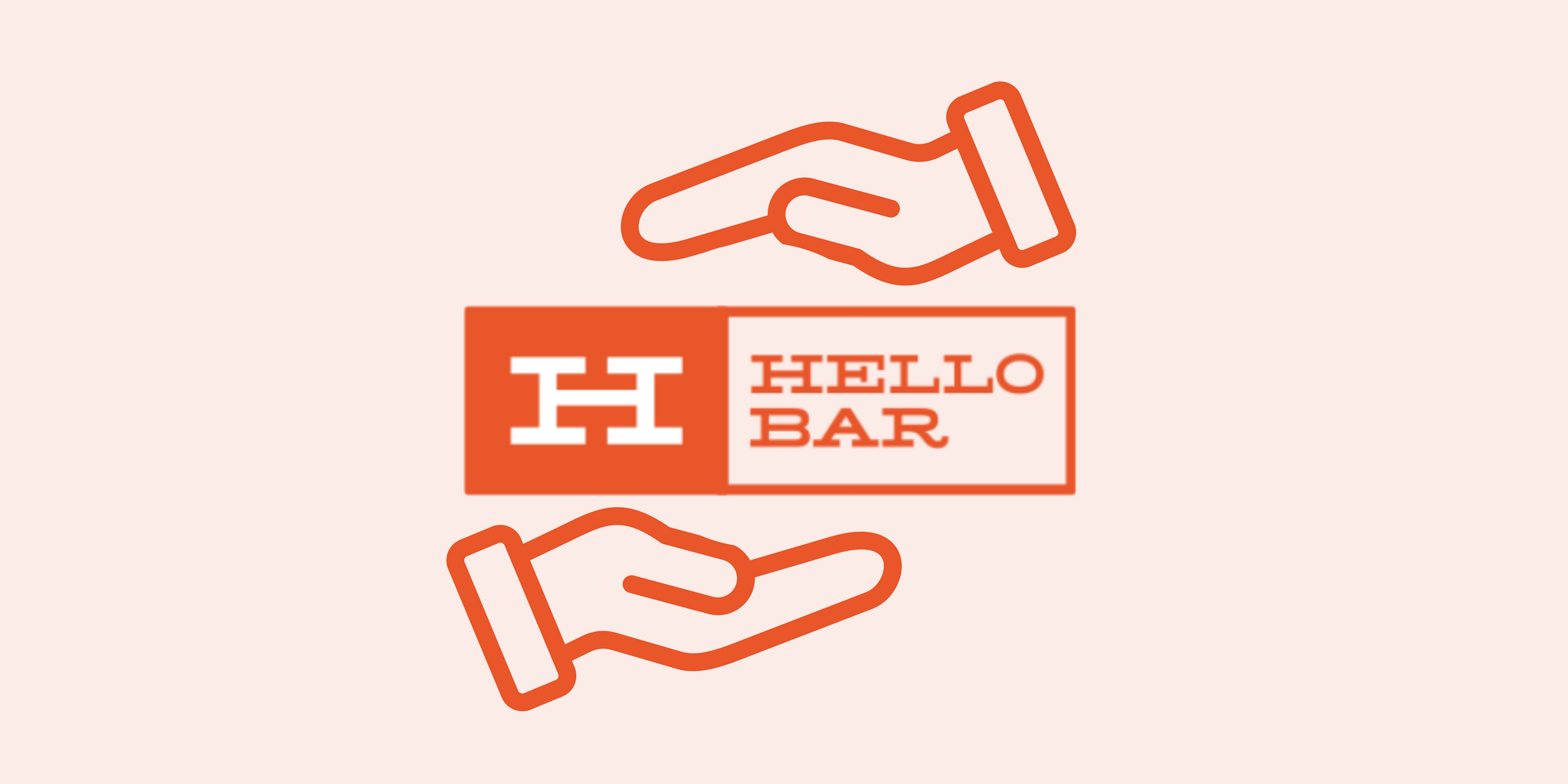 Hello Bar Documentation
If you have questions about Hello Bar, rest assured that we have covered you. Our aim is to provide a complete and comprehensive overview.
However, if you would like to learn more, feel free to explore the extensive Hello Bar Help Documentation.
This should give you a deeper understanding of the product and help you determine if it meets all of your requirements.
Hello Bar FAQs
Does Hello Bar Slow Down My Website?
The use of plugins on a website can have an impact on its loading speed, and Hello Bar is no exception. However, it is generally a small impact and not significant enough to cause concern.
Other factors, such as unoptimized images or heavy ad units, can also affect website speed. Hello Bar uses javascript to function, which can slow down the website's loading speed, but the effect is usually not noticeable.
It might be similar to or faster than other tools, such as Google Analytics. The Google site speed tool can be used to measure the impact of different plugins and other factors on website speed.
Why is Hello Bar Covering My Header?
Hello Bar is a plugin that adds a call-to-action or other message to the top of a website. In some cases, it can cover the header of a website, which can be caused by the Pushes page-down option not being enabled in the Style section of the plugin. Enabling this option can solve this issue. However, if the issue persists, that means that the header is using a fixed CSS position, which is the same position that Hello Bar uses; this can be solved by adjusting the website's code, by changing the location of the Hello Bar to the bottom of the page or by choosing a different style for the Hello Bar such as a slider, modal or takeover.
Where Can I Find My Hello Bar Code?
Your Hello Bar code can be found by logging into your Hello Bar Dashboard. Two different ways to access this code.

In the top right corner of the dashboard, click on your username, then select Installation Instructions from the drop-down menu.
On the left sidebar, navigate to the Settings tab, then select the Installation Instructions link in the middle of the page.