Adoric can be considered a successful popup builder, but you might want to know the alternatives to try and check out the examples below in detail.
Privy
Privy is a powerful marketing tool for ecommerce companies looking to boost their sales through targeted campaigns.
The platform offers a wide range of features, including email and SMS lead capture, newsletter design, popup creation, and cart-saver text automation, enabling businesses to engage with their audience and drive revenue growth effectively.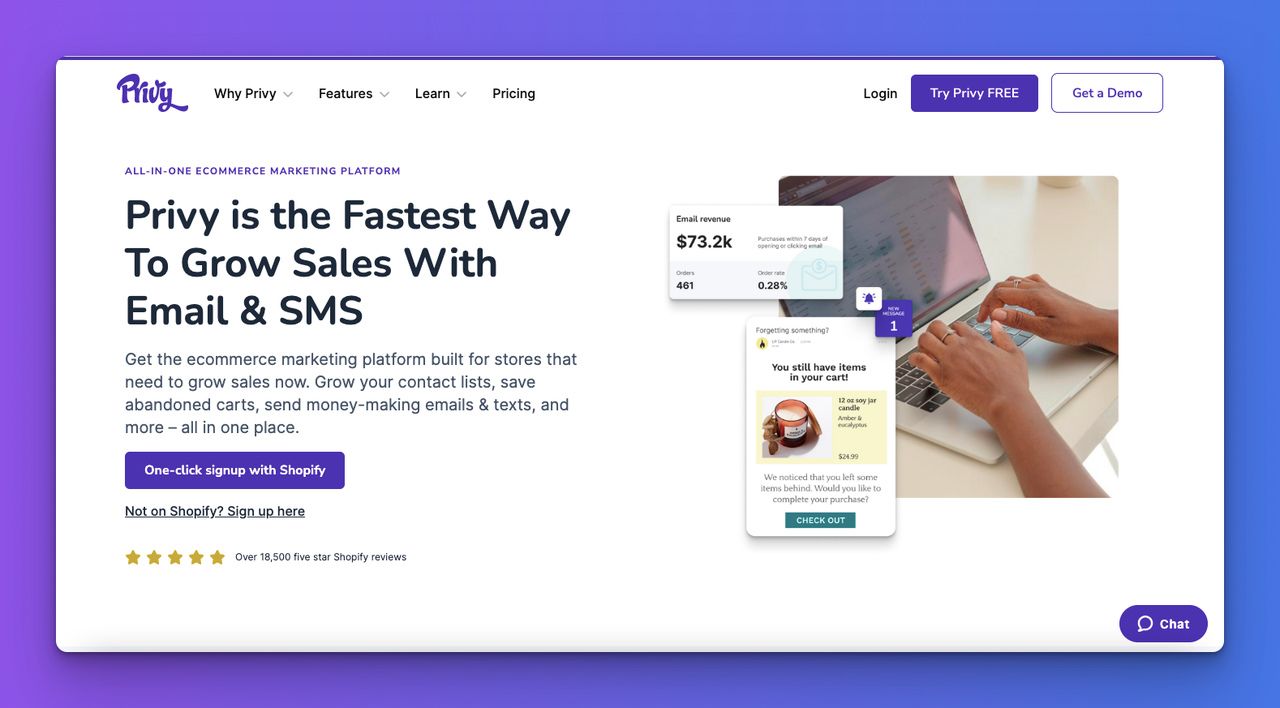 Privy is specially tailored for rapidly growing Shopify businesses and offers an intuitive user interface for users with limited marketing knowledge. The platform is engineered to empower businesses to streamline their marketing strategies and increase conversions without the need for extensive technical skills.
Pros:
Helpful and informative Quarterly Business Reviews
An intuitive interface for easy updates
User-friendly templates
Specialized technology for effective popups and email/SMS capture
A straightforward onboarding experience with quick results
Customizable on-site displays that adapt to brand growth.
Cons:
Cost increases as the brand expands and email sign-ups increase
Setting up campaigns can be confusing and time-consuming
Too many tools to choose from, making it challenging to find the right one
Reporting functionality is limited and requires manual data export and analysis
Segmentation of customers could be complex, particularly for B2B and B2C businesses
Hello Bar
Hello Bar is an online platform that enables businesses to create and display a variety of web elements, such as alerts, calls-to-action, and opt-in forms, to improve website conversion rates.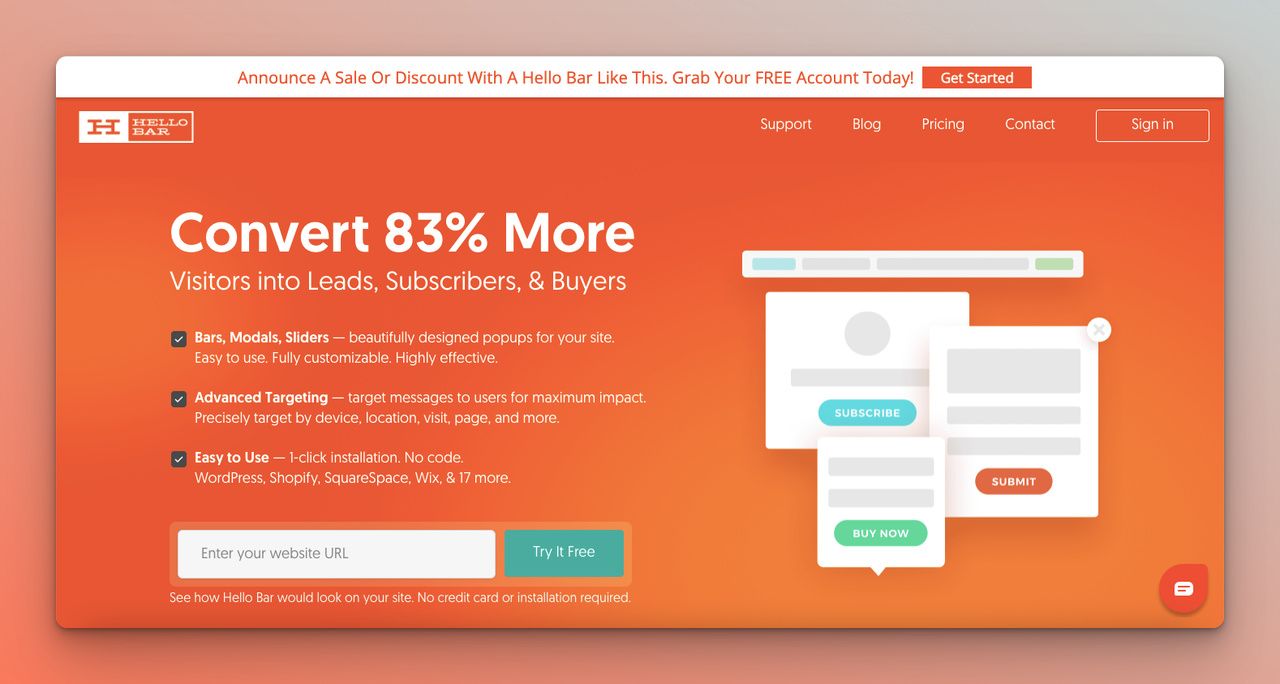 The tool offers extensive customization options, such as the ability to design and style the elements to match the website's branding, and provides analytics and tracking features to help businesses measure the effectiveness of their campaigns.
Benefits:
Offers ample opportunities for personalization to align with the website's aesthetic
Equipped with analytics and tracking functionality to evaluate campaign performance
Encourages visitors to take a wide range of actions
Drawbacks:
Some users may find the web elements to be obtrusive
Requires a subscription to access all features
May not be suitable for all businesses to meet their conversion optimization requirements.
Sumo
Sumo is an email lead generation tool that enables businesses to gather contact information from website visitors through various means, such as opt-in forms, exit-intent popups, and other targeted messaging methods.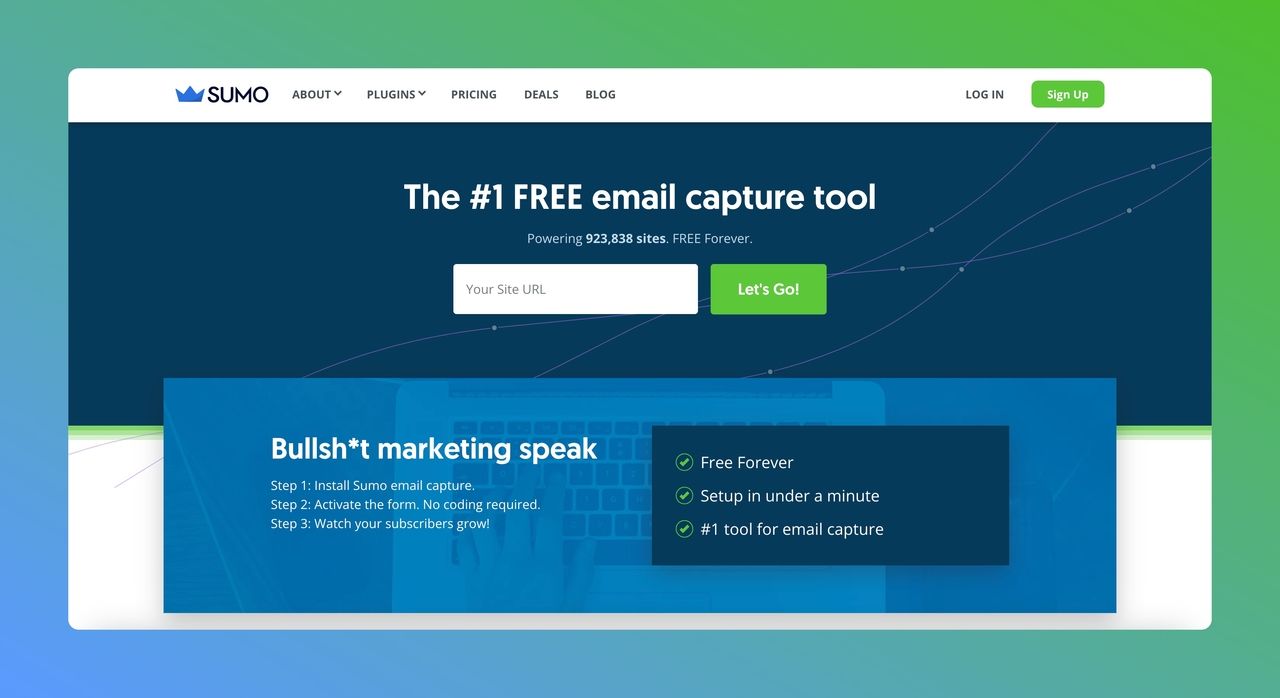 Advantages:
The tool includes a variety of customizable templates and allows for A/B testing.
Sumo has a user-friendly drag-and-drop interface.
It seamlessly integrates with other products within the Sumo ecosystem.
It is efficient with email marketing and CRM platforms.
It provides in-depth analytics to its users.
Disadvantages:
Certain integrations require additional charges.
Users may require additional guidance while using the tool.
The free version has limited features.
Popupsmart
Popupsmart is a user-friendly, no-code popup building tool designed to help businesses improve their online conversion rates and enhance user engagement on their websites.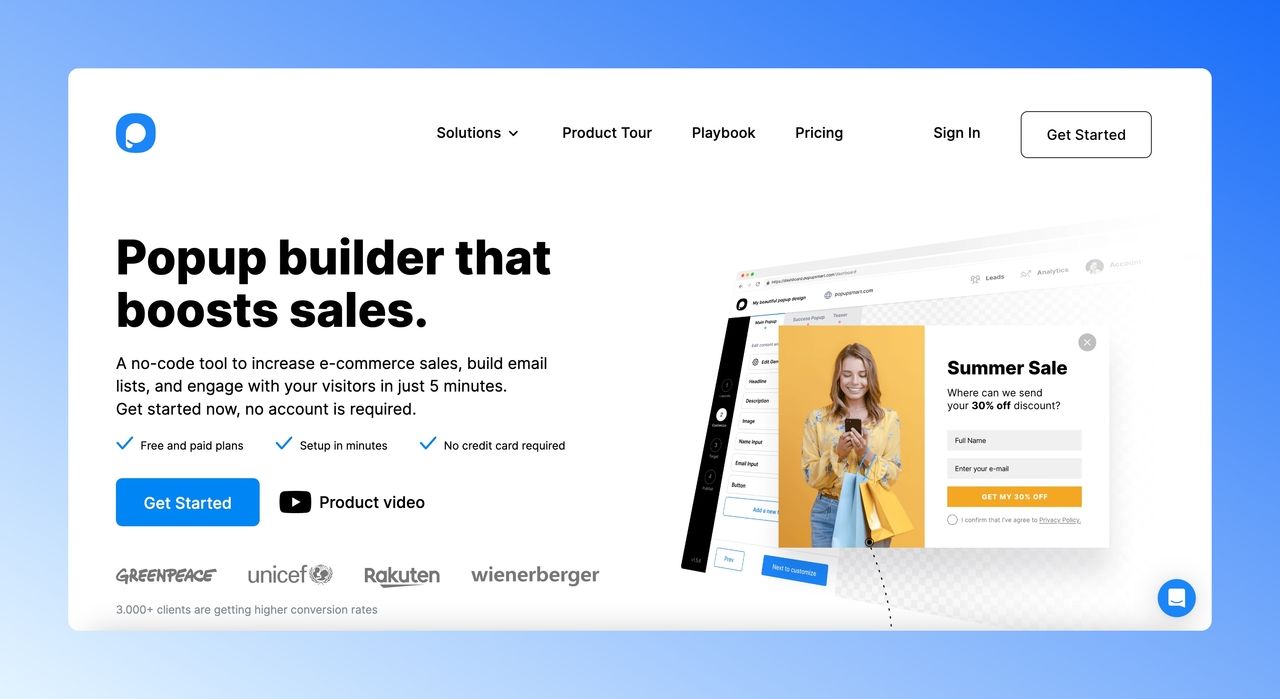 Pros:
Offers customizable templates and drag-and-drop customization options.
Includes multi-step popups and gamification features.
Provides fast website performance and an intuitive user experience.
Offers advanced audience & user behavior targeting options.
Offers various integration options to support various objectives.
Cons:
May not be suitable for all businesses depending on their needs.
The free plan is limited to one website and campaign feature.
Wisepops
Wisepops is a tool that enables businesses to optimize their website's conversion rate by creating and customizing interactive elements such as popups and floating bars.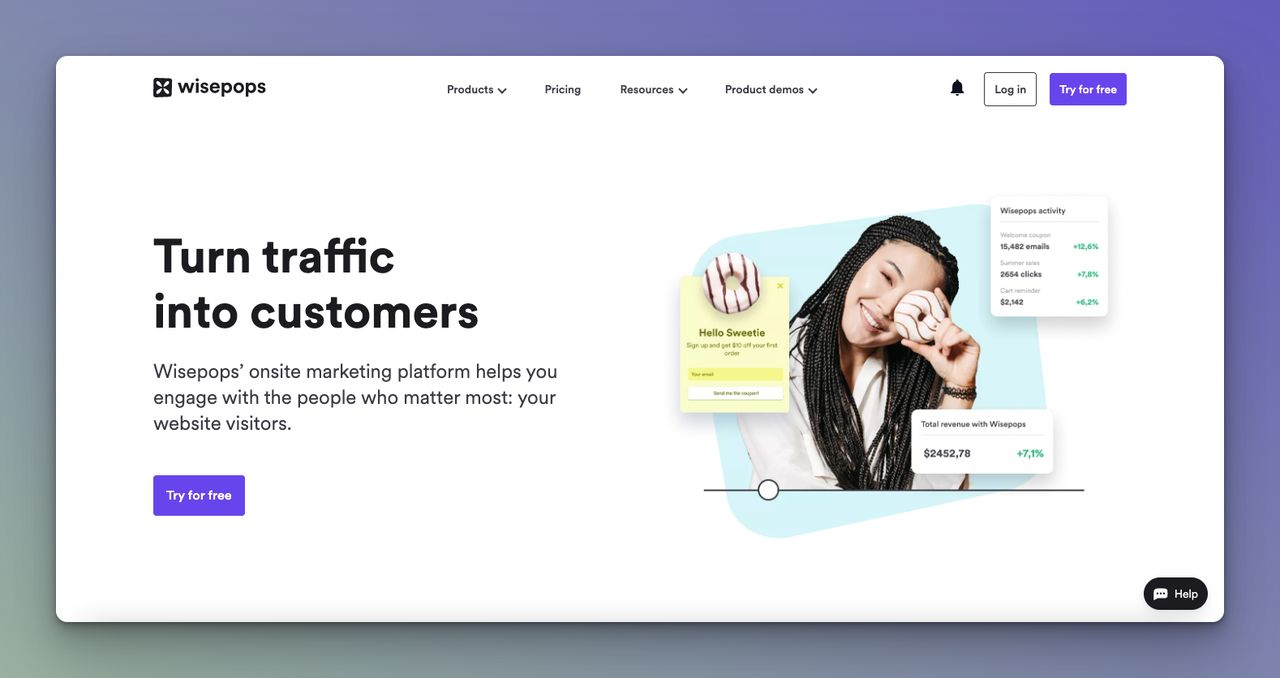 The platform also provides analytics tools for evaluating campaign performance and making data-driven optimizations.
Pros:
Wisepops provides businesses with the tools to create targeted and personalized popup campaigns on their website, increasing audience engagement and delivering relevant information.
The platform offers an extensive array of design and customization options, allowing users to create visually appealing popups that align with their brand aesthetic.
Advanced performance tracking and optimization features are available, enabling users to improve the effectiveness of their campaigns.
Cons:
Assistance: The level of assistance provided by the platform's support team may vary, with some users finding it satisfactory while others report difficulty in resolving issues.
Inconsistency: Reports of the platform's performance varying among users have been noted.
Compatibility challenges: Some users have reported challenges in using the platform with certain web browsers and operating systems.
Integration: Some users have expressed difficulty in fully integrating the platform into their website's functionality without additional configuration.