Promote products and offers popups are for e-commerce websites looking to drive sales and revenue. These may include information about special offers, discounts, or new products to entice visitors to make a purchase.
Promote products and offers popups can be effective for businesses to drive conversions and increase revenue. They can also be used to upsell or cross-sell related products or to highlight popular or best-selling items.
Promotion Popups by Sleeknote
Sleeknote is a tool that helps businesses guide website visitors around their stores and create a personalized shopping experience. It offers several features that can be used to help visitors make better buying decisions, including:
Return policy promotion: Use a well-timed popup to highlight your return policy and ease shoppers' concerns.
Size guides: Offer size guides on product pages to minimize returns and improve customer satisfaction.
Video explanations: Embed popup videos to simplify complex products, introduce new collections, or provide tutorials.
Personalization: Use Sleeknote's targeting options to show personalized popups to different groups of visitors based on their interests, page views, cart items, and more.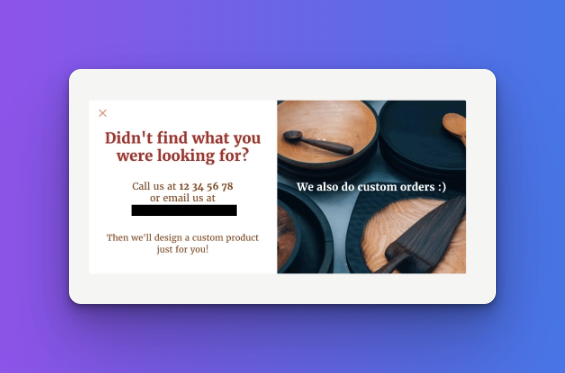 Scheduling: Plan your popups in advance for events like Black Friday, or set them to run on a fixed schedule daily. You can also use Sleeknote to detect returning visitors and show them targeted messages when they return to your site.
Sleeknote can also be used to guide visitors to the right products, highlight deals and offers, offer explainer guides, and make important announcements.
You can use page-level targeting to show your popups only on relevant pages and use the click trigger to add size guides to buttons on product pages. Overall, Sleeknote can help you create a more seamless and helpful shopping experience for your website visitors.
Promotion Popups by OptiMonk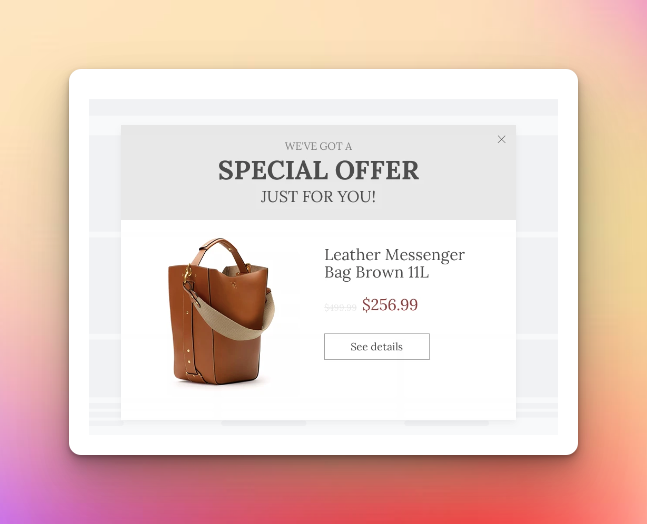 OptiMonk offers advanced tactics high-growth DTC brands use to increase average order value (AOV). Here are a few examples:
Upsell Popup: Grow AOV of engaged visitors with right-on-point recommendations. Make your customers feel special by offering them laser-targeted product recommendations with irresistible offers and growing your revenue at the same time.
Smart Upsell Bar: Increase cart value with a personalized offer. Recommend complementary products with a hint of social proof to encourage more sales before your customers are ready to check out.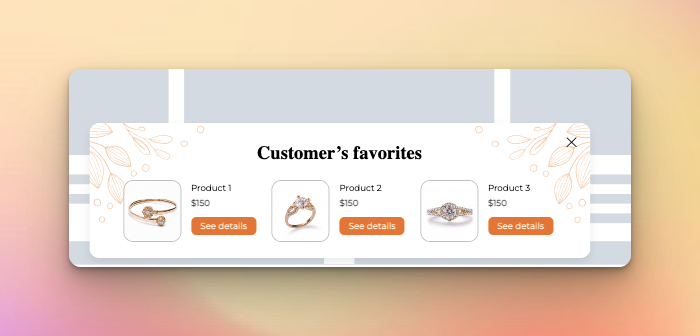 Cart Abandonment Stopper: Turn abandoned visitors into customers with smart product recommendations. Recommend highly relevant products to visitors based on their behavior to increase cart value. Display the most popular, recently added, or discounted products to guide browsing visitors.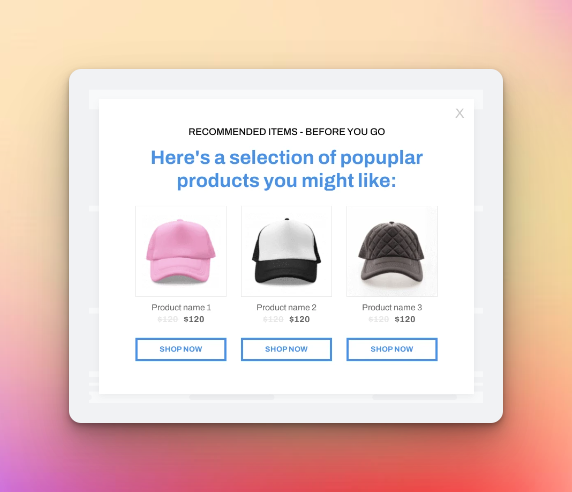 Conversational Popup: Boost conversions and collect more data at the same time. Welcome your visitors with a helpful question before requesting their contact details. Provide them with personalized recommendations afterward.
Dynamic Free Shipping Bar: Increase average order value by offering free shipping. Show visitors how much more they need to spend to unlock free shipping and watch the average order value increase.
Some tactics that businesses can use to promote special offers include promoting seasonal offers, creating a sense of urgency through the use of countdown timers or limited-time offers, and offering free shipping or other incentives to increase the average order value.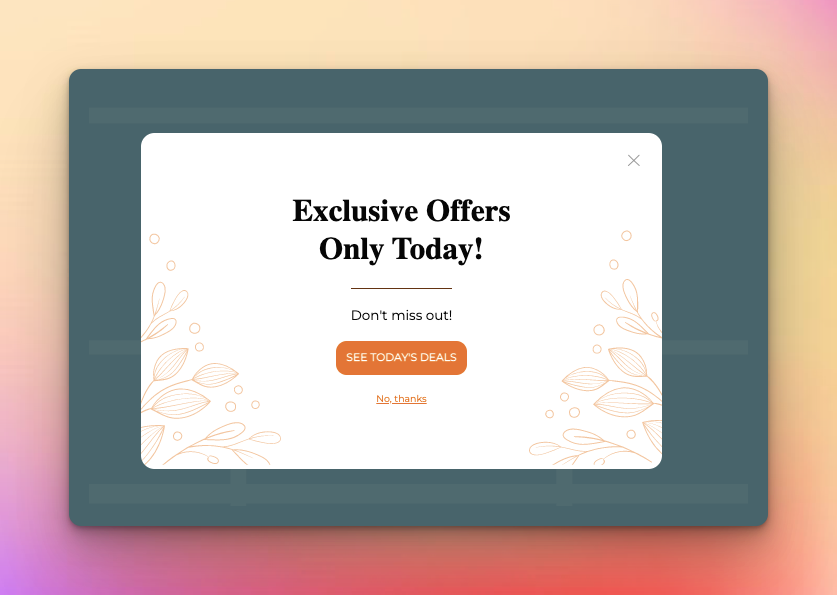 Promotion Popups by Popupsmart
Offering exclusive previews to loyal customers: Use a popup to announce a virtual pre-launch party or online tour and ask for customers' emails to grow your mailing list.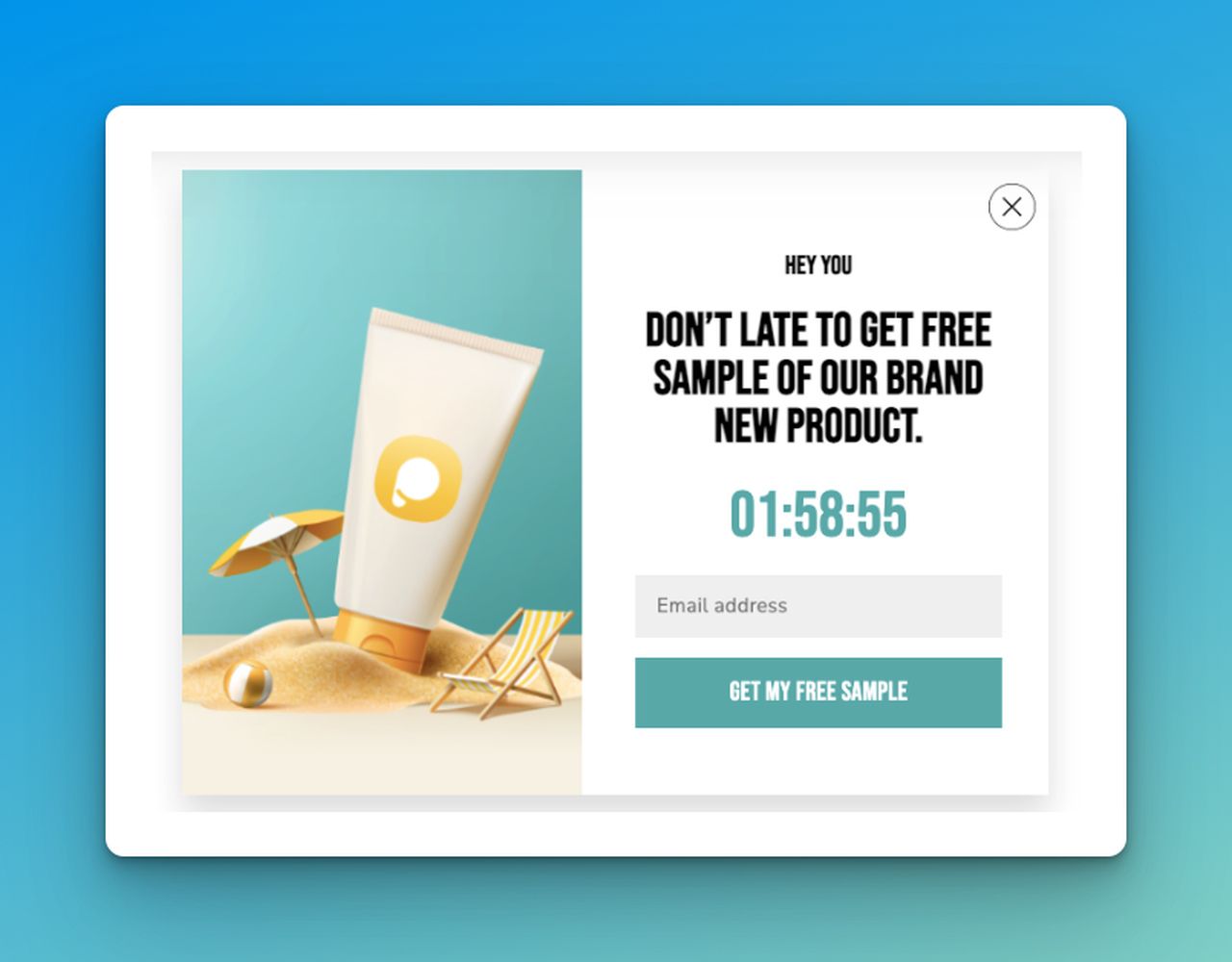 Inviting customers to a product event: Use a popup to offer a free invitation to a product event and require customer emails to receive the invitation.
Offering product samples: Boost the recognition of a new product by offering customers a sample with a countdown timer on your popup.
Using flash sales or discounts: Use a flash sale or discount to promote a specific product, with a countdown timer to create urgency.
Hosting a contest: Give customers a chance to win rewards like products, loyalty points, or coupons by running a contest.
Announcing special deals: Use popups or floating bars to ensure every visitor sees your special deals, such as holiday sales or "buy one, get one free" offers.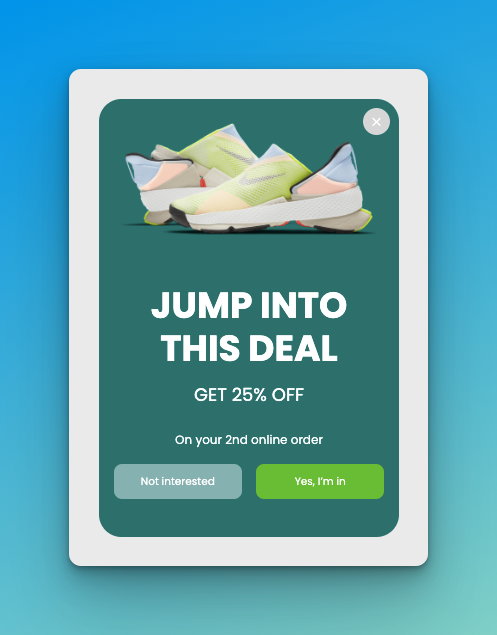 Running a giveaway: Increase the sales of a product by running a limited-time giveaway campaign and asking customers to join your mailing list to enter.
Announcing new releases: Use popups or floating bars to notify customers about new products or features.
Showing endorsements: Use testimonials, product ratings, or reviews to create social proof and promote your products.
Giving loyalty rewards: Encourage loyal customers to purchase specific items by offering them extra loyalty points to use in your store.
All in all, popups can be used to promote products and offers on an online store. By offering exclusive previews, inviting customers to events, offering product samples, and using flash sales or discounts, businesses can increase their sales and attract more customers.
Promotion Popups by Adoric
Adoric's product recommendation strategies include upselling customers with popular recommendations such as "what other customers usually buy" and recently viewed products.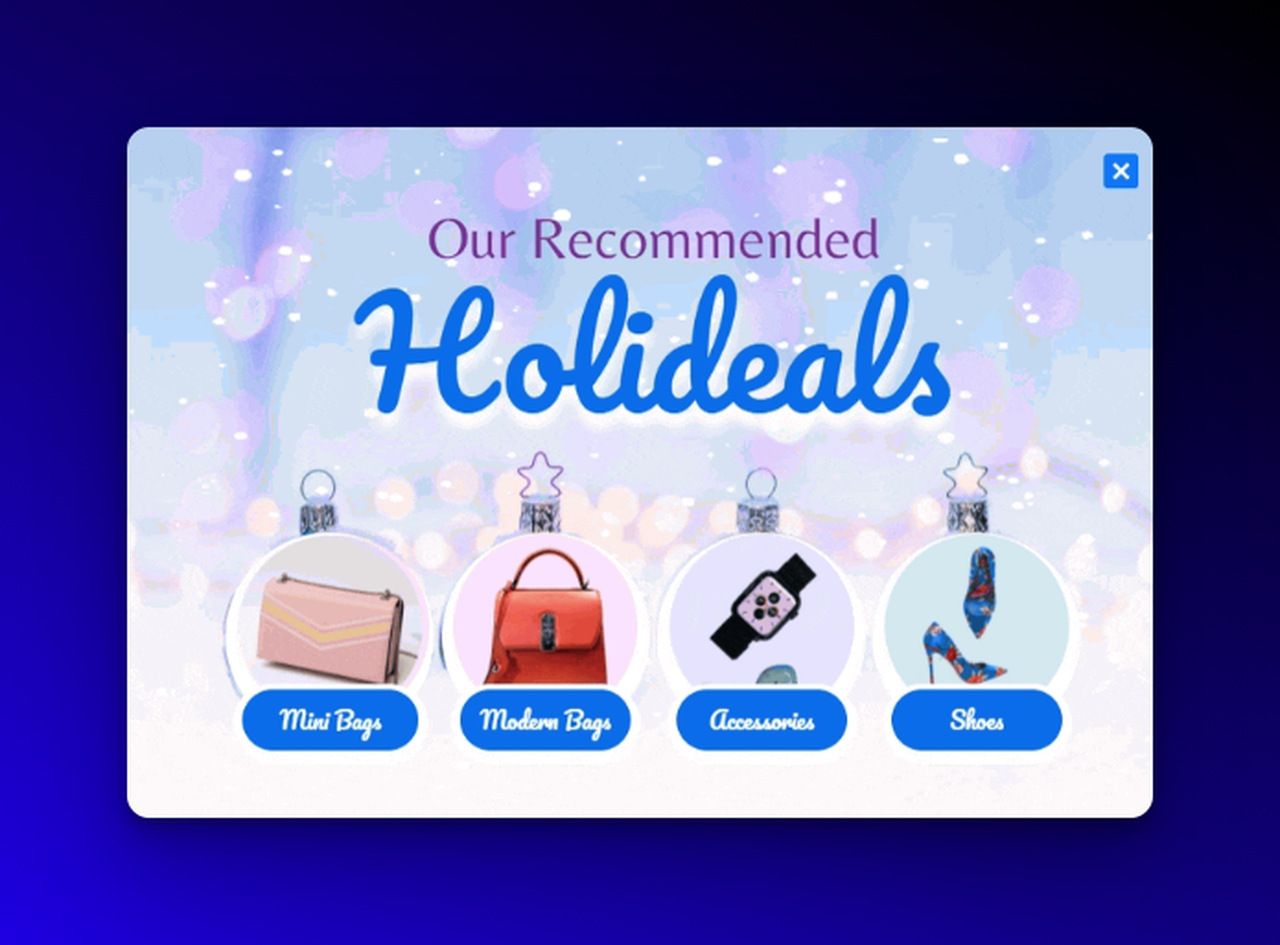 The setup is easy and fast, requiring only two steps: import your catalog and connect your Google Analytics account. Recommendations can be added to any page, including the homepage, product page, and cart page.
Adoric allows you to target the right users by choosing the relevant audience for each recommendation type and get the best results, including returning and new users.
The platform also offers flexible merchant controls and a powerful filtering feature, which gives users the flexibility to find products based on price and category. Furthermore, the platform's editor allows you to customize your designs to fit your style and taste.
In summary, Adoric's personalized product recommendations can help boost your sales and revenue by providing a personalized shopping experience for your customers. With its advanced algorithm, various strategies, easy and fast setup, targeted audience, and flexible merchant controls, this platform can help increase conversions and sales for your online store.
Promotion Popups by Hello Bar
Hello Bar also offers the ability to add countdown timers to your popups, which can give visitors a sense of urgency and motivate them to take advantage of the offer.
You can also use the social media integration feature to easily share your offers on your social media channels and reach a wider audience.
Hello Bar also allows you to sync your hello bar campaigns with a wide range of email services, such as MailChimp, Constant Contact, and Campaign Monitor, to ensure your special offers are delivered to your subscribers.
Additionally, you can also use the analytics and reporting features of Hello Bar to track the performance of your special offers and identify areas for improvement.
Promotion Popups by Privy
Recovery of abandoned carts via text and email: Notify those on your email or SMS list who have left items in their carts. Automatically send emails or texts after a certain period of time has passed.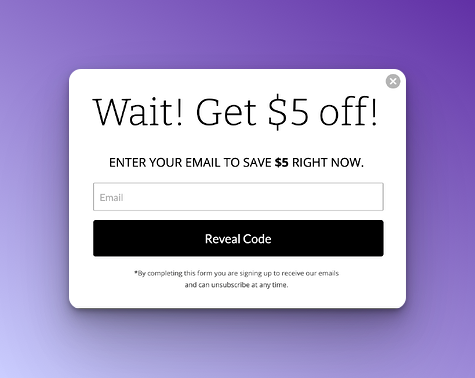 Prevention of cart abandonment: Eliminate cart abandonment before it occurs. Cart-saver popups appear when someone is about to leave your site. Offer a coupon code in exchange for their contact information.
Cross-selling through personalized product recommendations: Utilize product recommendation popups at the checkout stage that are tailored to the items in a shopper's cart.
Announcement of free shipping thresholds: Include a free shipping bar at the top of your website, clearly displaying the minimum purchase amount required for free shipping.
Implementation of countdown timers: Create a sense of urgency on your website with countdown timers, letting shoppers know they have a limited time to take advantage of your offer.