Do you want to enhance the user experience on your website and increase conversions?
Here is Poptin on the best popup builder directory, PopupBuilder.io.
In this article, we will dive into the features and benefits of Poptin in all detail and explain why it stands out as a top choice for website owners.
Poptin Product Tour
Poptin is a tool for creating popups and forms for websites. It is designed to be user-friendly and offers a range of customization options and integrations with third-party systems.
Poptin can be used to increase conversions, subscriptions, and awareness, and it has features such as A/B testing to help optimize popups.
Poptin is accessed through a dashboard and can be used to create and customize various types of popups and forms, including exit-intent popups, opt-in forms, and lead generation forms.
Poptin is a tool that can be used by anyone who has a website and wants to create popups or forms to engage with their visitors.
It is designed to be user-friendly and easy to use, so it is suitable for a wide range of users, including individuals and small business owners who may not have technical expertise.
Poptin can be used on a variety of websites, including e-commerce sites, blogs, and online course platforms. It can be used to promote products, capture leads, and engage with visitors through email marketing or chat.
Poptin allows users to create and customize popups and forms for their websites.
Popups of Poptin are a type of window that appears over a website's content and can be used for a variety of purposes, such as promoting products, capturing leads, or engaging with visitors through email marketing or chat.
Its forms are used to gather information from website visitors, such as their contact details or preferences.
Poptin offers a range of templates and customization options to help users create effective popups and forms that match the look and feel of their website.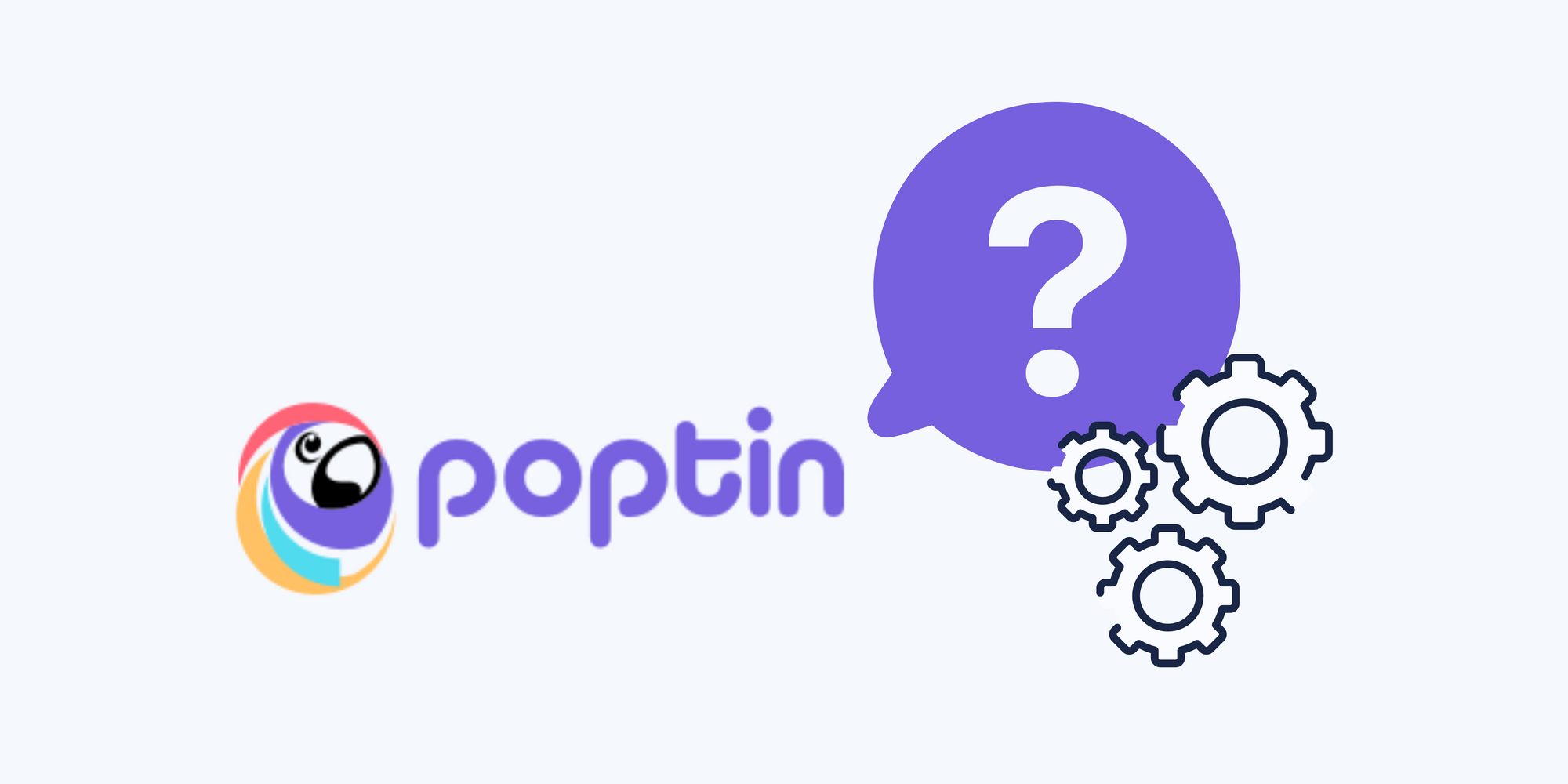 How Poptin Works?
Once you have selected Poptin, you can begin creating customized popups and forms for your clients.
When creating the forms, make sure to consider factors such as the design, placement, and timing of the forms.
You need to have an appealing popup design for your website. The design should be clean and professional, and the placement should be in a highly visible location to website visitors.
The timing should be set to appear at the right moment when the visitor is most engaged on the website. So, make sure you choose the best targeting for your popup from Poptin's targeting options.
In addition, It's important to keep in mind that you'll need to configure the integration properly with your client's website first to use it and ensure that everyone understands the legal requirement for lead collection and handling.
It is advised to ensure that you get consent from visitors and inform them of how their information will be used with regulations like GDPR, CCPA, or similar regulations.
You can make more changes to generate more leads and improve conversion rates for your clients before making your popup campaign live.
Managing users and accounts is important for effectively running any business or organization. There are a few key steps you can take to manage users and accounts effectively:
Get access to existing accounts: If you're joining a new team or organization, it's important to get access to any existing accounts that are relevant to your role. This might include email accounts, social media accounts, or other types of accounts you will need to access to do your job.
Grant access to users from your team: Once you have access to existing accounts, you can grant access to other users on your team. This might include other team members who need access to specific accounts in order to complete their work.
Create users for your clients: It may be helpful to create users for your clients so that they can continually be updated on the status of their projects or accounts. This can help build trust and transparency with your clients and allow them access to their own data and metrics.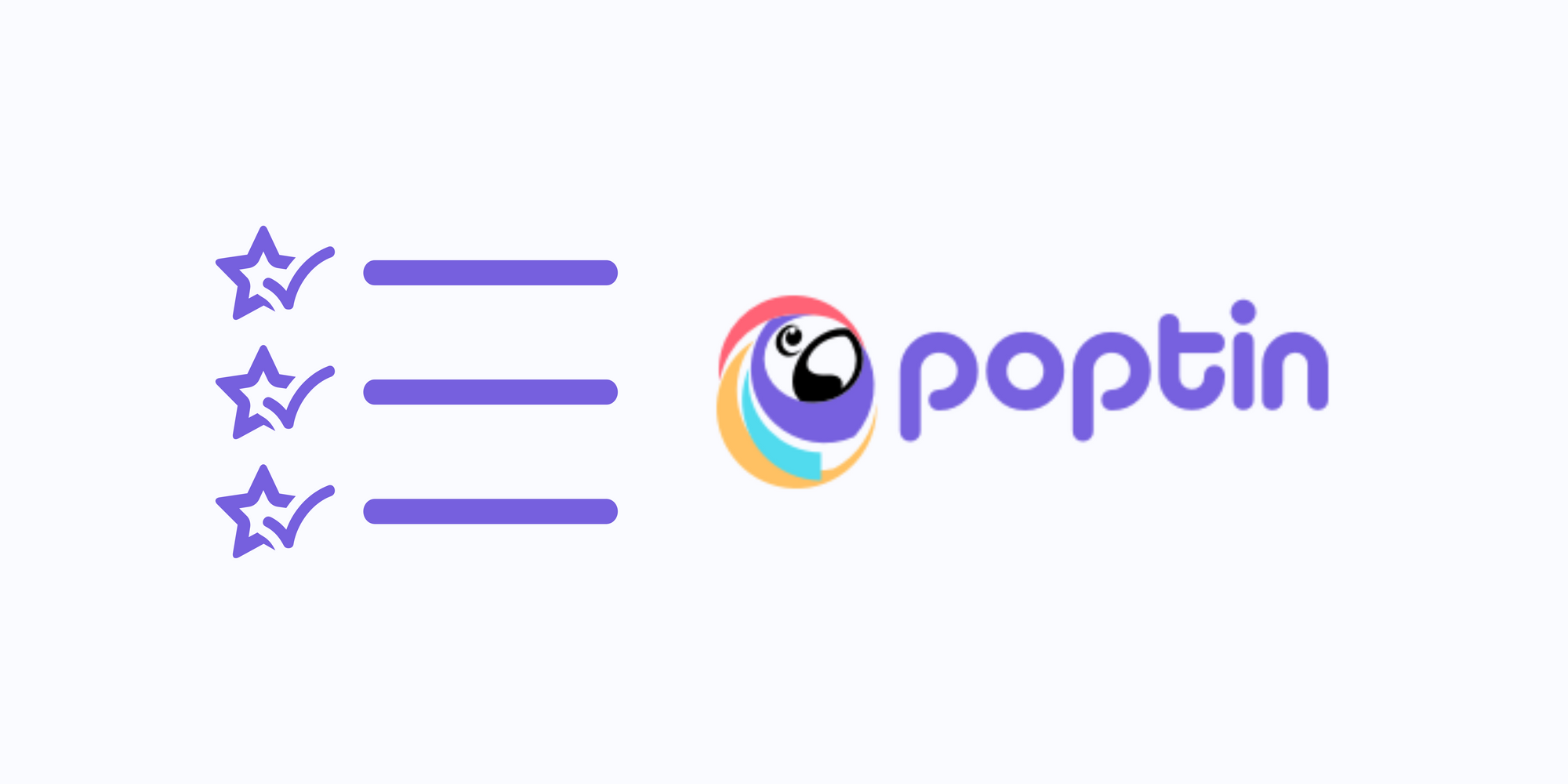 Poptin Features
Poptin is a platform that offers a variety of features for creating and customizing popups and forms on websites.
💡
With its drag-and-drop editor, users can easily design and style their popups and forms to fit their brand and preferences.
💡
Poptin also has a range of templates available for users to choose from, ensuring that they can create professional and fully-responsive popups and forms.
💡
Poptin offers exit-intent technology that allows users to reduce cart abandonment and increase sales by displaying a popup when a visitor is about to exit the website.
💡
Poptin also offers a range of integrations with popular CRM and email platforms and autoresponders to send automatic emails to visitors who sign up.
💡
The platform also has built-in analytics to monitor performance and real-time results.
💡
Poptin offers a range of triggers to display popups, including time delay, page scroll, and on-click triggers.
💡
Users can also target their popups based on various criteria, including page targeting, traffic source, and geo-location with Poptin.
💡
Poptin offers seamless marketing features such as list segmentation, smart tags, and conversion codes to help users optimize their campaigns and improve conversions.
💡
Poptin's reporting capabilities help you easily view data for specified timeframes on various metrics such as visitors, views, and conversion rates.
Some examples of metrics that you can track include:
The number of visitors: This metric will show how many people have viewed your popup on the client's website.
Views: This metric will show how many times the popup has been viewed.
Conversion rate: This metric will show the percentage of people who have filled out the form or taken the desired action.
💡
Poptin also offers the ability to send automated emails, known as autoresponders, to website visitors.
Autoresponders can be triggered by specific actions, such as filling out a form or clicking on a link, and can be used to send personalized messages or follow-up emails to website visitors.
This feature can help businesses nurture leads and build relationships with their audience.
Providing high-quality customer support is essential for any business, especially for businesses that rely on technology or software.
Poptin provides help communication channels, such as live chat, a Help Center, and a quick problem-detection system on its website.
Their support team is available during business hours and responds to inquiries in a timely manner.
The Privy Help Center has different articles that also answer the users' questions.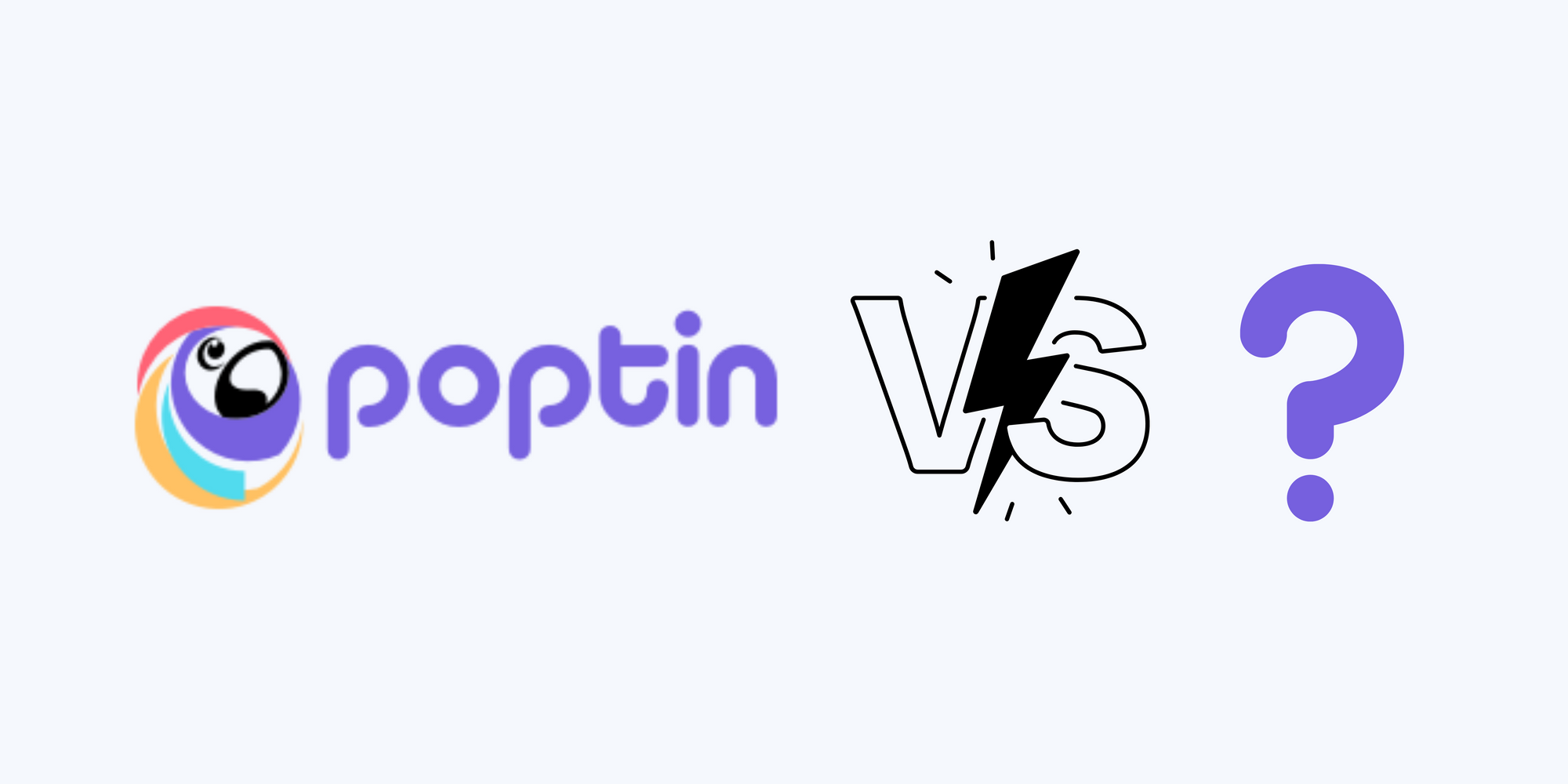 Poptin Alternatives
Sleeknote
Sleeknote is a popular popup software known for its advanced features.
However, it may not be the best cost-saving option for lead generation tools.
It's ideal for large ecommerce businesses with a budget and expertise in lead generation.
Sleeknote offers a user-friendly interface and integration with various platforms, but you can consider the price too high if your budget is limited.
Here is a detailed comparison of Poptin and Sleeknote.
---
Privy
Privy is a powerful marketing automation tool that offers businesses a range of features to help them grow their email lists and increase conversions.
While it may not have the most satisfying templates, it comes with powerful features such as cart abandonment emails, multiple opt-in form types and SMS marketing solutions, and a Shopify integration.
Here is a detailed comparison of Poptin and Privy.
---
Popupsmart
Popupsmart is a user-friendly, no-code popup builder aimed at helping all kinds of businesses improve conversions and engagement on their websites.
It offers customizable templates, advanced targeting options, and fast website performance.  
And it is an easy-to-use tool with customizable features that may be useful to improve website conversions and engagement.
Here is a detailed comparison of Poptin and Popupsmart.
---
OptiMonk
OptiMonk is an automation tool that provides various customizable features such as opt-in forms, exit-intent popups, and targeted banners for businesses to increase their conversion rate and improve customer engagement.
It's a practical choice for businesses with a Shopify store as it has a Shopify integration.
Though it can be costly for small businesses, and some users may find the interface or customization options less user-friendly than other marketing tools, it can be effective with a proper design and messaging strategy.
Here is a detailed comparison of Poptin and OptiMonk.
---
Sumo
Sumo offers a comprehensive set of tools that can help businesses increase conversions by capturing email addresses and other contact information from website visitors.
With an intuitive drag-and-drop builder and powerful integrations, Sumo makes it easy for businesses to grow their email lists, connect with their marketing and CRM platforms, and track the performance of their opt-in forms.
However, it may not be suitable for businesses with limited resources and require more guidance for users to utilize its capabilities fully.
Here is a detailed comparison of Poptin and Sumo.
---
For more details about these alternatives of Poptin, visit the Poptin Alternatives page.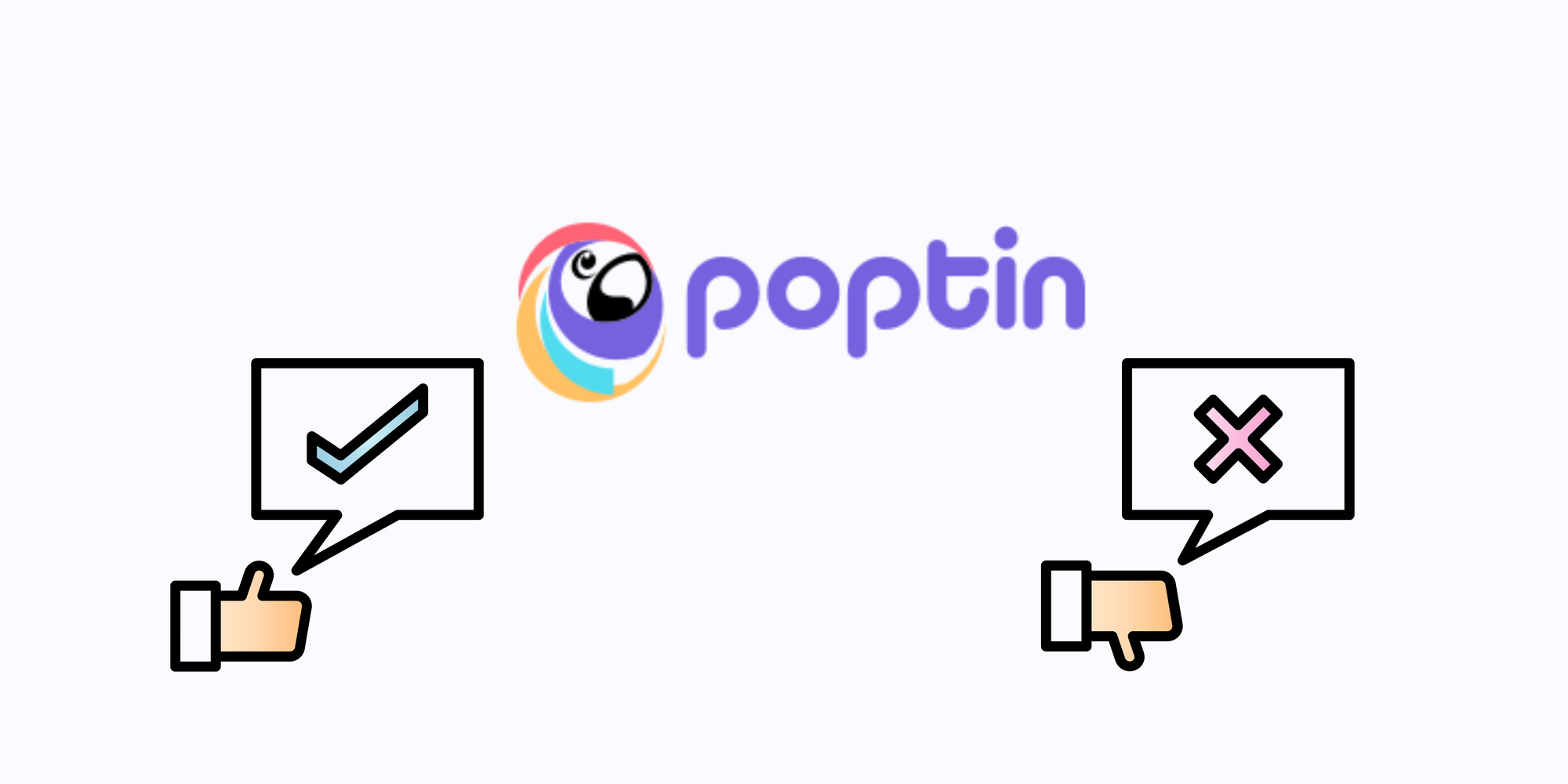 Poptin Pros & Cons
We have observed the users' reviews of Poptin to see its advantages and disadvantages.
It is better to see the results together. Let's see!
Some pros of Poptin based on the reviews provided are:
Poptin is a useful no-code widget for creating popups on websites.
It offers a range of customizations and integrations, including Zapier and Bitrix24.
Poptin is easy to use and has a modern selection of templates.
It has a range of trigger options and can be integrated with third-party systems.
Poptin's support team is helpful and responsive.
The tool has an A/B testing feature that effectively increases conversions and subscriptions.
Poptin is flexible and has a clean and easy-to-use interface.
It is effective in boosting click-through rates and has helped improve website user experience.
Some cons of Poptin based on the reviews are as the following:
The user and admin access structure can be confusing and requires frequent interaction with the chat support team.
Some users had difficulty understanding the dashboard and experienced delays in same-day stats.
The process of creating popups can be difficult to navigate.
Poptin is not compatible with the Opera browser.
The cost of the paid product is considered high by some users.
The functionality is limited.
There is a lack of different popup templates to choose from and no option to customize pre-set backgrounds or undo actions.
Poptin's form/popup analytics may not always match the user's numbers.
For further examination of Poptin and the experience with Poptin, you can check the Poptin Review page.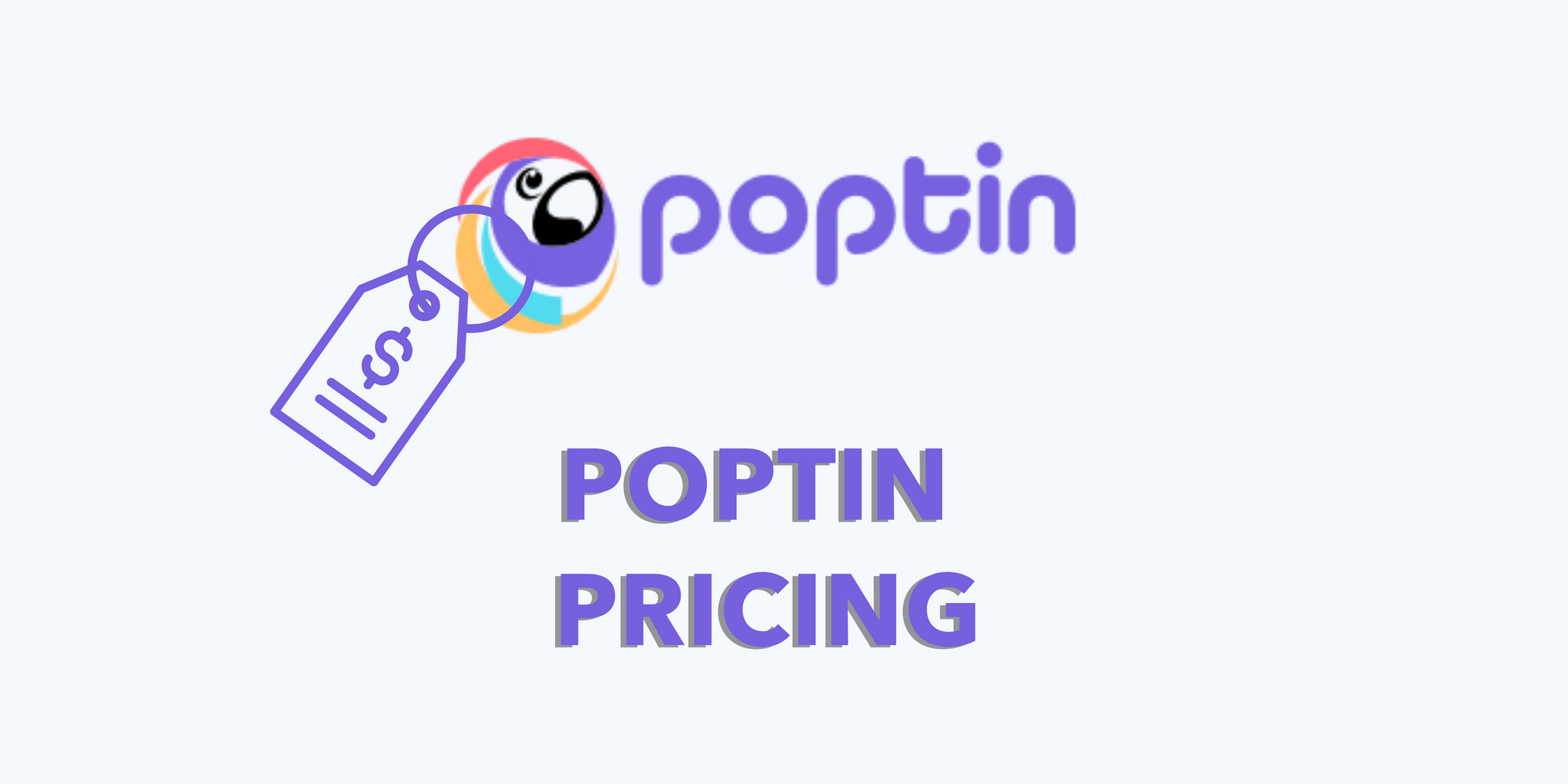 Poptin Pricing
Poptin Pricing plans: The Free Plan, the Basic Plan, the Pro Plan, and the Agency Plan.
Free Plan: This plan is available at no cost and includes access to templates, customization options, email marketing integrations, and chat and email support.
It is suitable for businesses with up to 1,000 visitors per month and allows for the use of one domain.
Basic Plan: The Basic Plan includes all the features of the Free Plan, as well as additional customization options and integrations and the ability to send up to 1,000 autoresponders.
It is suitable for businesses with up to 10,000 visitors per month and allows for the use of one domain.
Pro Plan: The Pro Plan is designed for businesses with more advanced needs and includes all the Basic Plan's features and the ability to send up to 5,000 autoresponders and use up to four domains.
It is suitable for businesses with up to 50,000 visitors per month.
Agency Plan: The Agency Plan is tailored to the needs of large enterprises and includes all the features of the Pro Plan, as well as the ability to send up to 15,000 autoresponders and use an unlimited number of domains. It also includes premium support.
This plan is suitable for businesses with high volumes of traffic.
All these plans are available on an annual billing cycle, with discounts for upfront payment.
Prices are listed in US dollars. Poptin's plans are scalable, so users can upgrade or downgrade as needed to meet their changing needs.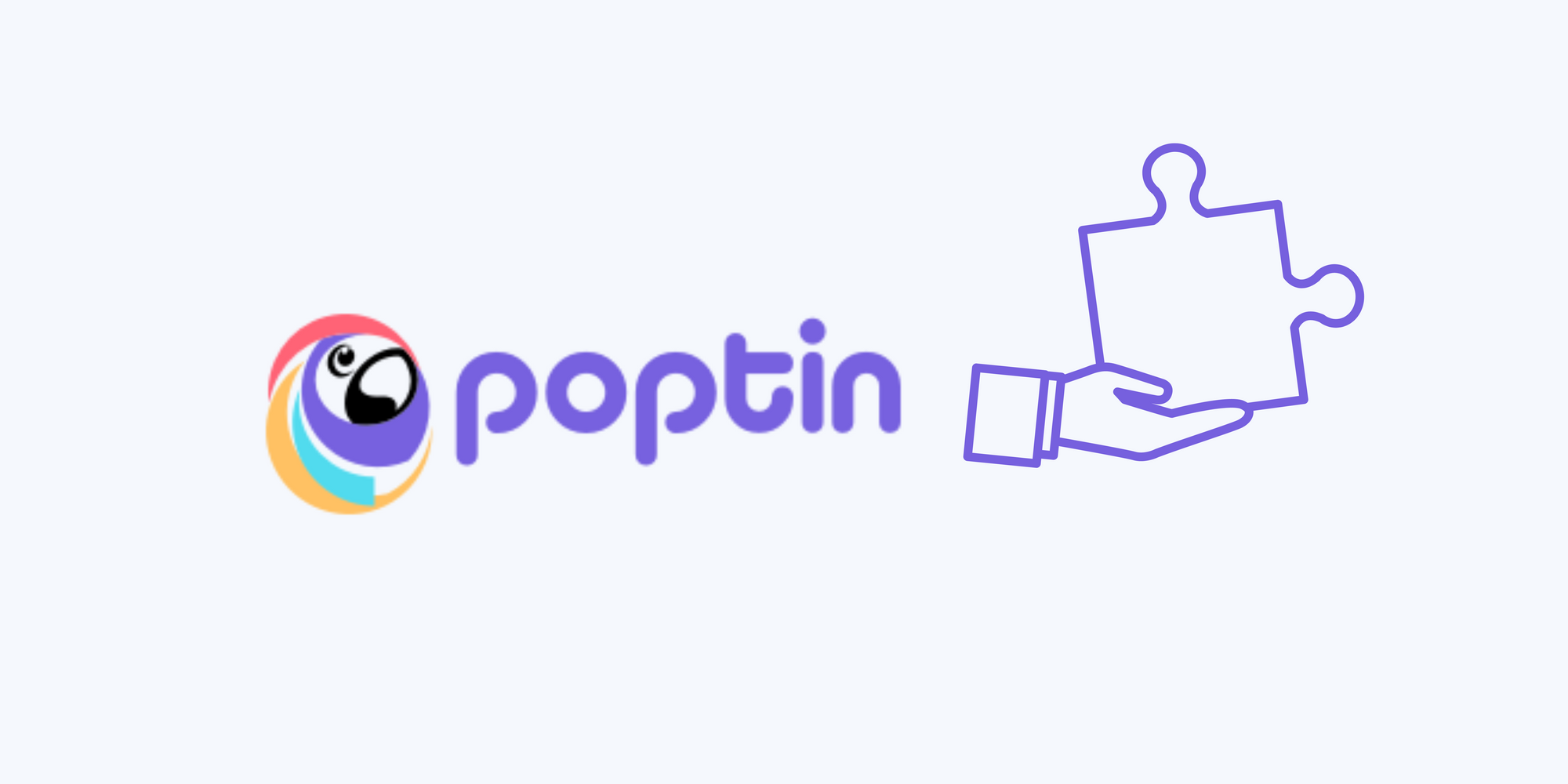 Poptin Templates
Poptin suggests using popups to conduct surveys and get feedback to gain insight into visitors' needs and preferences and make improvements to the website.
Additionally, it suggests offering visitors additional content such as blog posts, videos, and infographics to keep them engaged and on the website for longer.
It also emphasizes the importance of having a clear CTA and timing the popup correctly to increase engagement.
---
Poptin suggests displaying popups at key moments, such as when a visitor is about to leave the website or after a certain amount of time on the website, to increase the chances of getting a subscription.
Also, it suggests using incentives such as discounts, free downloads, or exclusive content to encourage visitors to subscribe.
It is also essential to highlight the importance of designing simple and visually appealing popups and requesting minimal information for better conversion rates.
---
Poptin recommends using visitors' browsing history, location, and other data points to create targeted popups that are more likely to convert.
It also suggests using different popups based on where a visitor is in their buyer's journey and testing different popup designs, messages, and placements to optimize conversion rates.
By utilizing popups to serve targeted offers and tracking visitor behavior, businesses can improve conversion rates and achieve better results.
Reduce Shopping Cart Abandonment
Poptin can be used to achieve different business goals, including reducing shopping cart abandonment.
It suggests using popups to conduct surveys and get feedback, serve relevant offers to visitors based on their behavior, and offer incentives to visitors who are about to abandon their carts.
Additionally, it highlights the importance of targeting the right audience with the right message at the right time and testing different variations of popups to optimize performance.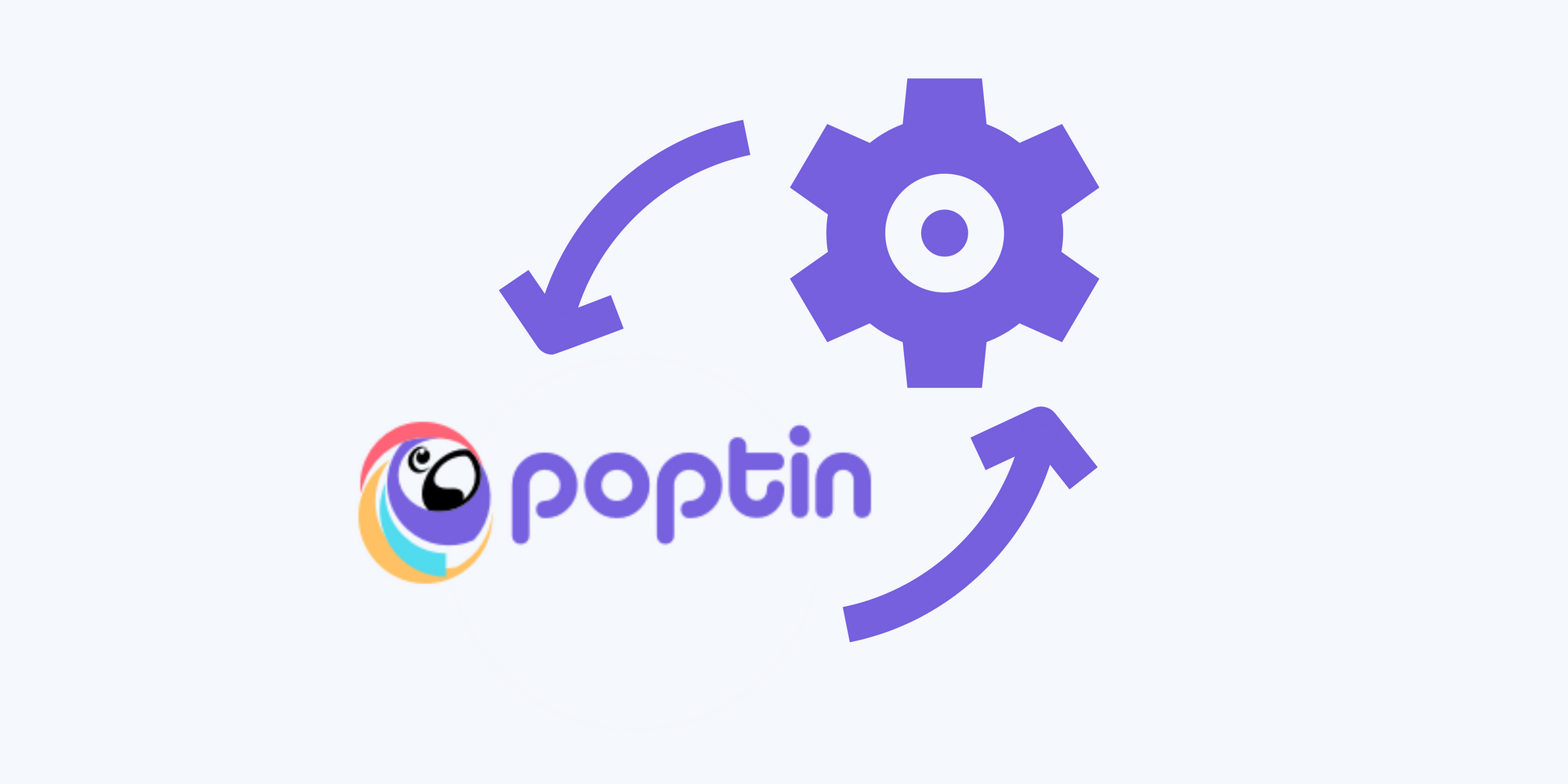 Poptin Integrations
Some of the native integrations of Poptin are as follows:
Mailchimp
Zapier
GetResponse
ActiveCampaign
iContact
ConvertKit
Hubspot
Klaviyo
Activetrail
Smoove
Salesflare
Pipedrive
emma
Remarkety
Mad-Mimi
Sendloop
Some of the most popular platforms of Poptin are as follows:
Shopify
Joomla
Wix
Drupal
Magento
Bigcommerce
Weebly
Webflow
Webydo
Squarespace
If you look forward to learning more about the details of Poptin interactions in terms of both marketing tools and platforms, you can check the Poptin Integrations page.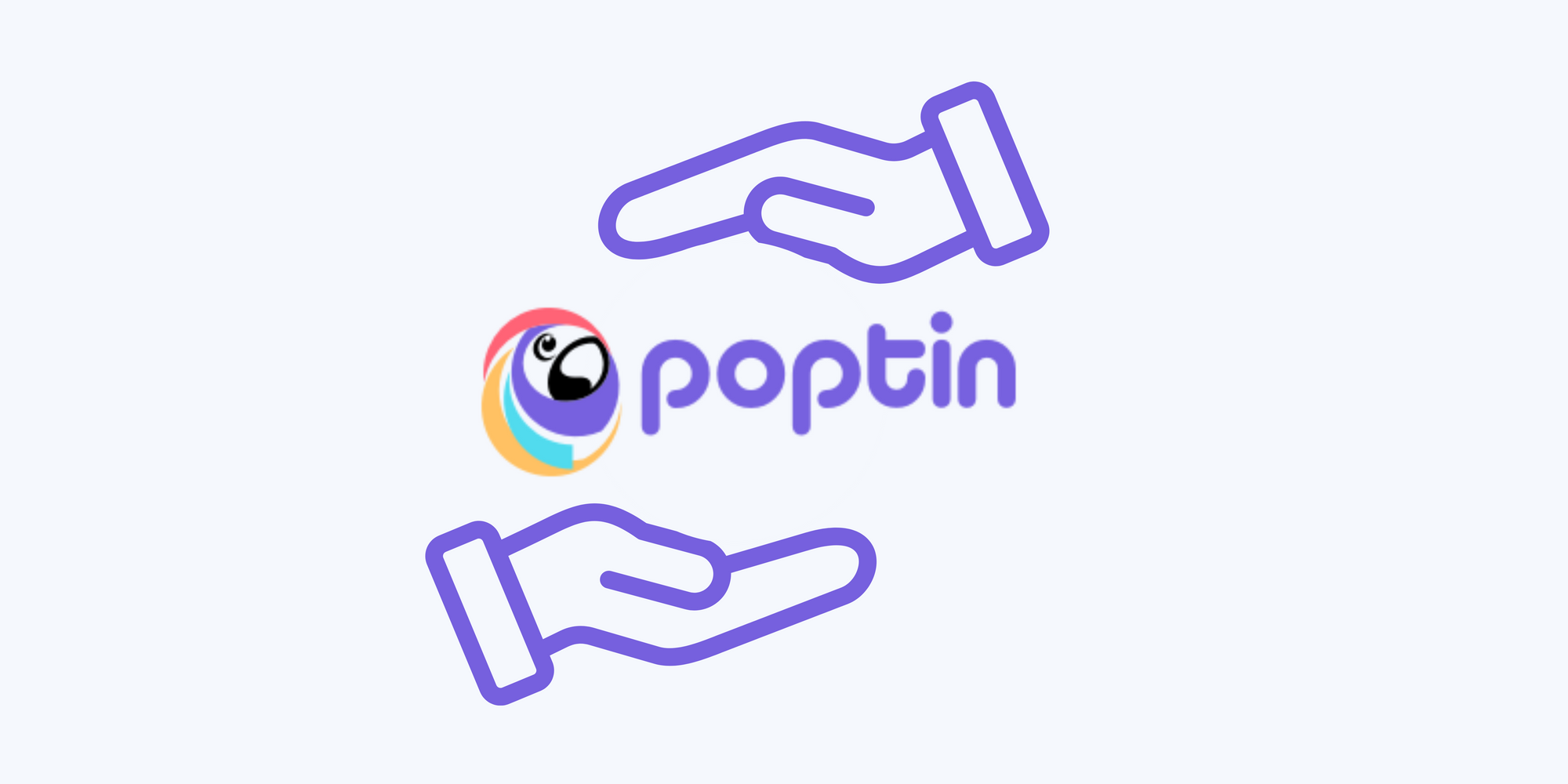 Poptin Documentation
You may have questions regarding Poptin and its features.
We are here to provide answers and encourage you to explore our comprehensive documentation.
It is time to determine if Poptin can meet your needs.
For further information, please refer to the Poptin Help Documentation.
Poptin FAQs
How Can I Change Language?
If you are interested in altering the language settings for your account, there are a few ways to do so.
One method would be to contact the customer support team via email at contact@poptin.com, where you can request a language change.
Alternatively, you may also send a message through the chat support system, where a representative will be happy to assist you in making the necessary adjustments to your account's language preferences.
Rest assured, the Poptin team is dedicated to providing swift and efficient service to ensure that your account is set up to your desired specifications in a timely manner.
Are the Poptins' Popups Accessible?
Poptin's popups and forms are designed to be accessible to all visitors, including those who may use assistive technologies such as screen readers.
They are built with features such as the ability to navigate using the "Tab" button, readable text for screen readers, the ability to add "Alt" tags to images, and auto-focus on fields.
They also have a thank-you screen to approve messages and have an aria-label for all relevant elements, among other features that make it accessible to all user types.
Where Can I Find My Account's User ID?
You can locate your account's user ID in two different areas.
The first location is on your profile page. You will see a field labeled "User ID" that displays your unique identification number.
The second location is on the Overview page. On the top bar of the Overview page, click on the "Installation code" button, then select your platform, be it WordPress or Shopify, or any other relevant platform.
Your user ID will be displayed as part of the script provided on this page.