OptinMonster is a marketing tool offering advanced features and customization options to help businesses enhance their online presence.
Our research team has comprehensively examined all the critical aspects of OptinMonster to provide a thorough and objective overview of its capabilities.
OptinMonster Product Tour
OptinMonster is a lead generation and conversion optimization platform that empowers businesses to capture and convert website visitors into valuable email subscribers.
With its advanced targeting and personalization capabilities, OptinMonster enables companies to create and display highly targeted opt-in forms to the right visitors at the right time, resulting in increased email list growth and conversions.
Some of the key features that set OptinMonster apart from the competition include the following:
Businesses can segment and target their website visitors based on a wide range of criteria, including location, device, referrer, and more.
This allows for creating personalized opt-in forms that are highly relevant to each visitor, improving the chances of conversion.

This allows companies to test and optimize their opt-in forms for maximum conversion rates.
This is achieved by creating and comparing multiple variations of a form and measuring their performance, allowing businesses to determine the best-performing version.
💡
Wide Range of Integrations
OptinMonster integrates with a variety of email marketing services, including Mailchimp, AWeber, and Constant Contact, making it easy to add new leads to email lists and nurture them with targeted campaigns.
This allows businesses to capture the attention of visitors who are about to leave their website, displaying targeted opt-in forms at the precise moment they are most likely to convert.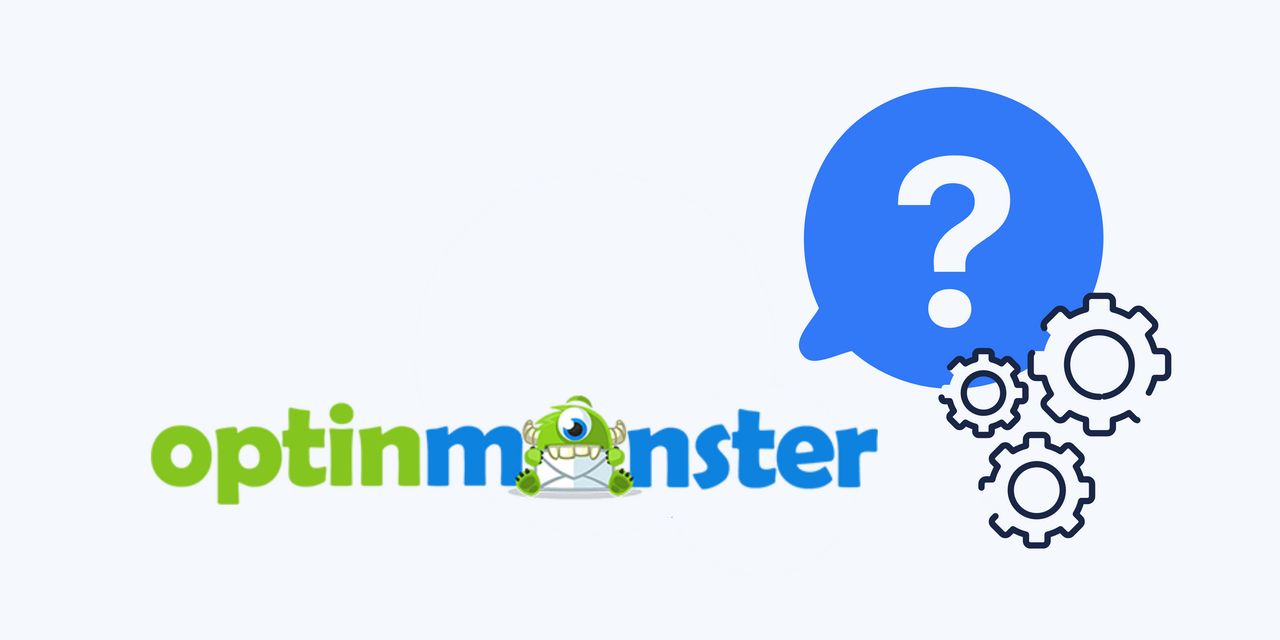 How OptinMonster Works?
OptinMonster is a comprehensive lead generation and conversion optimization solution that empowers businesses to capture and convert website visitors into valuable email subscribers like other popup builders.

By creating customizable opt-in forms and utilizing advanced targeting and personalization capabilities, OptinMonster allows businesses to segment and target their audience with unprecedented precision, resulting in significantly increased email list growth and conversions.

Upon submission of an opt-in form, visitors' email addresses are automatically added to the business's email list, and they are enrolled as subscribers. From there, businesses can leverage OptinMonster's integrations with email marketing services to send targeted campaigns or utilize the platform's email marketing functionality to engage and nurture subscribers.

OptinMonster offers a range of features to facilitate the creation of effective opt-in forms and optimize conversions. These include customizable form templates, A/B split testing, advanced targeting options, and integrations with email marketing services. Businesses can utilize these features to design opt-in forms for a variety of purposes, such as collecting newsletter subscriptions, offering discounts or special deals, or providing access to exclusive content.

Additionally, OptinMonster's exit-intent technology allows businesses to capture the attention of visitors who are about to leave their website, displaying targeted opt-in forms at the precise moment they are most likely to convert. This innovative feature significantly increases the chances of capturing email addresses from otherwise lost website visitors.
💡
Here is a step-by-step guide on how to create an account and set up your first campaign:
1. Navigate to the OptinMonster website and click on the "Sign Up" button in the top right corner of the page.
2. Enter your email address and choose a password to create your account.
3. Once your account has been created, you will be taken to the OptinMonster dashboard. From here, you can begin setting up your first campaign.
4. To create a new campaign, click on the "Create New Campaign" button in the top right corner of the dashboard.
5. Select the type of campaign you want to create (e.g., popup, fullscreen overlay, etc.) and choose a template. You can also start from scratch by selecting the "Blank Canvas" option.
6. Customize the design and content of your opt-in form by using the drag-and-drop editor and the various customization options available.
7. Set up your targeting and display rules to determine when and where your opt-in form will be shown to visitors. You can target specific pages, devices, referrers, and more.
8. Connect your email marketing service to sync your opt-in form with your email list, or use OptinMonster's built-in email marketing capabilities to send targeted campaigns to your subscribers.
9. Once you are satisfied with your campaign, click the "Publish" button to make it live on your website.
10. You can track the performance of your campaign by viewing the stats in the OptinMonster dashboard or by integrating with Google Analytics.
Following these steps, you can easily create and set up a campaign with OptinMonster to capture email addresses and grow your email list.
Don't forget to regularly optimize and adjust your campaigns based on their performance to ensure maximum effectiveness.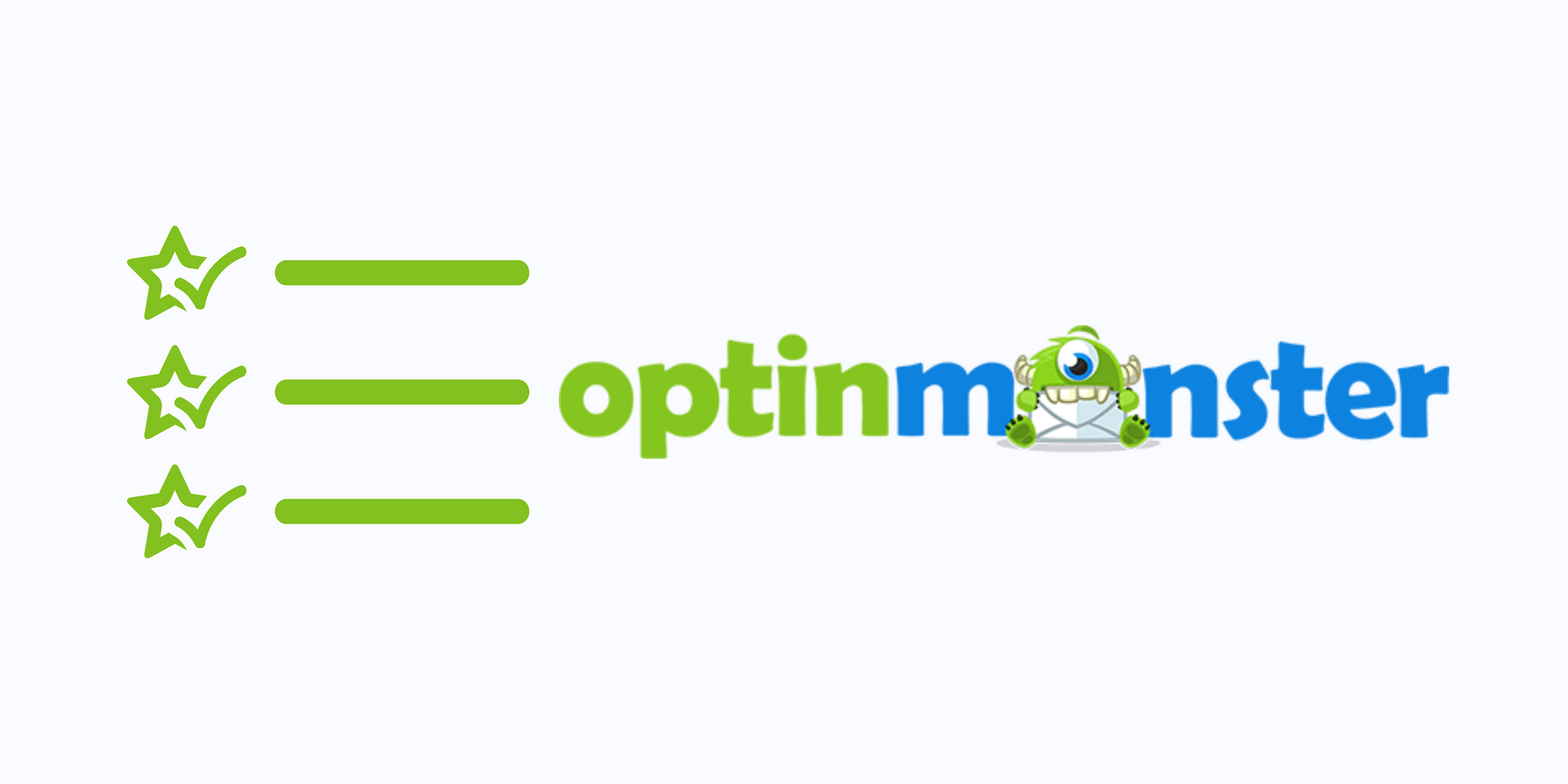 OptinMonster Features
This allows businesses to customize pre-made templates to create their own unique opt-in forms, and the Yes/No Forms enable the creation of multi-step campaigns to improve conversions and sales.

These ensure that campaigns are optimized for smartphones and tablets, while the Custom Success Message feature allows businesses to further boost engagement by customizing the Thank You message that is displayed after a visitor submits an opt-in form.
For businesses looking to create their own designs from scratch, the Canvas feature allows for the creation of custom designs without any coding required.
Finally, the MonsterEffect feature offers 26+ attention-grabbing animations and sound effects to add an extra layer of engagement to campaigns.

OptinMonster's campaign types include the Lightbox Popup and the Fullscreen Welcome Mat, which creates a fullscreen interstitial with a call to action that cannot be ignored.
Additionally, the Slide-in Scroll Box and the Floating Bar increase conversions with a footer or header bar that scrolls with the visitor.
OptinMonster also offers a Countdown Timer to boost sales and conversions through the use of urgency and scarcity, as well as Sidebar Forms, which turn every page of a website into a lead generation opportunity.
For businesses looking to embed opt-in forms within their blog posts and page content, the Inline Forms campaign type is an ideal solution.

💡
Targeted Campaigns Feature
This allows businesses to use precision targeting to create campaigns that generate more leads, attract more subscribers, and make more sales.
These campaigns can be personalized based on a user's interests and a range of other factors, including
referrer detection,
page-level targeting,
on-site campaigns triggered by visitor interactions,
on-site retargeting for returning visitors,
geo-location targeting,
custom cookie retargeting,
device-based targeting.

💡
Adblock Detection & Custom Domain Features: This allow businesses to recover adblock revenue and bypass adblockers.
This allows businesses to group subscribers based on their interests for marketing automation purposes, while the lead sharing feature enables the easy sharing of leads with joint venture and co-marketing partners.
💡
Success Tracking Scripts: Businesses can set up retargeting pixels based on campaign interactions to boost return on investment.
💡
Smart Tags: allows businesses to personalize their websites with dynamic smart content.
💡
The Conversion Analytics: This allows businesses to get the stats they need to optimize their strategies, while the revenue attribution feature provides full transparency and real-time data on every dollar made with OptinMonster.
💡
The A/B Testing: It enables businesses to test their ideas to continue increasing conversions easily
💡
The TruLead feature: It verifies leads captured through OptinMonster forms to improve return on investment, email deliverability, and engagement.
💡
The Real-Time Behavior Automation: It helps businesses to skyrocket conversions through automated personalization
💡
The Smart Success: It allows businesses to make new offers to people who have already opted into their campaigns.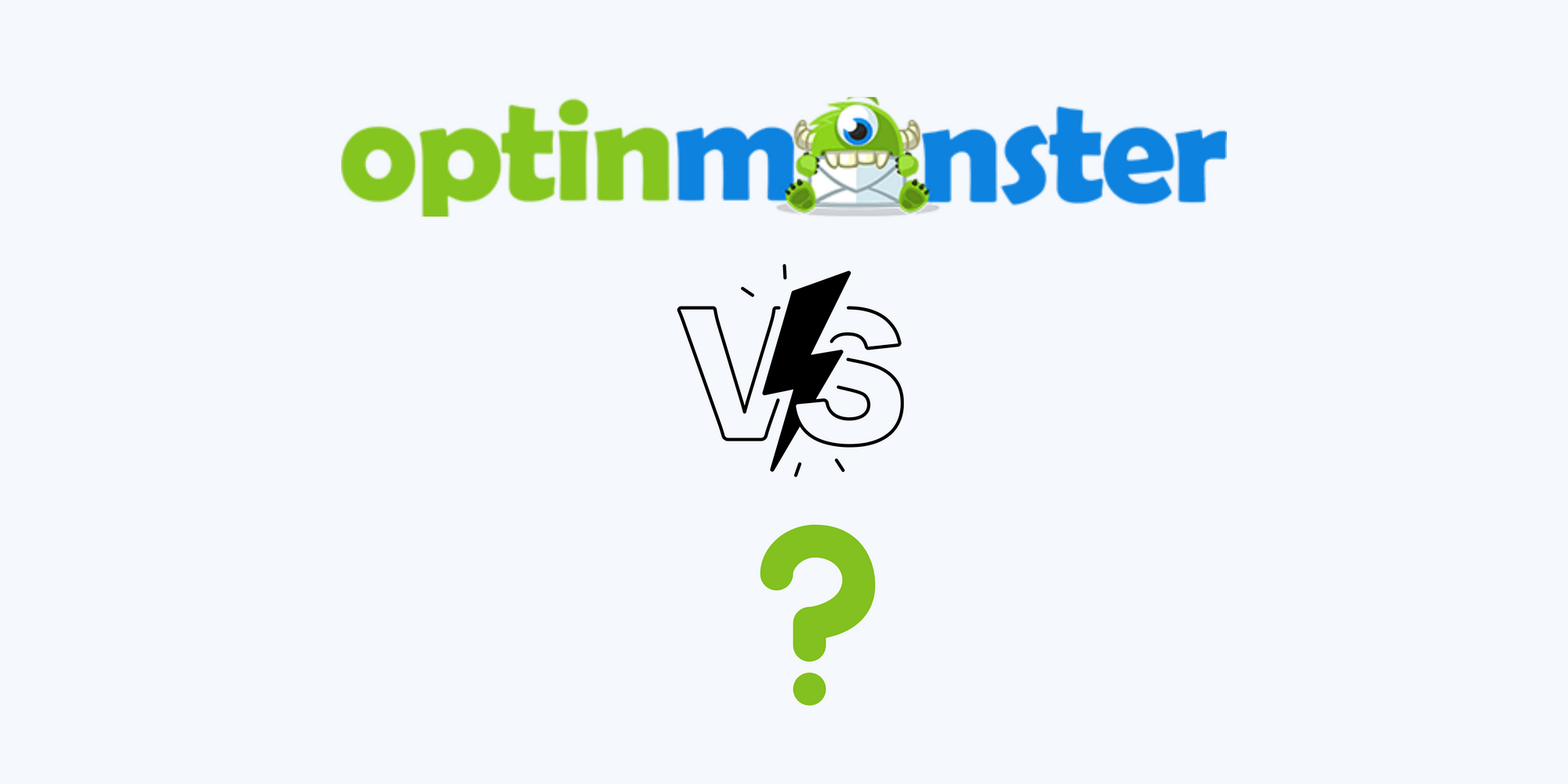 OptinMonster Alternatives
There are many tools available to help companies collect leads and increase conversions, and OptinMonster is one of them with its features.
However, if OptinMonster does not meet your needs, you can find a better fit for your business. It is essential to carefully research and consider all available options before choosing the right tool for your specific needs.
We have compiled the OptinMonster alternatives for you.
OptiMonk offers customizable opt-in forms, including popups, overlays, and forms. Also, its targeting options are based on user behavior and audience segments. In addition, it has integrations with various email marketing services. Optimonk also offers a range of pricing plans to suit different business needs, including a free plan for basic users.
Here is a detailed comparison of OptinMonster and OptiMonk.
---
Popupsmart is a marketing automation tool that helps businesses enhance website performance through the use of customizable popups. The platform offers a range of templates, a functional interface for creating and personalizing popups, and options for targeting specific audience segments and triggering popups based on user behavior. Plus, the gamification popup feature attracts attention.
Here is a detailed comparison of OptinMonster and Popupsmart.
---
Sleeknote is a popular software that provides advanced features and a contemporary interface. It may not be the most economical choice and may not be feasible for businesses with limited resources or a tight budget. Sleeknote includes a user-friendly drag-and-drop editor and can integrate with various content management systems, analytics platforms, and marketing tools.
Here is a detailed comparison of OptinMonster and Sleeknote.
---
Privy is a marketing software that assists companies in expanding their email list and enhancing conversions through personalized communications and opt-in forms. It offers customizable options like targeted banners and exit-intent popups and has a Shopify integration feature.
Here is a detailed comparison of OptinMonster and Privy.
---
Poptin has floating bars, slide-ins, and opt-in forms, as well as advanced targeting and segmentation options. With integrations available for popular email marketing and CRM platforms, Poptin makes managing and nurturing leads easy. Its user-friendly drag-and-drop editor allows for the quick and easy design of professional-looking campaigns, and its A/B testing feature helps businesses optimize their campaigns for maximum impact.
Here is a detailed comparison of OptinMonster and Poptin.
---
To discover the details of the alternatives of OptinMonster, you can visit the OptinMonster Alternatives page.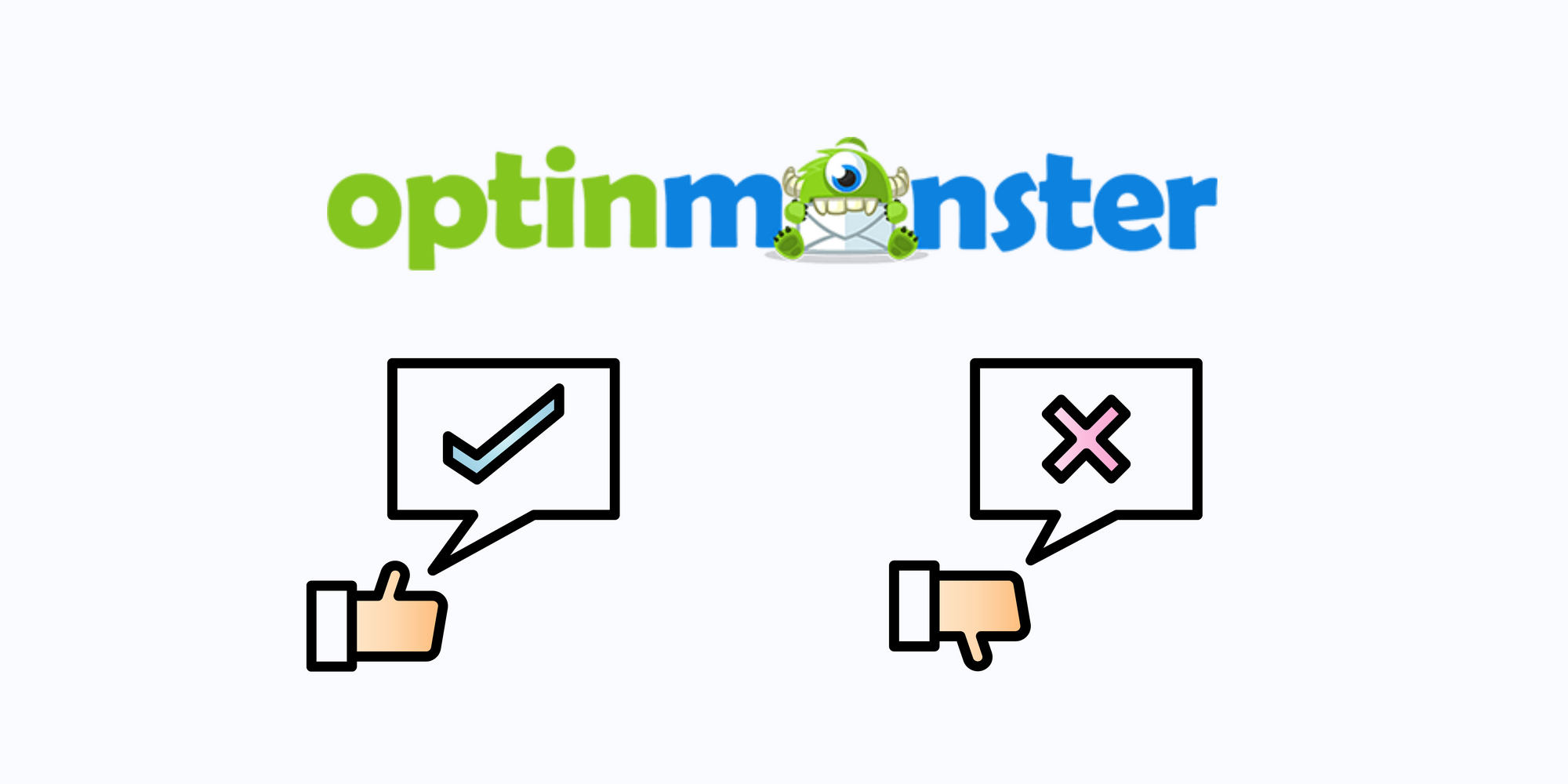 OptinMonster Pros & Cons

We have observed the users' reviews of OptinMonster to see its advantages and disadvantages.
It is better to see the results together. Let's see!

Some pros of OptinMonster based on the reviews provided are:
Integrates easily with other tools such as Klaviyo and CRM
Has a large library of training materials
Has a range of customizable options for adding blocks to websites and blogs
A/B testing and analytics are available
Provides quick results for traffic generation, and conversion
Context-based timed scroll option popup available for blog posts
Offers the ability to test opt-in messaging continually and offers

Some cons of OptinMonster based on the reviews are as the following:
Pricing is higher than competitors.
The response could be improved.
Cannot create a form allowing users to upload files.
Excessive emails can be overwhelming.
Customization of popups can be challenging.
Visual editors can be difficult to use and may conflict with the website.
Expensive pricing for advanced features and analytics.
Segmenting messaging based on specific URLs requires manual input.
GA tracking may be inaccurate.
For further examination of OptinMonster and the experience with OptinMonster, you can check the OptinMonster Review page.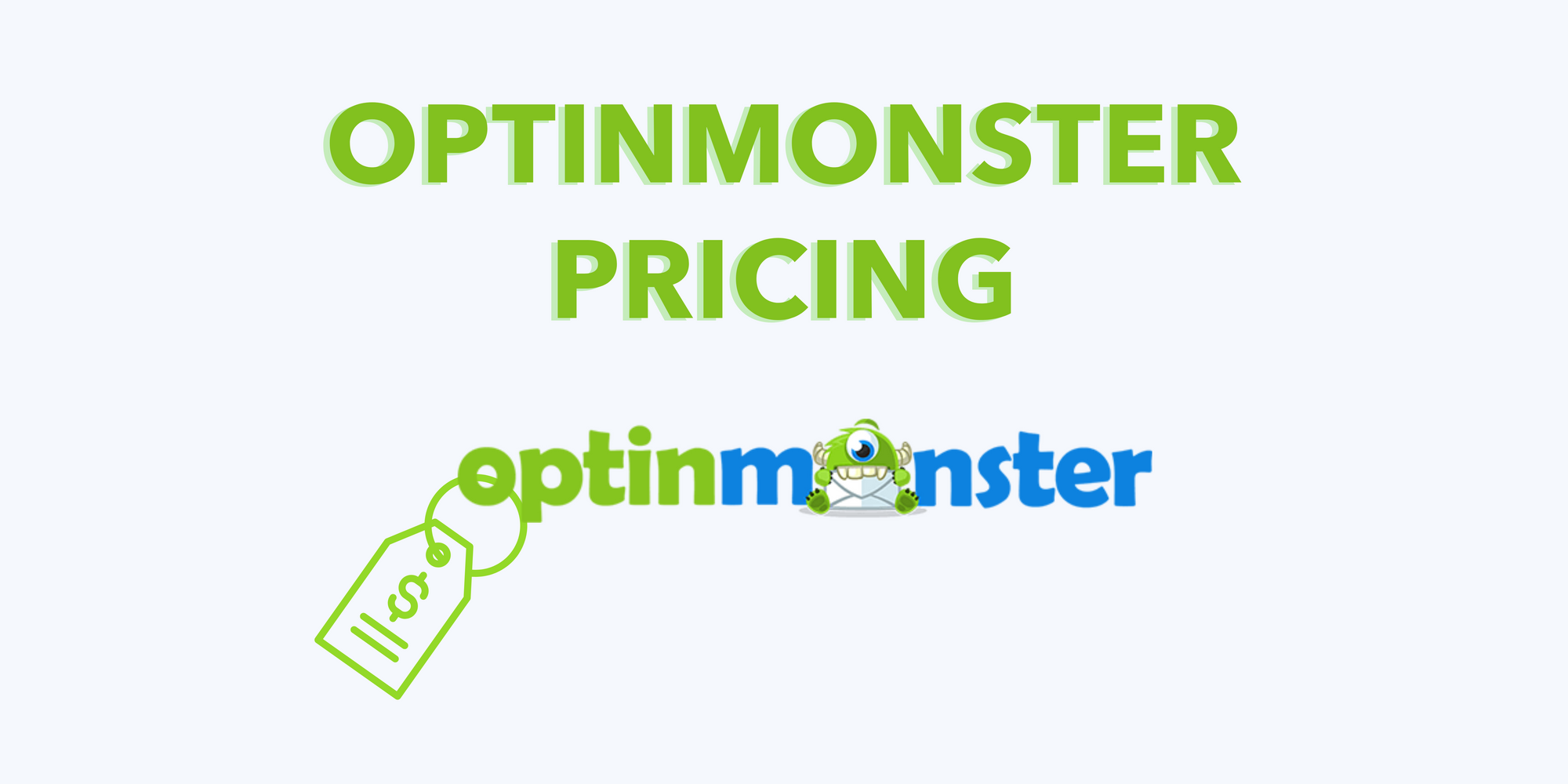 OptinMonster Pricing
OptinMonster is a customer acquisition and lead generation software that offers various pricing plans catering to the needs of different businesses.

The Basic plan is suitable for businesses looking to increase leads from their existing traffic and includes essential features such as lightbox popups and inline forms.
The Plus plan is designed for growing businesses, and it includes advanced features such as A/B testing and content locking.
The Pro plan is suitable for businesses selling products and includes mobile-specific campaigns and countdown timers.
The Growth plan is comprehensive and includes everything businesses need to transform their conversions, including coupon wheel campaigns and real-time personalization.
OptinMonster does not offer a free plan but does provide a 14-day money-back guarantee for all of their paid plans.
In addition to the main pricing plans, OptinMonster also offers optional add-ons and provides training and support resources.
Here, you can have more knowledge about OptinMonster Pricing.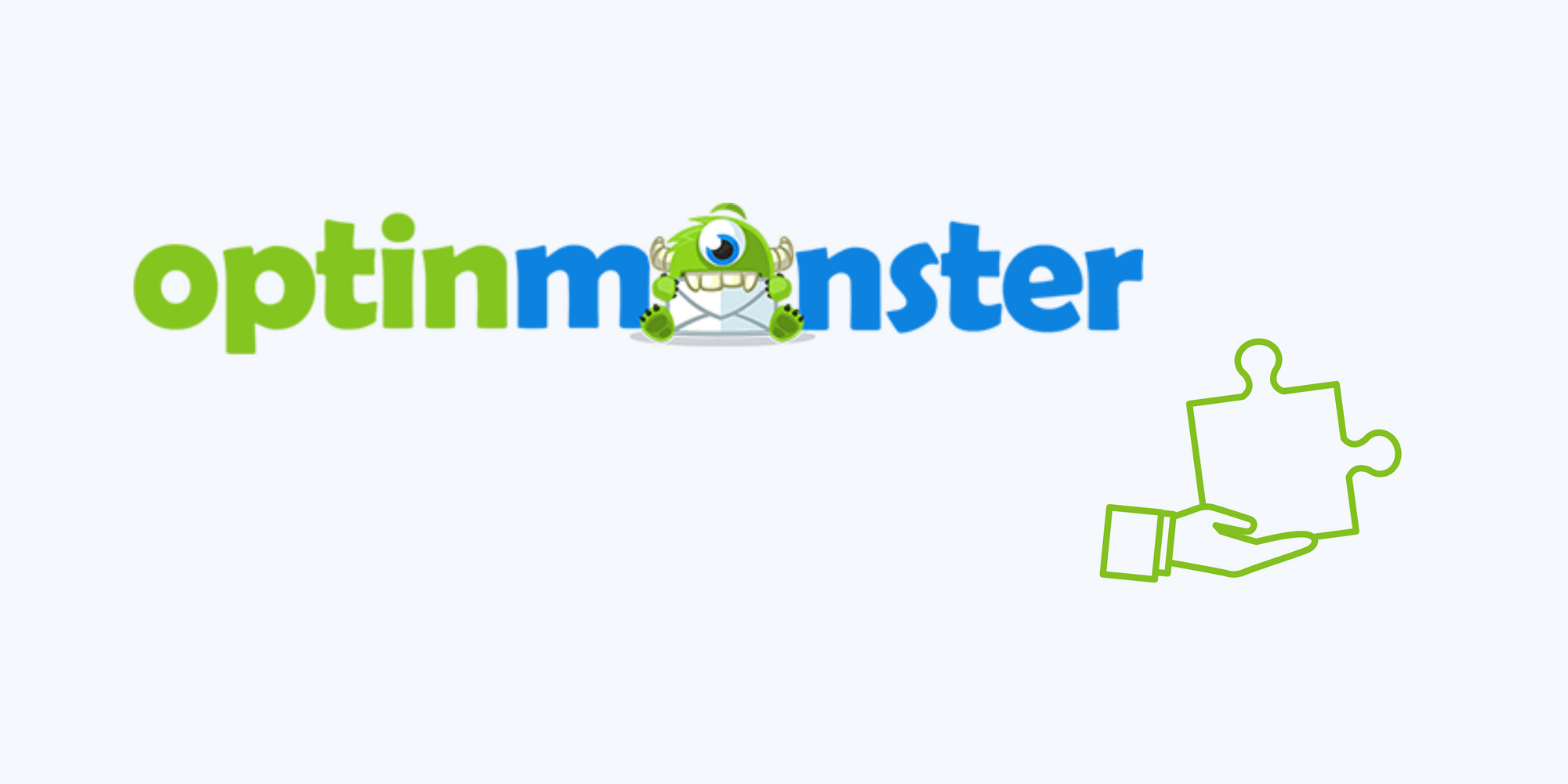 OptinMonster Templates

Like other conversion optimization tools, OptinMonster helps businesses grow their email lists by converting website visitors into subscribers and customers.
Its features include customizable form templates, advanced targeting options, A/B testing, integration with email marketing services, and conversion analytics.
With its powerful targeting and behavior automation capabilities, OptinMonster's high-converting email capture forms dramatically boost conversions and help businesses build their email lists.
---
Shopping cart abandonment is a common problem faced by many ecommerce businesses.
OptinMonster can help reduce cart abandonment and increase sales revenue using time-sensitive behavior-based offers.
With customizable design options, advanced targeting and segmentation capabilities, and A/B testing features, OptinMonster is a solution for improving conversions and generating leads.
Businesses can maximize engagement and drive more sales by showing personalized messages to users at the right time.
OptinMonster's built-in conversion analytics and multivariate testing options allow businesses to make data-driven decisions and optimize their campaigns for maximum effectiveness.
---
OptinMonster plays an important role in increasing sales conversion.
By utilizing smart targeting features, OptinMonster allows businesses to display relevant promotions to their website visitors, resulting in an improved overall conversion rate and increased revenue.
The platform's design and customization options, along with its powerful targeting and segmentation capabilities, make it a valuable tool for driving sales and maximizing the impact of marketing efforts.
With A/B testing and conversion analytics features, OptinMonster also provides the necessary data and insights to make informed decisions and continually optimize strategies for success.
Ultimately, the platform serves as a valuable resource in the pursuit of converting website traffic into paying customers.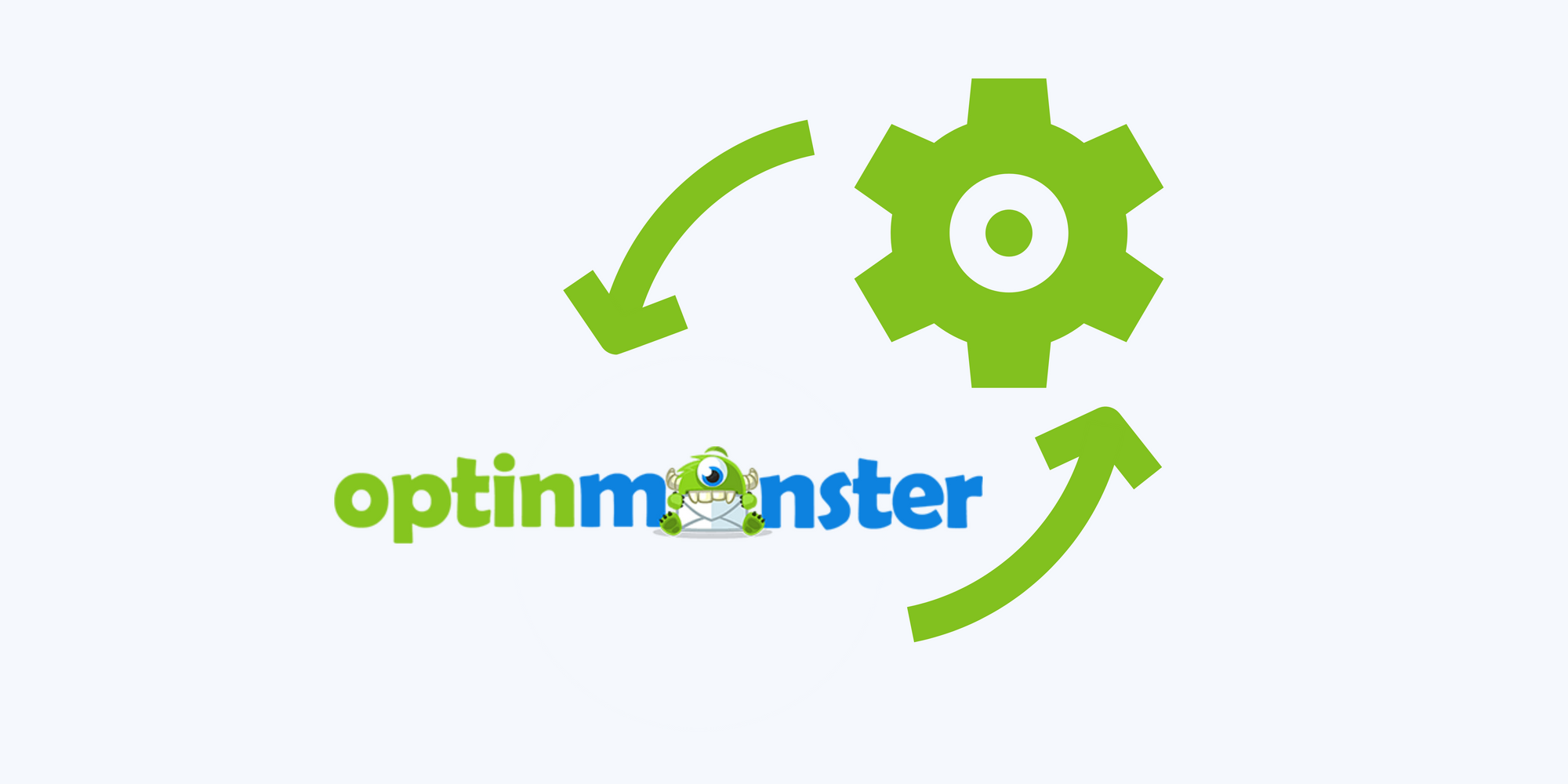 OptinMonster Integrations
OptinMonster integrates with
Mailchimp
AWeber
Keap
Active Campaign
HubSpot
ConvertKit
Pardot
Constant Contact
Campaign Monitor
Jilt
EmailOctopus
Webhooks

The lead generation software works seamlessly with all of these services out of the box. Also, there are various website platforms that OptinMonster can integrate.
If you are curious about more details, you can visit OptinMonster Integrations.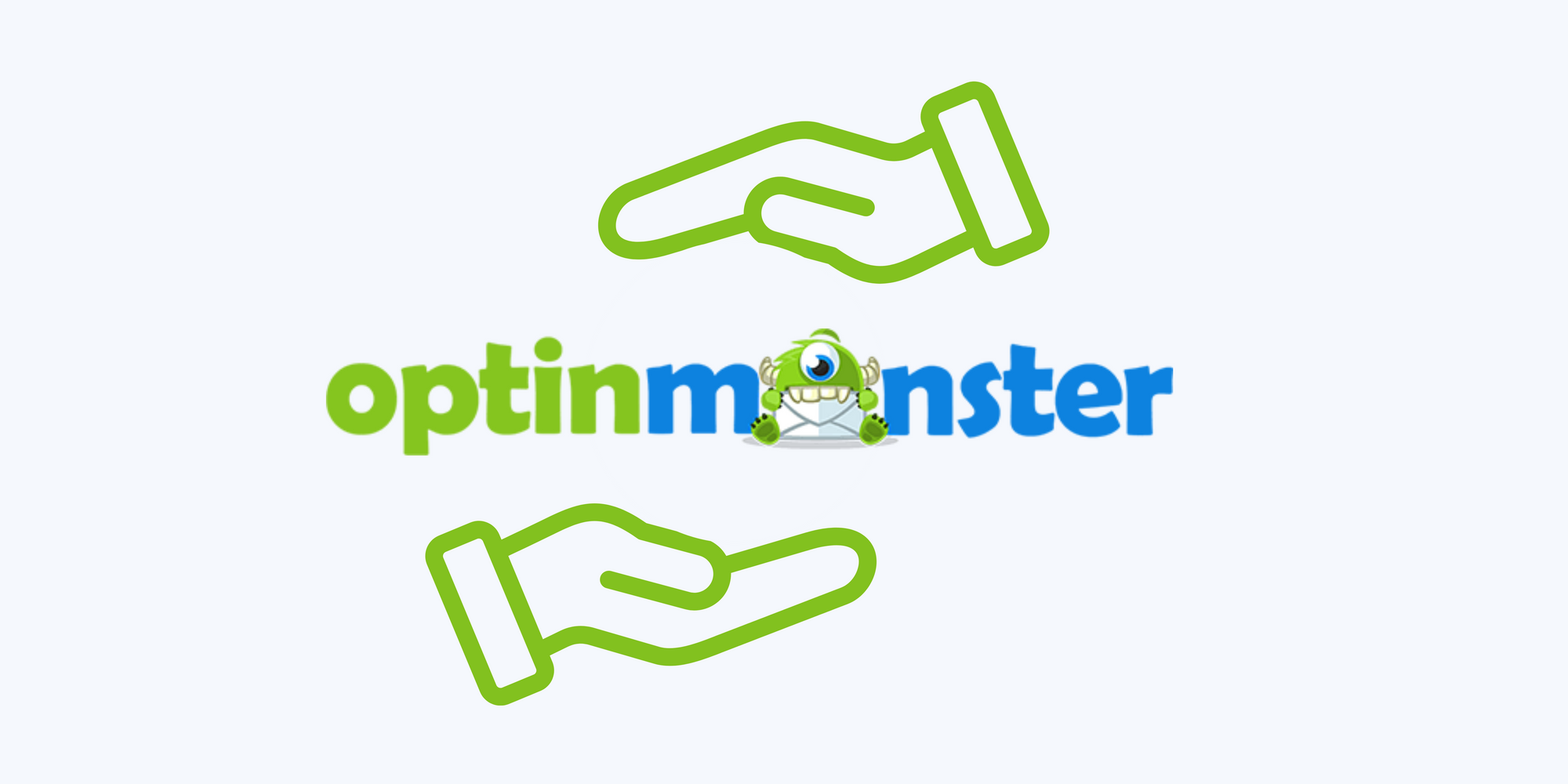 OptinMonster Documentation
If you want to have more information, discover more about OptinMonster with help documents.
Then, learn if OptinMonster has everything you are looking for.
Get more information by exploring the OptinMonster Help Documentation.
OptinMonster FAQs
Is There Any Difference between the Account-wide and Campaign Specific Embed Codes?
Yes, there is. The Account-wide embed code is a global code that only needs to be added to a website once and allows all campaigns that are configured to load on the specific domain to appear. This embed code is convenient because there is no need to update it when you want to replace or remove a campaign - simply draft or delete the campaign within your OptinMonster account, and the change will be reflected on the website immediately.

On the other hand, the Campaign Specific embed code is unique to an individual campaign and must be added to the website wherever you want that particular campaign to appear. If you want to display multiple campaigns on your website and are using the Campaign Specific embed code, you will need to add the unique embed code for each campaign to the desired location on the website. If you want to replace or remove a campaign, you must manually edit the embed code on the website.
How to View OptinMonster Campaign Data in Google Analytics?
To view OptinMonster campaign data in Google Analytics:
1. Log into your Google Analytics account and ensure you view the correct property connected to your OptinMonster campaign.
2. Go to Behavior > Events > Overview. Alternatively, you can select Top Events to view specific event data.
3. From this list, select the campaign you want to see detailed reports for.
4. To refine the data, you can add additional dimensions, such as Behavior or Acquisition, and select Event Action to view data on Impressions and Conversions.
5. To compare data between different pages on your website, go to Behavior > Events > Pages.
You can further break down the data from here by selecting the Secondary dimension of Behavior and Event Action.
6. To compare conversions based on traffic source, go to Behavior > Events > Top Events. Click on Event Action, then choose the Secondary dimension of Acquisition and either Source or Source/Medium. This will add an additional column to the list for comparison.
How to Use Actions to Show Success View and More
To configure the Success Action for your opt-in form, follow these steps:
1. From the Design view of the campaign builder, select the submit button of the opt-in form to edit the settings.
2. Locate the Button Click Action setting in the sidebar panel and choose the option you want to use from the dropdown field.
3. Click Save.
4. You can also add buttons to your campaign with different actions when selecting. To configure the button's action, follow the same steps as above.

You can choose from the following Actions:
Go to a view (Yes/No, Optin, or Success view)
Redirect to a URL
Open email client
Click to call
Click to copy the text
Close the campaign (not available for Inline campaigns)
Reload the page
Open in a new window