Sleeknote can be considered a successful popup builder, but you might want to know the alternatives to try and check out the examples below in detail.
Popupsmart
Popupsmart is a no-code popup builder that aims to help small businesses increase conversions and engagement on their websites.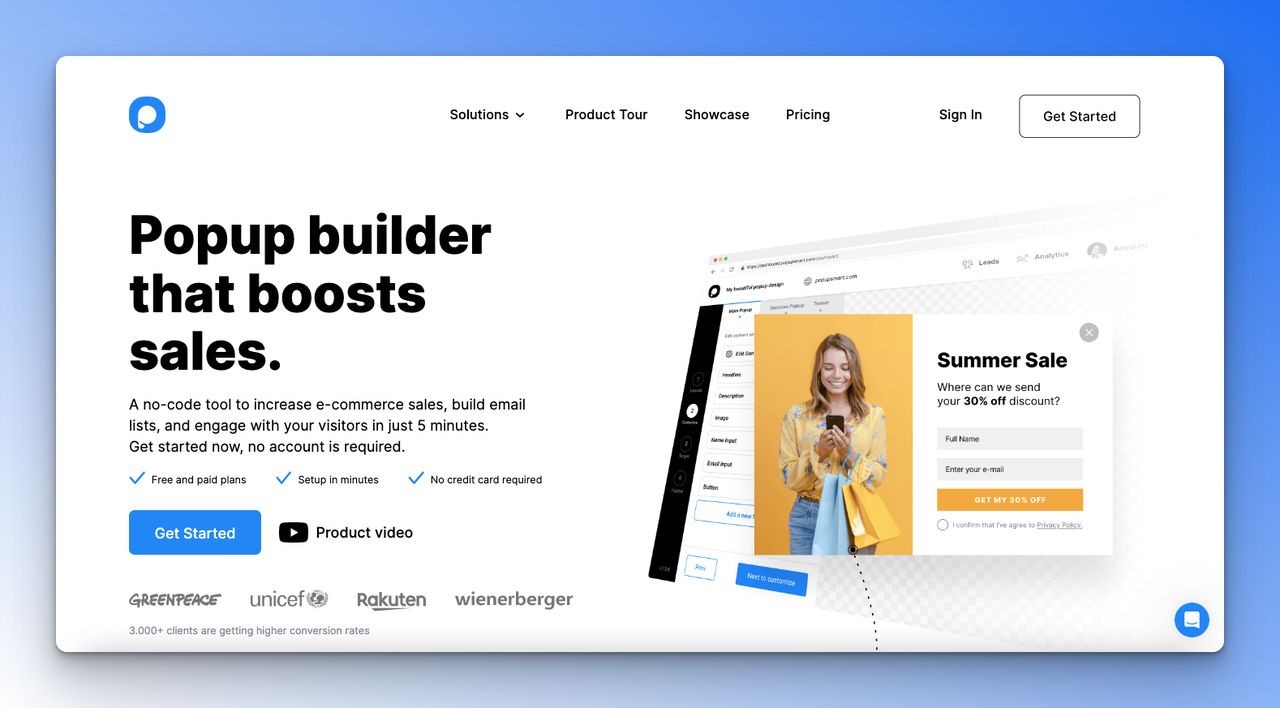 Some potential benefits of using Popupsmart include growing email lists, collecting form submissions, boosting user engagement, promoting products, making announcements, increasing phone calls, and facilitating social sharing.

Pros:
Customizable popup templates and drag-and-drop customization option
Multi-step popups and gamification feature
Fast website performance and straightforward user experience
Advanced audience targeting options, including visitor devices, traffic sources, and geographic location
User behavior targeting options, such as exit intent and inactivity mode
Various integration options that will help you

Cons:
Depending on their expectations, it may not be proper for every kind of business.
The free plan offers only one website and campaign feature.

OptinMonster
OptinMonster is a conversion optimization tool that enables businesses to generate and display opt-in forms on their websites to acquire potential customers' email addresses and other contact details.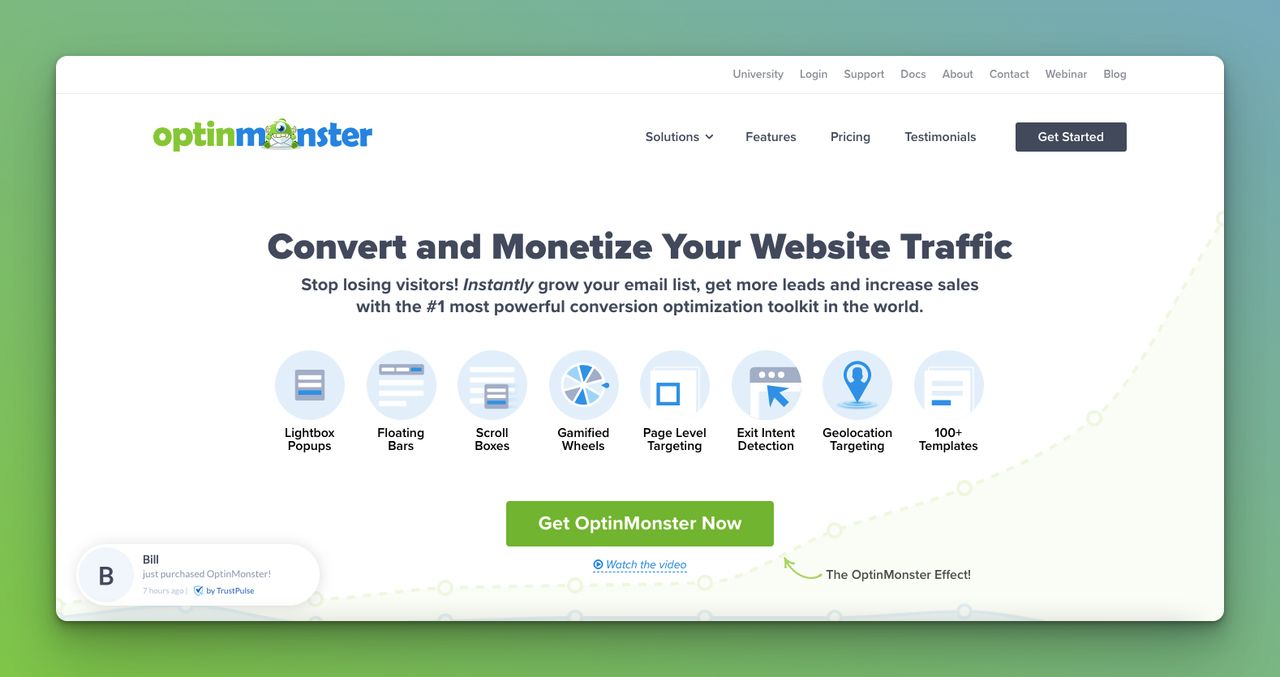 While it can be a valuable asset for businesses seeking to expand their email lists, there are both advantages and disadvantages to consider before determining if it's the optimal choice for your needs.

Pros:
Intuitive: OptinMonster boasts a user-friendly interface that allows users to generate and customize opt-in forms without coding proficiency quickly.
Split testing: OptinMonster permits users to create and evaluate multiple versions of their opt-in forms to determine which performs best.
Refined targeting: OptinMonster offers a variety of targeting options that allow users to display their opt-in forms to specific visitors based on their behavior, location, and other factors.
Integrations: OptinMonster integrates with a diverse array of email marketing and CRM platforms, enabling users to seamlessly export their acquired leads and manage them within their preferred system.

Cons:
Cost: OptinMonster is a paid tool, with pricing plans starting at $9 per month. This may pose a hindrance for businesses with a restricted budget.
Limited design options: While OptinMonster offers a range of templates and customization options, it may not provide as much flexibility as some other conversion optimization tools when it comes to design.
Requires a web developer: While OptinMonster is intuitive, it requires users to possess some knowledge of HTML and CSS in order to fully customize their opt-in forms and integrate them with their website.

OptiMonk
OptiMonk is a platform that enables users to tailor their websites to their specific needs and preferences.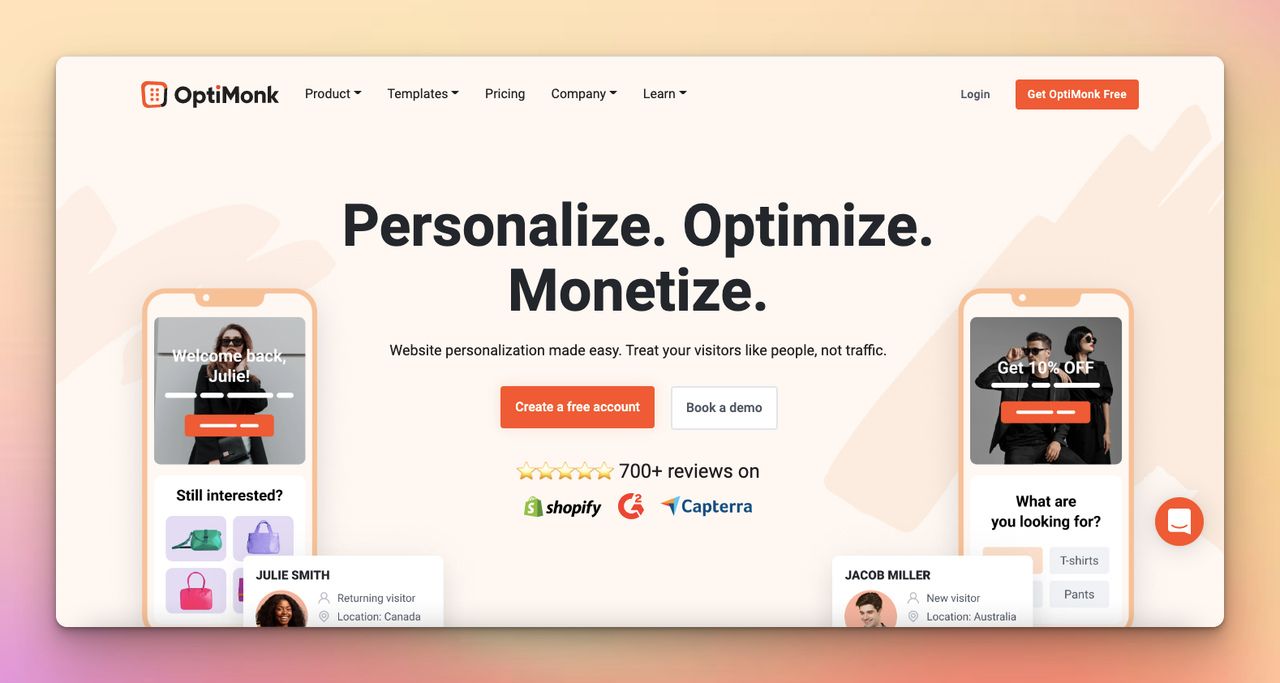 Pros:
Providing a wealth of resources such as a blog, webinars, and guides to assist users in building their campaigns
Offering a template library and use cases page to help users construct their campaigns
Asking users about their goals and guidance to help them achieve their objectives
The advanced integration options that allow users to connect their campaigns with other systems and platforms easily.

Cons:
A plethora of configurations to navigate and manage
Some bugs that can inhibit the flexibility and usability of the platform
Not entirely satisfactory for all users in terms of customization options and capabilities

Poptin
Poptin is a platform designed to help businesses optimize their website's conversion rate. It offers a variety of tools and features that allow users to create and customize interactive popup forms, floating bars, notification boxes, and other types of web elements.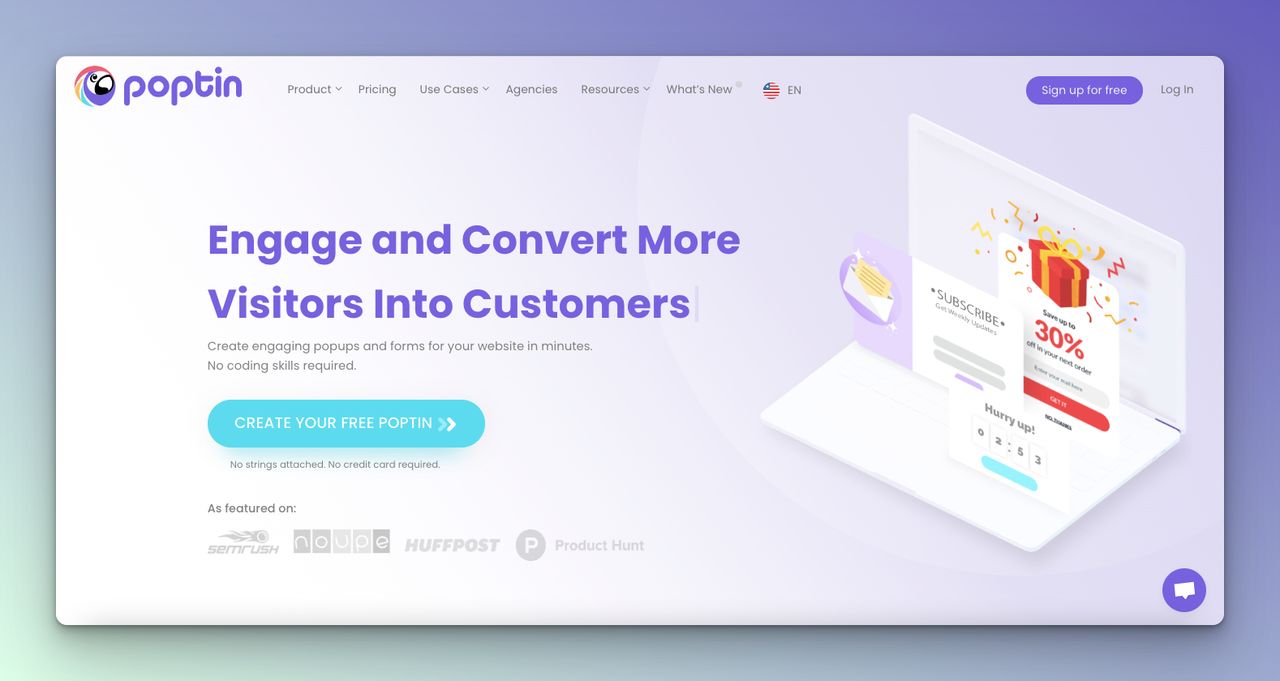 These elements are determined according to user behavior. Poptin also includes analytics and tracking tools to help businesses measure the success of their campaigns and fine-tune their conversion strategies.
Pros:
Provides user-friendly templates and customization options
Offers a range of conversion elements and trigger options
Includes analytics tools to measure the effectiveness of campaigns.
Cons:
Conversion elements may be perceived as intrusive by some users
Could potentially impact website performance
Poptin may not meet all users' expectations for a conversion tool.

Hello Bar
Hello Bar is a website conversion optimization tool that allows businesses to create and display various web elements, such as notifications, calls to action, and opt-in forms.

The tool offers extensive customization options, including the ability to design and style the elements to match the website's branding, and provides analytics and tracking features to help businesses measure the effectiveness of their campaigns.

By encouraging visitors to take a variety of actions, such as subscribing to a newsletter, making a purchase, or filling out a form, Hello Bar can help businesses optimize their website's conversion rate.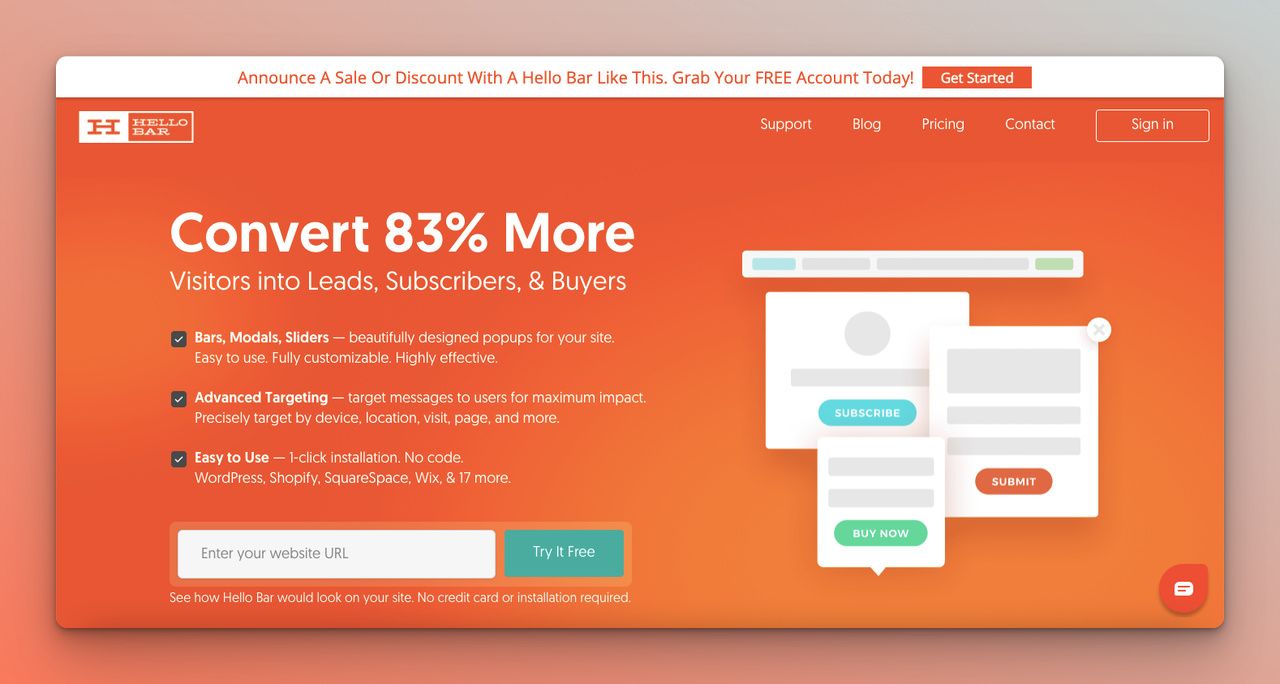 Pros:
Extensive customization options to match branding
Provides analytics and tracking features to measure campaign effectiveness
Can encourage visitors to take a variety of actions

Cons:

Hello Bar's web elements, such as notifications and calls to action, may be seen as intrusive or annoying by some visitors.
A subscription fee is required to access all of the tool's features.
It may not be suitable for all businesses to meet their conversion optimization needs.