Creating an effective digital presence is crucial for any business looking to establish a strong online presence and attract potential customers. One key aspect of this has an engaging and user-friendly website that can capture the attention of visitors and convert them into leads.
One powerful tool for achieving this is the use of popups, which can be used to display offers, collect email addresses, or promote specific products or services. In this comparison, we will be evaluating two popular options for creating pop-ups on a website, Sleeknote and Popupsmart, and examining their respective features, capabilities, and performance.
Popupsmart and Sleeknote are two of the most popular popup builder tools on the market. Both are designed to help businesses increase conversions and achieve their goals by creating high-quality popups that engage and interact with customers. However, there are some key differences between the two that businesses should consider when choosing which platform to use.
First, let's take a look at Popupsmart. This no-code popup builder is known for its advanced customization options and user-friendly interface. With its drag & drop builder, users can create powerful and targeted multi-step campaigns with eye-catching popup templates in a fast and secure manner. Popupsmart also offers a range of integrations and advanced features, such as gamification and advanced analytics, which are designed to boost conversions and help businesses achieve their marketing objectives.
On the other hand, Sleeknote is a comprehensive platform that allows businesses to create and display targeted pop-ups on their website with the goal of capturing email addresses, increasing product sales, guiding visitors, and connecting with them. It offers a range of options for customizing and designing campaigns, including a drag-and-drop builder and a library of pre-designed templates that can be easily customized with various options, such as colors, fonts, sizes, and elements.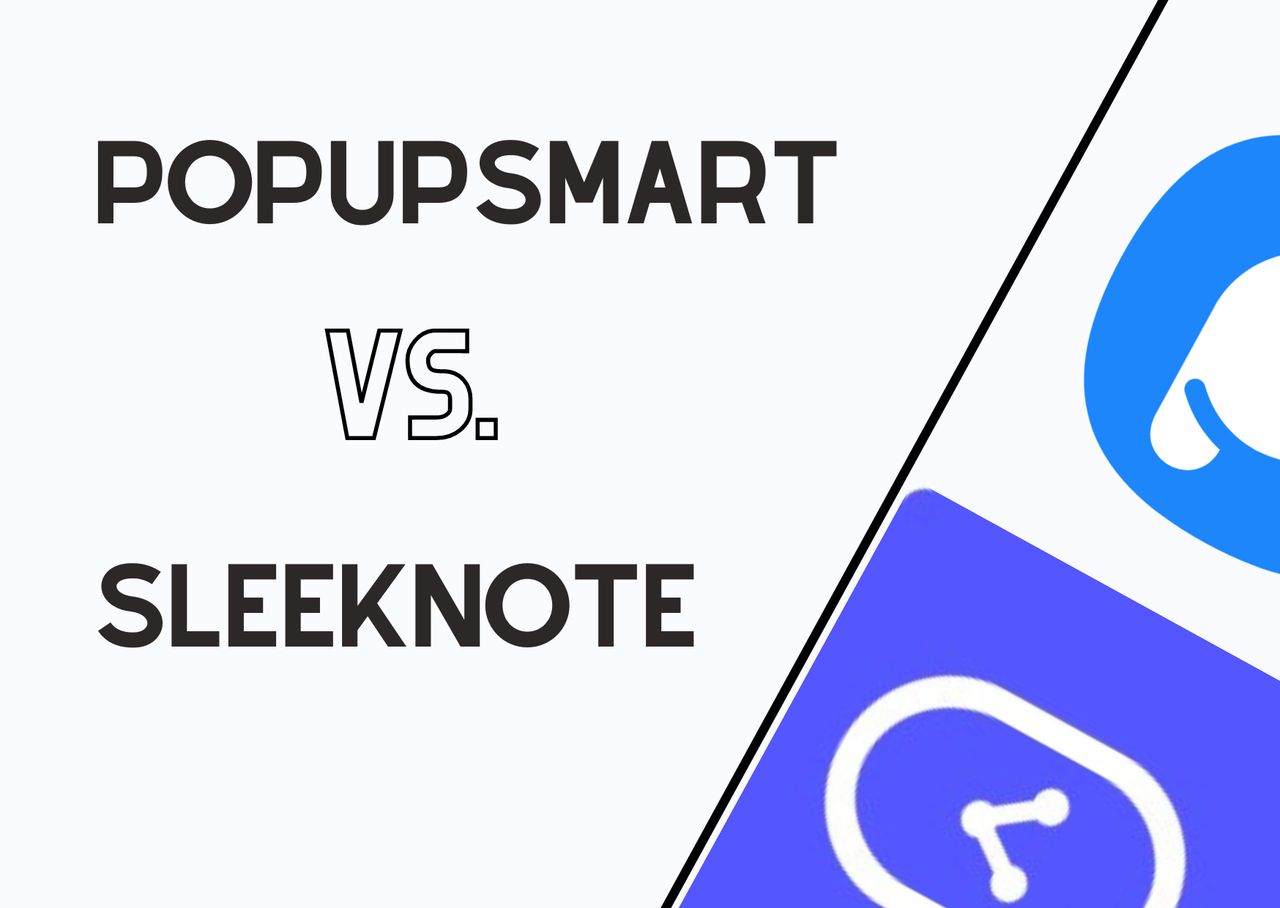 Similarities
One of the key similarities between the two platforms is their drag-and-drop builder and pre-designed templates that can be easily customized to match a business's branding and messaging.
Both platforms also offer a range of targeting options, allowing businesses to show their pop-ups to specific pages, devices, and visitor segments, ensuring that the pop-ups are being shown to the right audience at the right time and increasing their effectiveness.
Integrations
When it comes to integrations, Popupsmart offers a single-line code installation for different CMS, which means that all you need to do is add a single line of code to your website, and you're ready to go. Popupsmart offers a wide range of integrations and is compatible with various platforms such as WordPress, Shopify, and Magento. For more integrations, visit Popupsmart integrations.
Sleeknote, on the other hand, offers options for integration through API and Zapier webhook, which can be useful for businesses that rely heavily on data and analytics to inform their marketing strategies and want to be able to bring in data from a variety of sources easily. Both platforms offer analytics and reporting tools to help businesses track the performance of their campaigns and optimize their strategies. For more integrations, visit Sleeknote integrations.
Features
In terms of innovation and features, Popupsmart stands out with its gamification feature, which is specifically designed to boost conversion rates and help you achieve your marketing objectives by incorporating elements of game design into your marketing efforts, like lottery balls and spin-to-win games.
Sleeknote also offers unique features such as its chatbot feature, which allows businesses to communicate with visitors in real-time, answering questions and offering support. Sleeknote may be more adaptable and offer more options for targeting and personalization, while Popupsmart may be more user-friendly and simpler to use.
Pricing
When it comes to pricing, Popupsmart offers a free plan and three paid plans that range from $39 to $159 per month if paid annually, which looks more budget-friendly for most users.
Sleeknote also offers a range of pricing options, including a 7-day free trial and five main paid plans: Lite, Basic, Plus, Pro, and Premium, which accommodate from 25,000 visitors per month to 500.000 visitors per month.
Both platforms offer a range of features to suit different needs and budgets.
Which One is the Best: Popupsmart or Sleeknote?
In terms of superiority, both Popupsmart and Sleeknote have their own advantages and disadvantages. Popupsmart offers a simple and user-friendly interface and a range of customization options, pre-designed templates, and gamification features. However, it may have limitations in terms of integrations.
On the other hand, Sleeknote offers a range of targeting options, analytics, reporting tools, and a library of templates. However, it may be more time-consuming to navigate and use, and its integrations may be somewhat limited.
Overall
Ultimately, the decision of which platform to use will depend on the specific needs and goals of a business.
Both Popupsmart and Sleeknote have the potential to help businesses increase conversions and capture leads, but Popupsmart may be more suitable for businesses that prioritize user-friendliness and simplicity, while Sleeknote may be better suited for businesses that place a higher value on targeting and analytics.
Ultimately, it's important for businesses to evaluate their needs and goals, and then compare the features and pricing options of each platform to decide which one is the best fit for them.