In the world of digital marketing, there are countless tools and platforms to choose from.
Two such tools that have gained popularity in recent years are Sumo and Mailmunch.
Both of these platforms offer a range of features and capabilities to help businesses improve their online presence and drive conversions.
In this comparison, we will take a closer look at the similarities and differences between Sumo and Mailmunch and explore the key features and integrations that set them apart.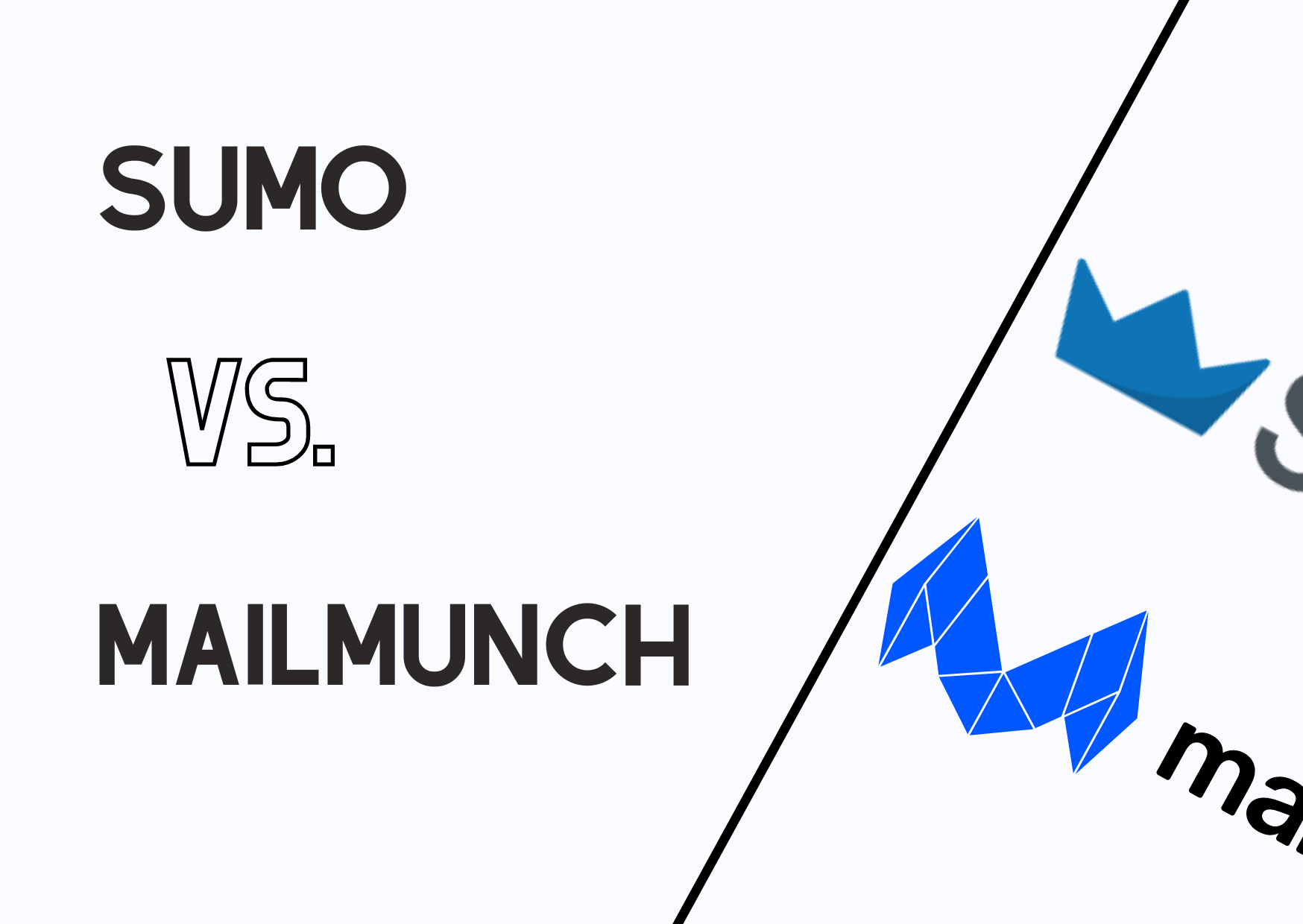 Similarities
Sumo and Mailmunch are tools businesses can use to increase website conversion rates.
Both tools offer a variety of features, such as lead capture forms, email opt-in forms, and A/B testing capabilities.
Additionally, both Sumo and Mailmunch provide analytics and reporting to help businesses track the performance of their campaigns.
Furthermore, both companies provide an easy-to-use interface that allows users to customize their forms and campaigns without the need for coding or design experience.
Integrations
Both Sumo and Mailmunch offer a wide range of integrations with popular platforms such as Shopify, WordPress, and Magento. Both tools also integrate with email marketing platforms such as Mailchimp and Constant Contact, allowing businesses to connect their email campaigns with their website seamlessly.
However, Sumo offers more integrations with e-commerce platforms, including BigCommerce and WooCommerce, while Mailmunch focuses more on website builders such as Wix and Weebly.
Additionally, Sumo offers integrations with various analytics tools, such as Google Analytics and Facebook Pixel, allowing businesses to track the effectiveness of their campaigns. In contrast, Mailmunch's integrations are primarily focused on email marketing and form building.
Overall, both Sumo and Mailmunch offer a wide range of integrations, but Sumo's integrations are more diverse and are geared towards e-commerce businesses, while Mailmunch's integrations are more focused on email marketing and form building. Businesses will have to evaluate their specific needs and choose the tool that best suits their requirements.
Features
When comparing Sumo and Mailmunch, several key feature differences exist.
One notable distinction is in the types of opt-in forms offered by each platform. Sumo offers a wide range of form options, including lightbox popups, scroll boxes, and floating bars, whereas Mailmunch primarily focuses on providing a selection of customizable form templates. Sumo offers a range of conversion optimization tools, such as A/B testing and heat maps, whereas Mailmunch does not have these features.
Another major difference is in their email marketing integrations; Sumo offers a more extensive list of email marketing integrations, including Mailchimp, Constant Contact, and AWeber, whereas Mailmunch has a limited selection of integrations, such as Mailchimp, Campaign Monitor, and Aweber.
In terms of pricing, Sumo offers a free plan as well as several paid plans with varying levels of access to features and integrations. Mailmunch, on the other hand, has a free plan but also offers paid plans with more advanced features and integrations.
Pricing
Sumo and Mailmunch are both software solutions offering a wide range of business features.
In terms of pricing, Sumo offers a free plan as well as several paid plans that vary in price and features. On the other hand, Mailmunch offers a free plan as well as several paid plans with different pricing options.
For more detail, you can visit the Sumo pricing page.
Both platforms offer different pricing plans to meet the needs of businesses of different sizes. The key difference between the two is that Sumo has a more advanced pricing plan which also includes more advanced features and functionalities.
For more details, you can visit the Mailmunch pricing page.
Sumo's pricing plans are based on the number of unique visitors, whereas Mailmunch's plans are based on the number of subscribers.
Which One is the Best: Sumo or Mailmunch?
It is not easy to determine which platform, Sumo or Mailmunch, is the superior choice for businesses without considering the organization's specific needs and goals.  
It is important for businesses to evaluate their own requirements and conduct a thorough comparison of both platforms before making a decision.
Ultimately, the success of utilizing either Sumo or Mailmunch will depend on the company's ability to utilize the chosen platform to achieve its desired outcomes effectively.
Overall
Sumo and Mailmunch can assist businesses in increasing conversions and engagement.  
Sumo offers a comprehensive suite of tools for website optimization, while Mailmunch focuses primarily on email marketing.
Both have their own unique set of features, integrations, and pricing plans.
The ultimate decision should be based on your business's unique needs and goals.