To verify your website with Popupsmart, you will need to follow these steps:
1. To add a new domain to your Popupsmart account, go to the "Websites" menu from the "Account" menu located in the bottom left corner of your dashboard.
2. Click on "New Website" to add a new domain.
3. Enter your website's URL and click "Save." If you have already added your domain and do not want to add another one, skip this step.
4. Go to the "Campaigns" page and click on "New Campaign."
5. Give your campaign a name and select your domain. Click "Save."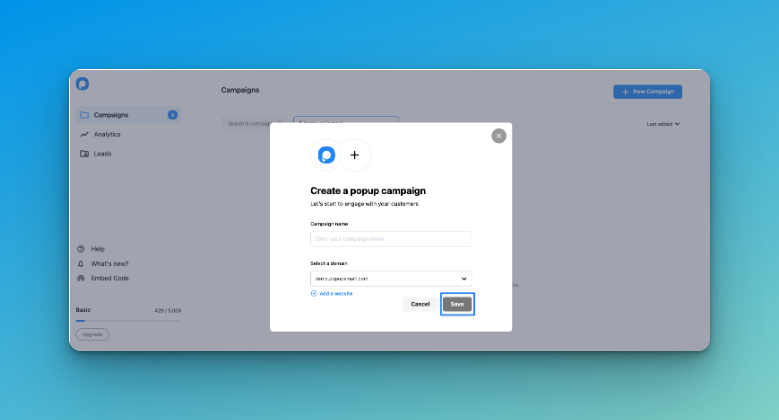 6. Select a template and begin building your popup, making sure to customize it to your liking.
7. Click "Save" and "Publish."
8. If your website is not yet verified, you will see an alert that says, "Your website is not verified yet." Click "Refresh" and "Verify website."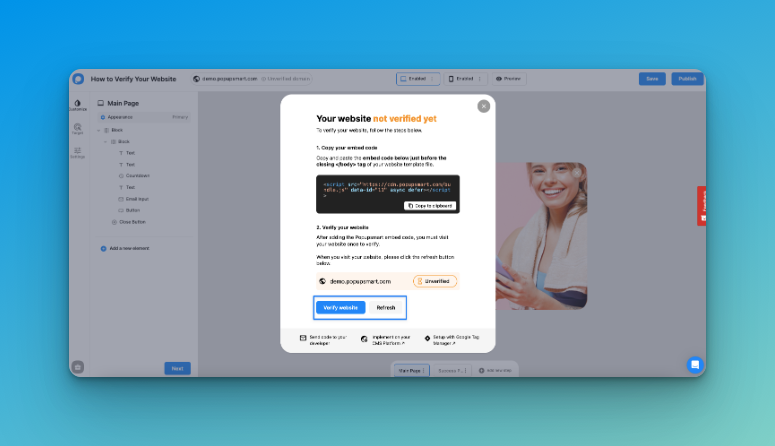 9. If you receive an "Unverified domain" alert, ensure that you have correctly added the Popupsmart embed code to your website.
You can find your unique embed code by going to your "Embed Code" under the "Account" menu.
Remember!
Adding the Popupsmart embed code to your website is important.
You can track the performance of your campaigns and create additional ones in your Popupsmart dashboard after verifying your website.