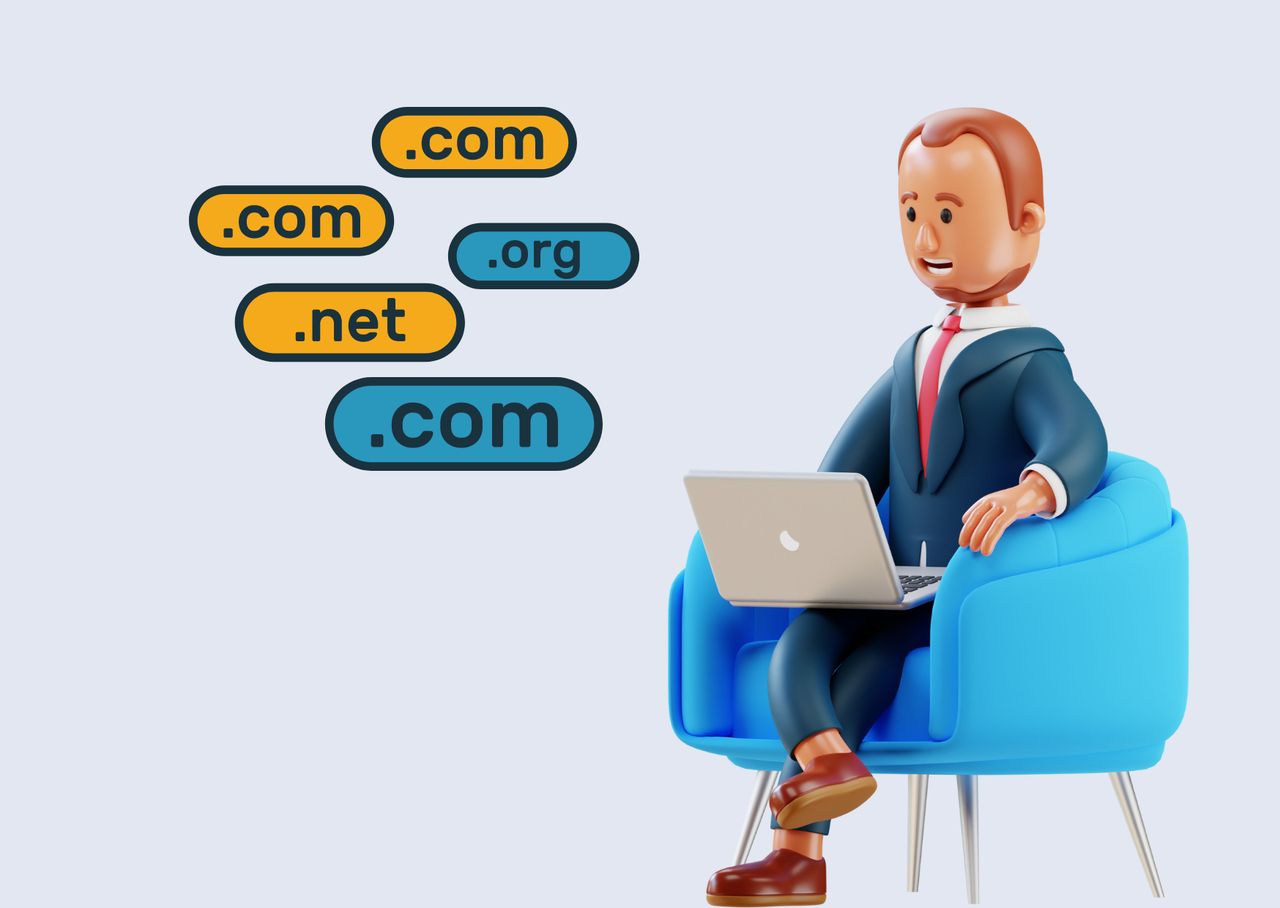 How to Add Your Website to Adoric
Adding a domain to your Adoric account allows you to leverage the powerful features of Adoric's platform for your website.
🌟 By connecting your domain, you can create and deploy personalized campaigns, engage with your visitors, and track their interactions. Adding a domain is a straightforward process.
In this guide, we will walk you through the steps to add and verify your domain on Adoric, ensuring a seamless integration and unlocking the full potential of Adoric's capabilities. Let's get started!
1. Log in to your Adoric account and click on the profile button located on the top right corner of the screen.
2. In the dropdown menu, choose the option labeled "Connected sites."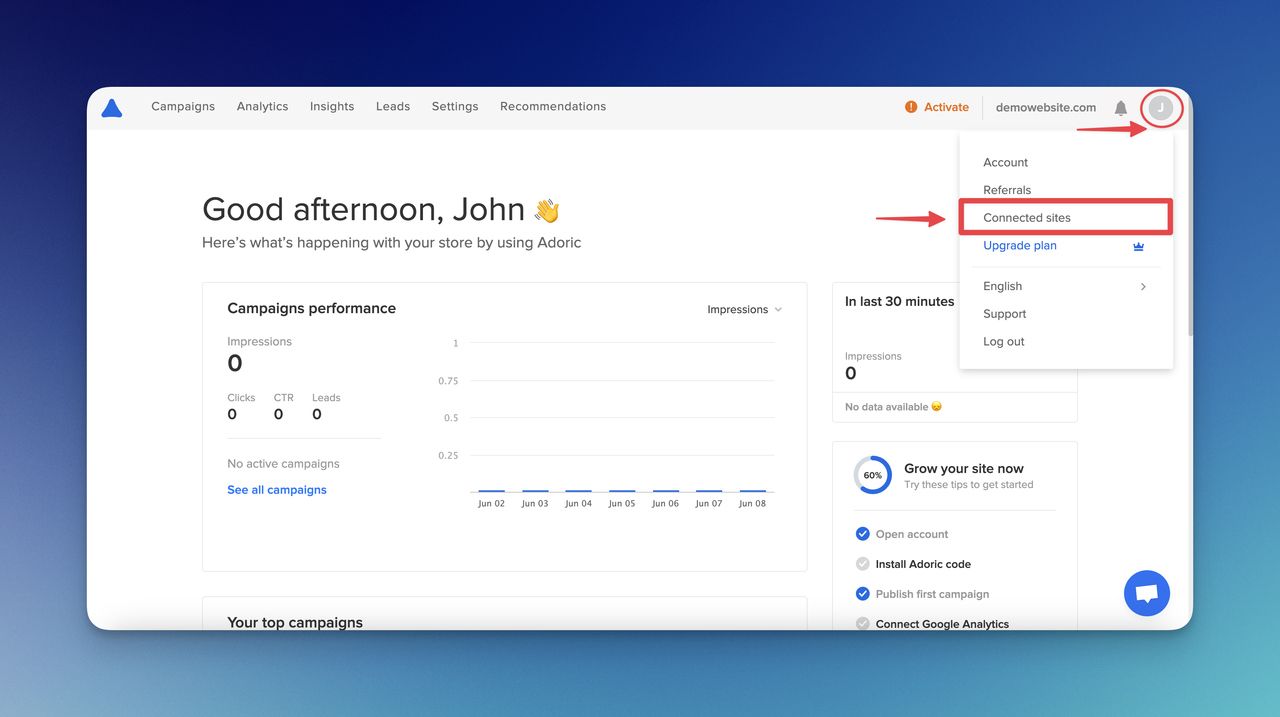 3. To add a new domain, click on the "+ (plus)" button next to "Show code".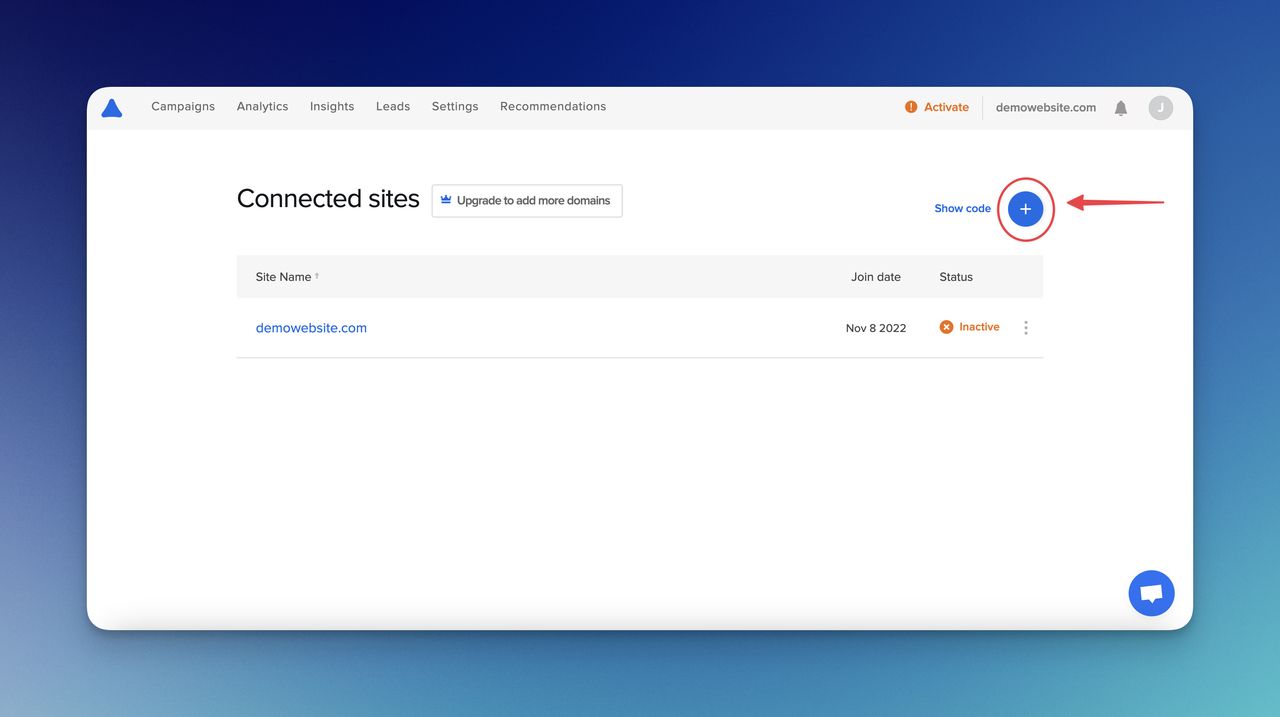 P.S: If you are in free plan, you cannot add more than one website, so you need to upgrade your plan.
4. Enter your domain and click on the "Next" button.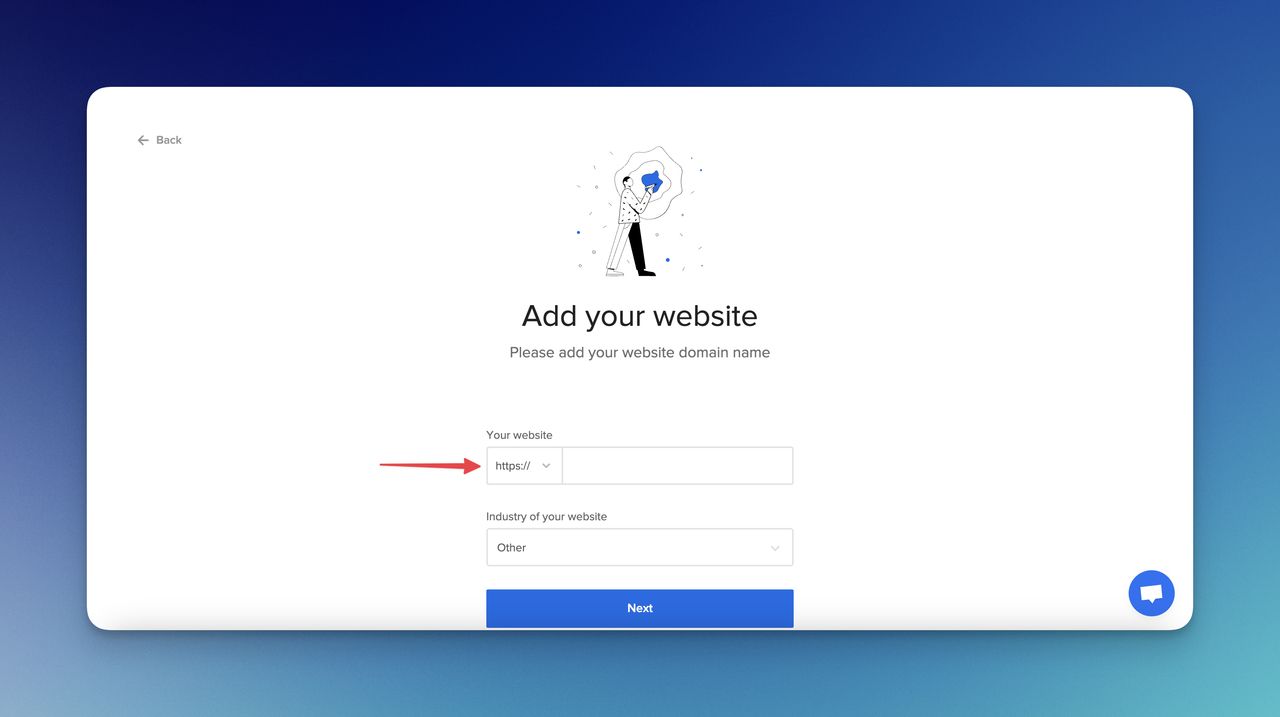 And you have successfully added your website to your Adoric dashboard.
How to Verify Your Website on Adoric with the Code
This code ensures accurate tracking of user interactions, allowing you to optimize your website's performance and deliver a tailored experience to your visitors.
In this part, we will outline the simple process of adding and verifying the Adoric code on your website, empowering you to make the most of Adoric's features and enhance your online presence. Let's dive in!
1. On the Connected Sites page, you need to click "Show code."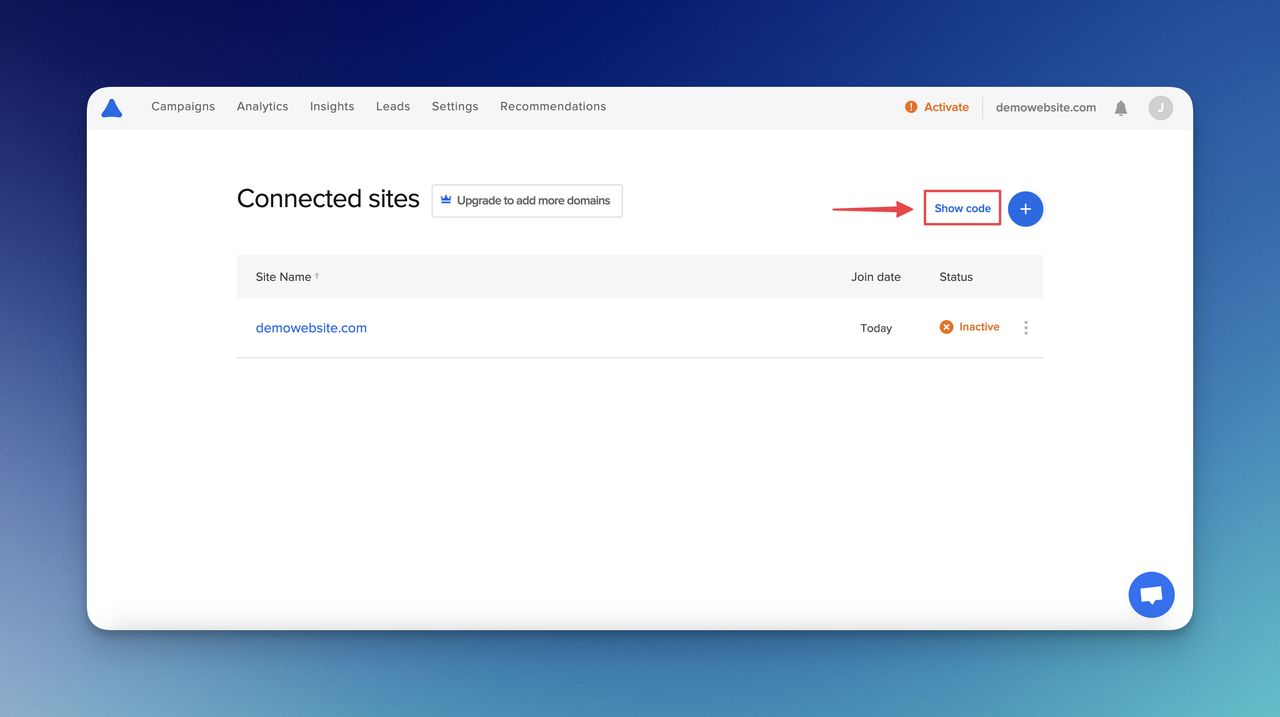 2. There, you can either copy the code to paste or send this by email to your colleagues.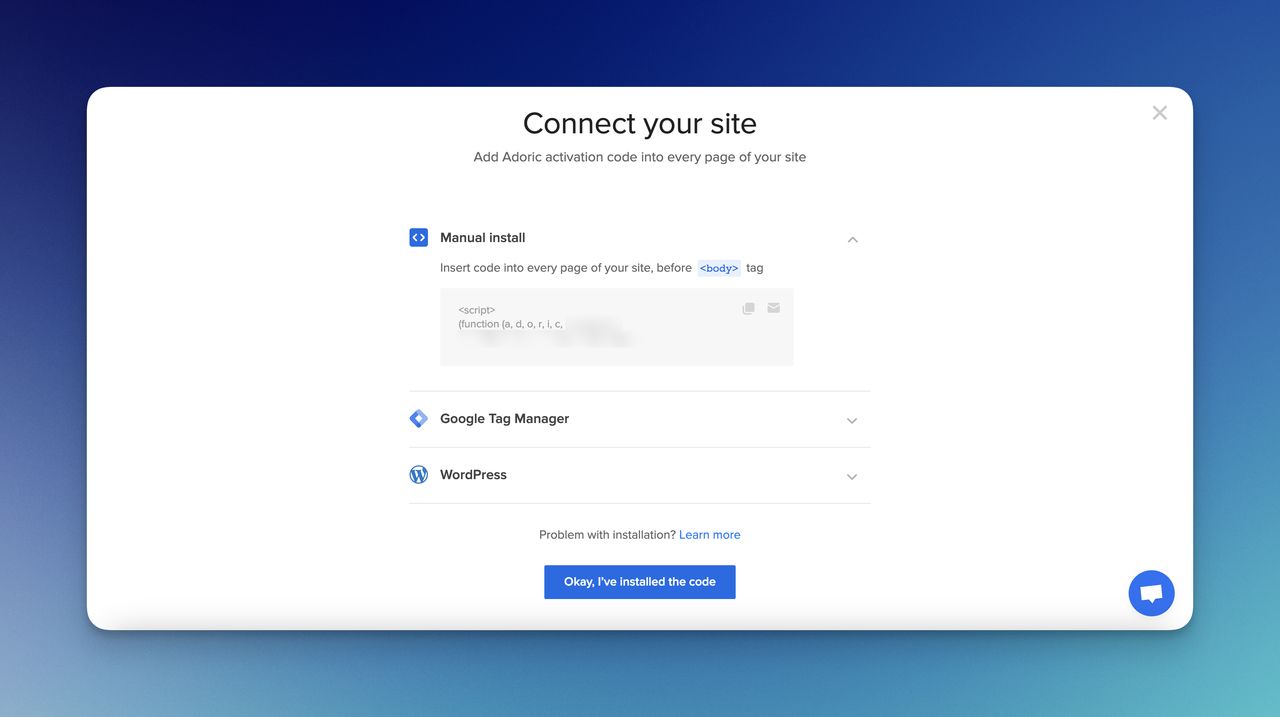 Also, you can decide how to connect Adoric to your website since there are other options, like Google Tag Manager and WordPress.
That is what it takes to verify the code of Adoric on your website. Now, you can start creating your campaigns on Adoric.
Extra Tips & Troubleshooting Corner
Extra Tips:
Double-check the spelling of your domain name before adding it to Adoric to ensure accuracy.
Make sure you have the necessary access and permissions to modify your website's code for the verification process.
If you encounter any issues, consult Adoric's documentation or support resources for specific guidance.
---
Troubleshooting:
If you're unable to locate the profile button on the top right corner of the screen, try refreshing the page or clearing your browser cache and try again.
If the "Connected sites" option is not available in the drop-down menu, ensure that you are logged into the correct Adoric account and that you have the necessary permissions to manage connected sites.
If you're having trouble adding a domain using the "+" button, check if there are any special characters or spaces in the domain name. Try removing them and attempt the process again.
If you receive an error message after clicking "Add domain," ensure that the domain is properly registered and active. Check with your domain registrar to confirm its status.
If the connection to your website is not being verified after installing Adoric, verify that you have correctly implemented the Adoric tracking code on your website. Double-check for any typos or missing code snippets.
If the verification process still fails, try clearing your website's cache and cookies and reinstalling the Adoric tracking code. This can help resolve any caching or loading issues that might interfere with the verification process.
FAQs Related to Adding & Verifying Domain on Adoric
What should I do if I don't see the "Connected sites" option in the dropdown menu?
If the "Connected sites" option is missing, ensure that you are logged into the correct Adoric account and that you have the necessary permissions to manage connected sites. If the issue persists, reach out to Adoric's support team for assistance.
How long does it take for the domain verification process to complete?
The domain verification process usually happens instantly after you install the Adoric tracking code on your website. However, in some cases, it may take a few minutes for the verification to be successfully completed.
Can I use Adoric with a website that is not live yet?
No, Adoric requires an active and live website to verify the domain connection. Make sure your website is accessible to complete the verification process.
Is there a limit to the number of domains I can add to Adoric?
As long as you are not in free plan, Adoric does not impose a specific limit on the number of domains you can add to your account. You can add as many domains as necessary for your campaigns and tracking purposes.