To integrate your Sleeknote account with Mailchimp, you will need to obtain your Mailchimp API key. Here's how:
1. Log in to your Mailchimp account and click on your username in the top right corner. From the dropdown menu, select "Account."
2. Under "Extras," choose "API Keys."

3. Scroll down to "Your API keys" and copy the existing key or click "Create a Key" to generate a new one.
Once you have your API key, follow these steps to insert it into your Sleeknote account:
1. In the Campaign Builder, navigate to the "Integrations" step and select Mailchimp from the list of email service providers. Click "Continue".
2. Paste your API key and click "Submit."
3. Choose the Mailchimp list where you want to send your new email signups and click "Continue".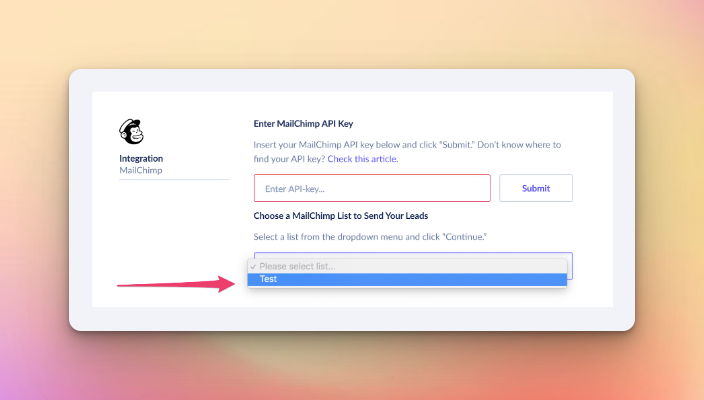 4. Map the input fields of your campaign to the corresponding fields in Mailchimp to ensure that the data is transferred correctly.
5. Use the additional options to customize the integration, such as enabling double opt-in or sending a welcome email.
6. Click "Save Integration" and activate your campaign.
7. With these steps, you can easily connect your Sleeknote account to Mailchimp and automatically add new email leads to your chosen Mailchimp list.