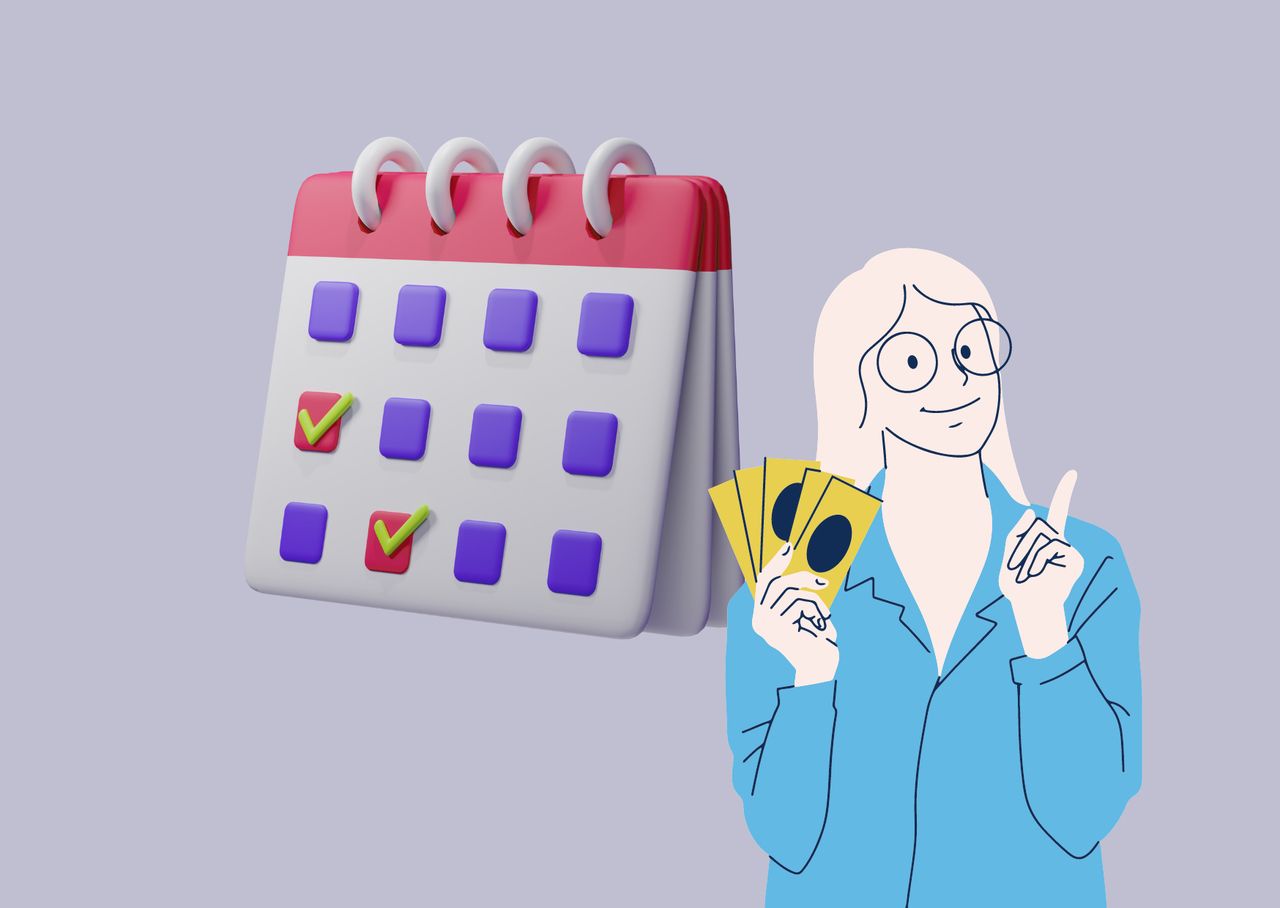 Popups are for reaching your customers in the easiest and most effective way. You can decide your monthly visitors and choose a plan on Poptin.
You're lucky that Poptin informs you when you reach your monthly limit about your plan when you work in the builder.
⭐
Therefore, if you reach your monthly limit on
Poptin
, a message appears on your website saying that you have lost leads.
It is possible that you can disable this message by following these steps:
1. Log in to your Poptin account.
2. Navigate to the ⚙️ Settings menu in the screen's top right corner.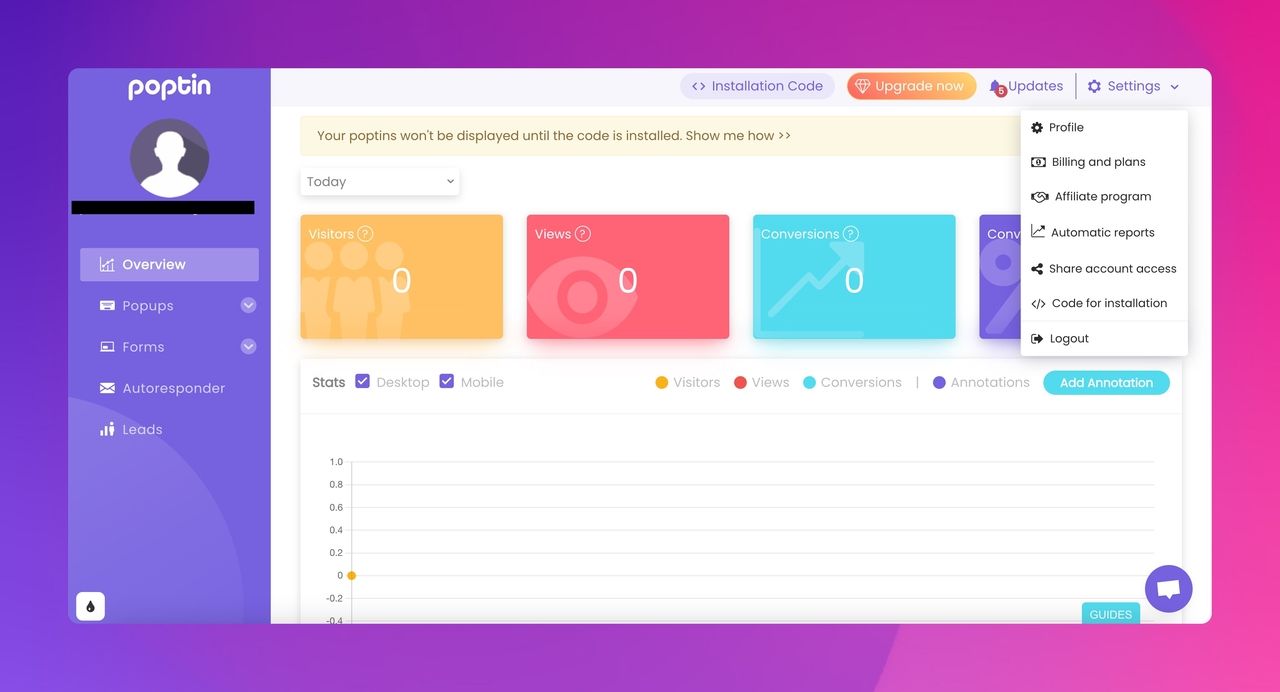 3. Once you are in the settings menu, select the Profile option. 🙋🏻‍♂️
4. On the Profile page, you should see an option to "Display a message on my website once I reached my plan's limit (for you only, your visitors won't see it )."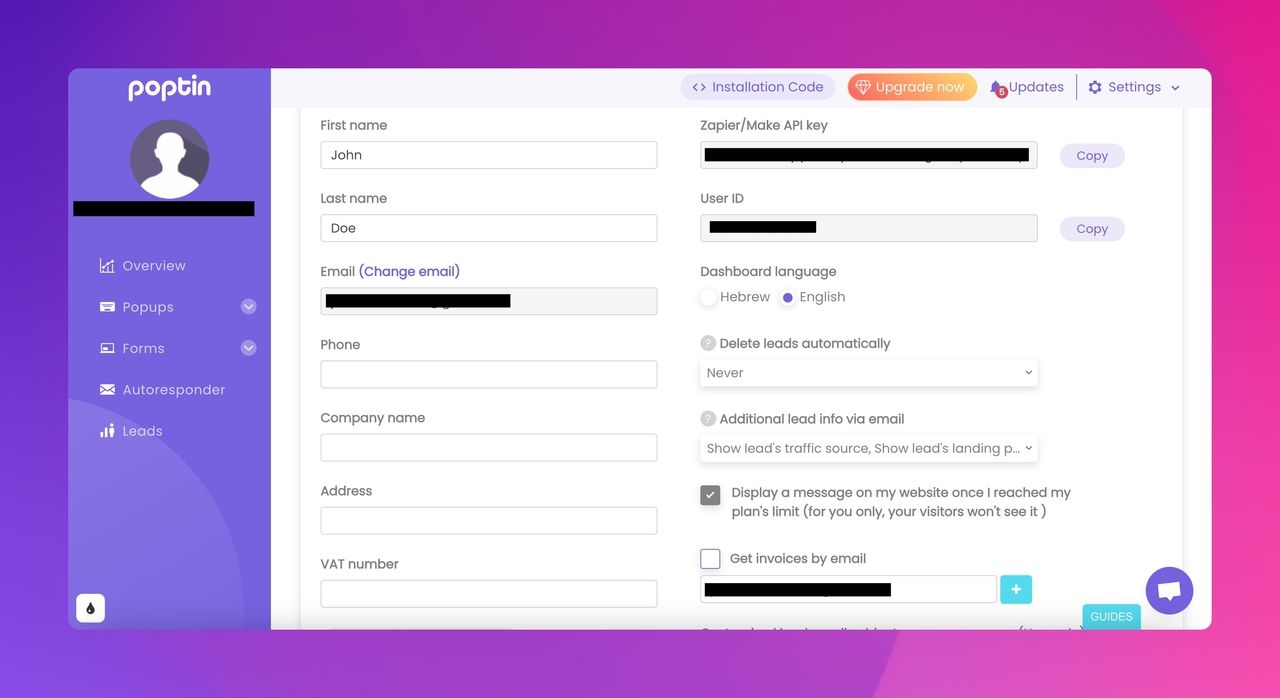 5. Uncheck this option and then click "Save"
By doing this, the message will no longer appear on your website, and you will be able to perform your testing or other tasks without interruption.
💁 However, in the long term, without paying attention to this problem, you will not be able to use some specific elements.
Also, keep in mind that if you disable this message, you won't be informed when you reach your plan's limit, and your visitors will see the popups until you upgrade the plan.
👋🏻 It is, of course, not over because we highly recommend you discover the capabilities of Poptin popups. Enjoy your inspiration!
Comparison of the Pricing of Popup Builder
You can examine the popup builders with their pricing and the best qualities that define them from the table below.
| Popup Builder | Pricing | Best Quality |
| --- | --- | --- |
| OptinMonster | Starts at $9/month | Advanced targeting options, A/B testing, conversion analytics |
| Popupsmart | Starts at 39$/month | Advanced segmentation options, popup template library, and theme engine |
| Privy | Starts at $20/month | Drag-and-drop editor, targeting and triggers, conversion tracking |
| Sumo | Free and paid options | A wide range of templates, customizable design, exit intent technology |
| Sleeknote | Starts at $69/month | Advanced segmentation, responsive design, conversion tracking |
| Poptin | Starts at $19/month | AI-powered targeting, behavioral triggers, analytics and reporting |
| WisePops | Starts at $49/month | Customizable templates, advanced targeting options, real-time analytics |
| Hello Bar | Free and paid options | Simple and easy to use, A/B testing, basic targeting options |
Extra Tips & Troubleshooting Corner
Here are some additional tips and troubleshooting steps to disable the monthly plan limit popup on Poptin:
Clear browser cache and cookies: Sometimes, the popup may persist due to cached data. Clear your browser's cache and cookies, and then try accessing Poptin again to see if the popup disappears.
Verify your subscription status: Ensure that your Poptin subscription is active and up to date. If your subscription has expired or is not properly set up, it can trigger the monthly plan limit popup. Check your billing information and make sure your payment method is valid.
Contact Poptin support: If you have a paid subscription and the popup still appears even though you haven't reached your plan limit, reach out to Poptin's customer support team. They will be able to investigate the issue further and provide specific guidance based on your account.
Disable popup settings: Within Poptin's settings, review your popup configurations. Look for any settings related to plan limits, notifications, or popups that may be triggering the monthly limit popup. Adjust these settings accordingly or disable them temporarily to see if the popup disappears.
Verify the integration code placement: If you have integrated Poptin into your website using JavaScript code, double-check that the code is correctly implemented. Incorrect placement or outdated code can sometimes cause unexpected behavior, including the monthly plan limit popup.
Check for conflicting plugins or scripts: If you are using Poptin alongside other plugins or scripts on your website, there might be conflicts that trigger the popup. Temporarily disable other plugins or scripts to identify if any of them is causing the issue.
Update Poptin scripts: Ensure that you are using the latest version of the Poptin scripts on your website. Outdated scripts can potentially cause compatibility issues and unexpected behavior.
Remember, if none of the troubleshooting steps resolve the issue, it's best to reach out to Poptin's support team directly. They will have access to your account details and can provide personalized assistance to help you disable the monthly plan limit popup.
FAQs Related to Poptin Pricing
What are the different pricing plans for Poptin?
Poptin offers several pricing tiers to cater to different customer needs, including a Free plan, Basic plan, Pro plan, and Agency plan. Each plan provides a different level of features and benefits to suit your business size and needs.
Can I use Poptin for free?
Yes, Poptin does offer a free plan. It has limited features and is designed for small businesses or those wanting to try the platform.
What's included in the Pro Plan?
The Pro Plan offers a more comprehensive set of features, such as increased views per month, more active popups, advanced targeting rules, and priority support.
Is there a discount if I pay annually?
Yes, Poptin typically offers a discounted rate if you opt to pay annually instead of monthly.
I run a large organization; what is the best plan for me?
For larger organizations, the Agency plan is usually the best fit. It offers a significant increase in views and active popups and provides additional features like team management, white labeling, and a dedicated account manager.
What is white labeling and is it included in my plan?
White labeling is a feature that allows you to remove Poptin branding from your popups. This feature is typically available in higher-tier plans like the Agency plan.
What if I exceed the view limit on my current plan?
If you exceed your view limit, Poptin will typically notify you and provide you the option to upgrade your plan.
How can I cancel my subscription?
You can cancel your Poptin subscription anytime from your account settings. Please refer to Poptin's cancellation policy for more information.
Is there a refund policy?
Poptin may have a refund policy, depending on the situation. Please refer to their specific terms and conditions or contact their customer service for more information.
Do you provide customer support for all pricing plans?
Yes, Poptin provides customer support for all plans. However, priority support is usually given to higher-tier plan subscribers.