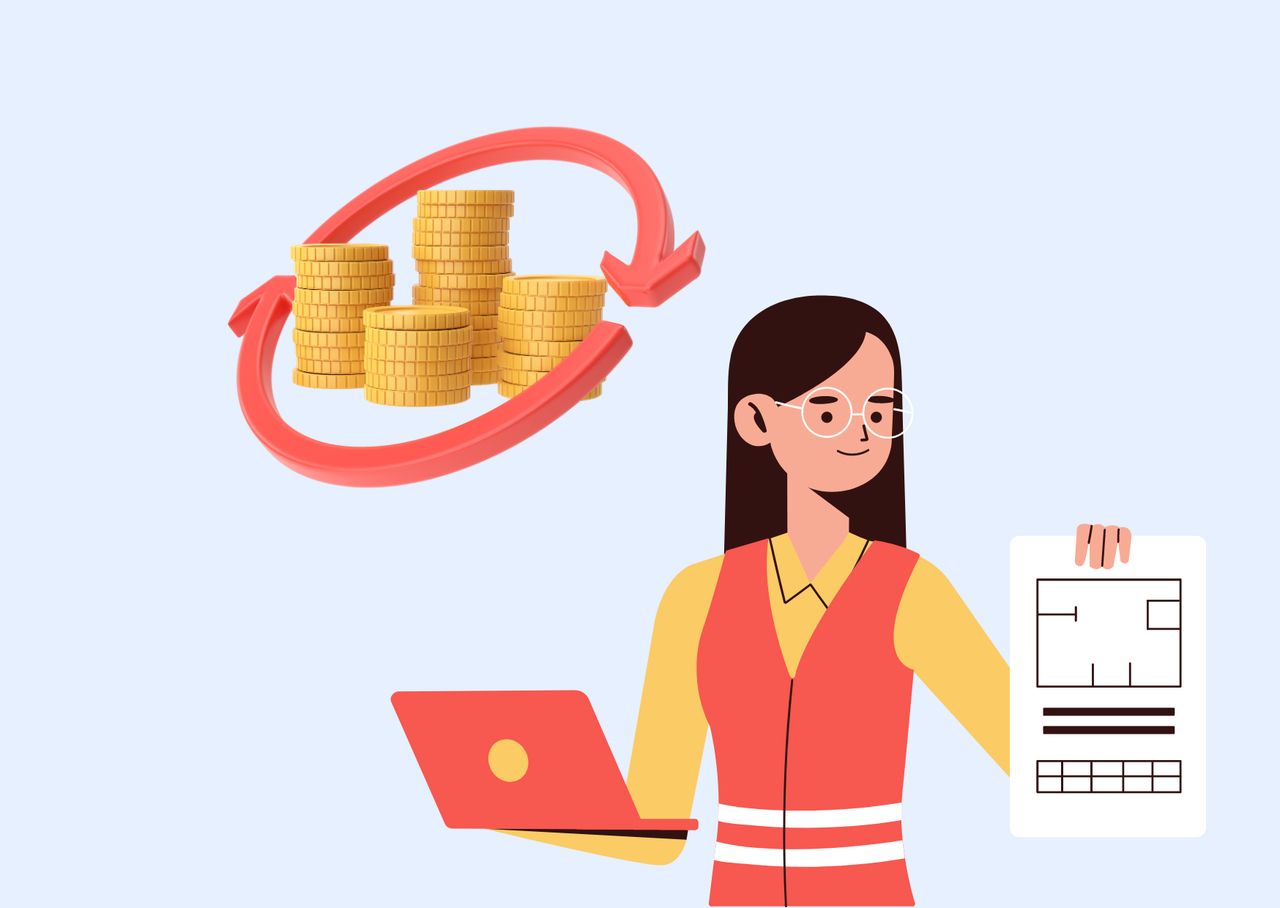 *P.S: A fully new account is used to display the exact and necessary details of a new Sleeknote user can come across. The images are saved on purpose.
As a new Sleeknote user or a potential one, you can use the Sleeknote dashboard to view your conversion rate and track the performance of your campaigns.
The data you want to view and your rates can be easily found even if you are starting new.
To Check Your Overall Performance
➡ Go to the "Overview" tab in your Sleeknote dashboard. This will show you the average conversion rate for all your campaigns.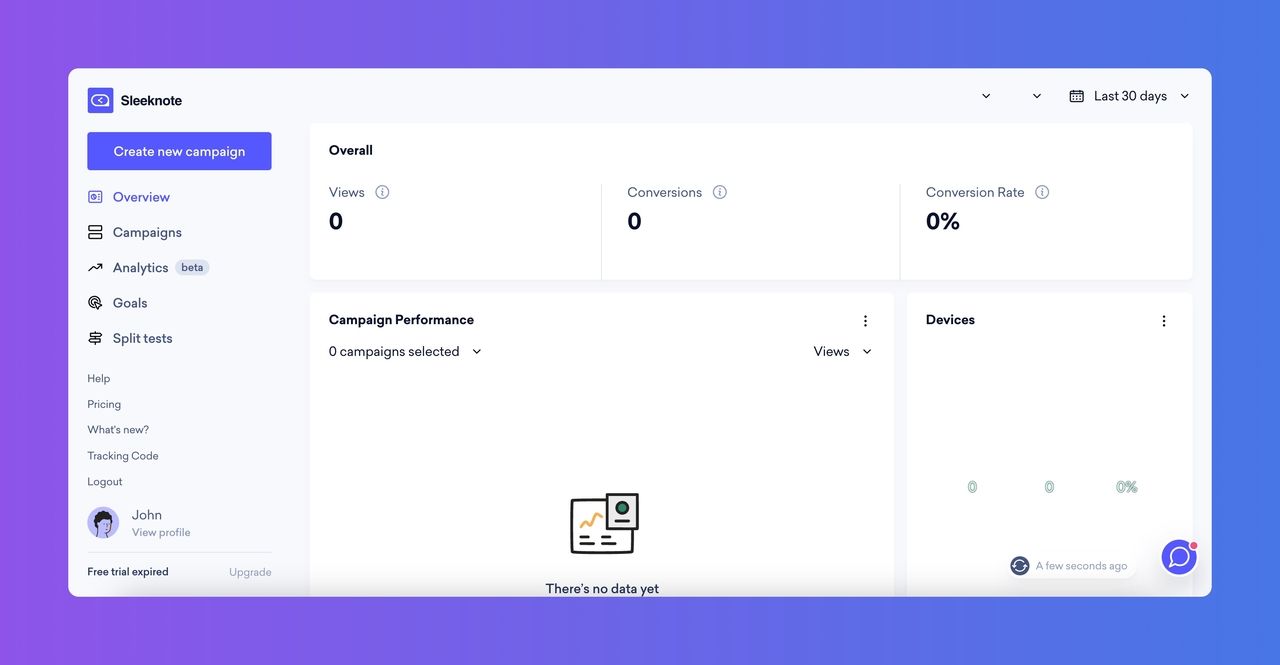 In detail, you can see your views, conversions, and conversion rate. Therefore, it is possible to say that there is no need to calculate your conversion rate all over again.
➡ From the Campaign Performance area, you can download the rates of your campaigns with different file formats.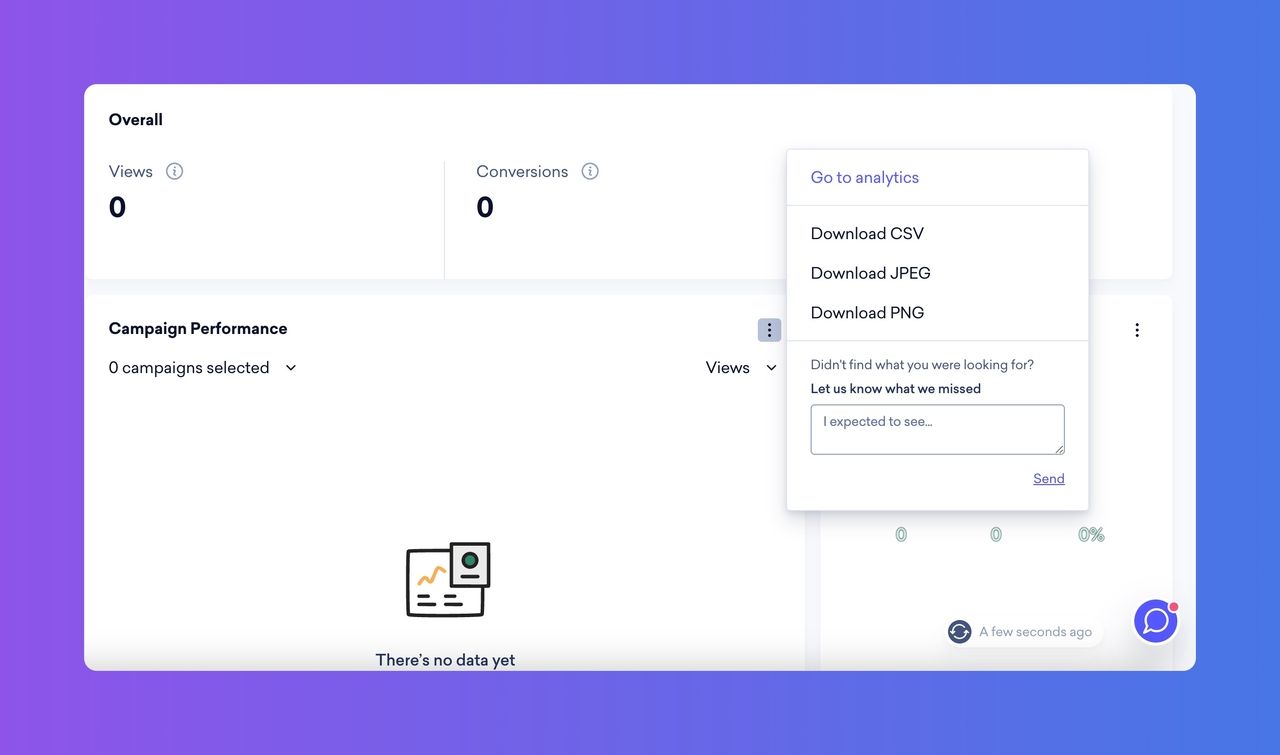 Also, as a review from us, you can tell your expectations from Sleeknote about the details of your campaigns. So feel free to use it.
➡ When you start collecting data and form submissions, you will see your charts and increase the rate of growth by using a popup builder.
➡ You can view your rates based on the dates and the calendar to keep detailed track of your campaigns.
➡ Plus, it is available for you to observe views, conversion, and conversion rates based on the device type. If you determine your campaigns based on specific devices, you can see their rates and compare the necessary elements for your business.
To View Campaigns & Conversion
➡ When you want to examine each campaign's conversion rate, go to the "My Campaigns" tab.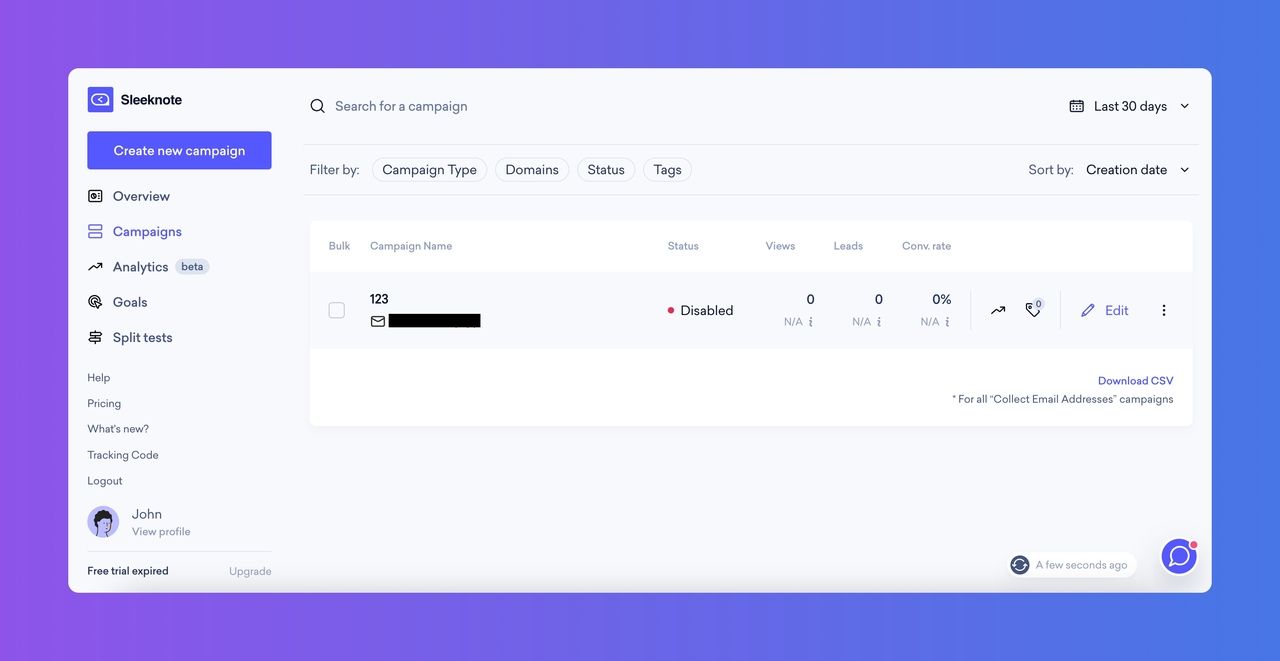 You can see the campaign's status, views, leads, conversion rate, reach the statistics, add a tag to differentiate, and edit. From the three-dot, you can further customize your campaign to boost your stats.
This can help you identify which campaigns are performing well and which may need optimization.
Must- Know About Conversion Rate
You can make informed decisions to improve your conversion rate and achieve your business goals by continuously testing and analyzing your campaigns.
✅ Firstly, there are several factors that can impact the conversion rate of your campaigns, including:
✍🏻
* The number of input fields
* The design and layout of the campaign
* The triggers and targeting options you use
* The overall user-friendliness of the campaign
✅ To optimize your campaigns and improve your conversion rate conducting A/B tests on various elements such as campaign copy, visuals, and targeting options is recommended.
This will allow you to compare the performance of different versions of your campaigns and identify what works best for your audience.
✅ Conversion rate is also important for learning your conversion funnel. According to the rates and statistics, you will be able to examine the details of your visitors and customers. It will help you understand what you should give importance more.
To cut a long story short, you should follow the status of your conversion rate, and you can easily manage your conversion rate with Sleeknote with the help of a simple dashboard.
👋🏻 If you are interested in increasing your conversion rate, you might take a look at Sleeknote now and give it a try!
Extra Tips & Troubleshooting Corner
Extra Tips:
Use compelling visuals: Incorporate eye-catching images and graphics in your Sleeknote campaigns to grab visitors' attention and make your offers more visually appealing.
Craft clear and concise messages: Keep your copy concise and focused. Clearly communicate the value proposition and highlight the benefits visitors will gain by converting.
Test different campaign variations: Experiment with various designs, messages, call-to-action buttons, and triggers to determine which combinations drive the highest conversion rates. A/B testing can provide valuable insights for optimization.
Optimize mobile experience: Ensure your Sleeknote campaigns are mobile-friendly and optimized for different screen sizes. Test how they appear on mobile devices to deliver a seamless user experience and maximize conversions.
Leverage urgency and scarcity: Create a sense of urgency or scarcity in your Sleeknote campaigns by incorporating time-limited offers, limited stock notifications, or countdown timers. These tactics can motivate visitors to convert quickly.
---
Troubleshooting:
Ensure Sleeknote code is correctly implemented: Double-check that you have correctly implemented the Sleeknote tracking code on all relevant pages of your website. Incorrect implementation can prevent campaigns from appearing or tracking accurately.
Check targeting settings: Review your targeting settings to ensure they are correctly configured. Make sure your campaigns are set to display on the right pages, at the right time, and to the appropriate audience segments.
Analyze campaign performance: Monitor and analyze the performance of your Sleeknote campaigns regularly. Identify campaigns with low conversion rates and assess possible reasons, such as weak messaging, ineffective offers, or poor timing.
Test different pop-up triggers: Experiment with different triggers, such as exit-intent, scroll percentage, or time delay, to find the most effective one for engaging visitors and encouraging conversions.
Optimize form length and complexity: If you're using Sleeknote forms, consider the length and complexity of the form fields. Long or complicated forms can deter visitors from completing them. Keep forms concise and ask for only essential information.
Remember, these extra tips and troubleshooting suggestions are meant to provide guidance and assistance in managing your conversion rate with Sleeknote. Adapt them as needed based on your specific goals and website requirements.
FAQs Related to Increasing Conversion Rate with Sleeknote
Is Sleeknote suitable for boosting conversion rates on my SaaS landing page?
Yes! Sleeknote allows you to capture leads by offering free trials, highlighting key features, or showcasing customer testimonials on your SaaS landing page, ultimately increasing conversion rates.
Can Sleeknote be used on mobile devices?
Yes, Sleeknote is fully responsive and works seamlessly on desktop, tablet, and mobile devices. You can create and customize campaigns specifically for mobile visitors to optimize their user experience and improve conversion rates.
Can I use Sleeknote on multiple websites to increase the conversion rate?
Absolutely! Sleeknote allows you to create and manage campaigns across multiple websites from a single account for your conversion rate. You can easily switch between websites and customize campaigns to suit the specific needs of each site.
Can Sleeknote help me improve lead generation for my B2B software company?
Exactly! With Sleeknote, you can create targeted popups to offer downloadable whitepapers or case studies, provide access to webinars or demos, or present exclusive offers to capture leads and increase conversions for your B2B software company.
What strategies should I use with Sleeknote to increase conversions?
To optimize conversions with Sleeknote, consider personalizing your campaigns, offering incentives or discounts, leveraging exit-intent triggers, testing different designs and messages, and analyzing data to make informed improvements.
How can I measure the success of my Sleeknote campaigns in terms of conversion rates?
Sleeknote provides comprehensive analytics that allows you to track key metrics such as views, conversions, click-through rates, and conversion rate percentages. You can also integrate Sleeknote with other analytics platforms for a deeper analysis.